New Migrant Caravan of at Least 500 People Leaves Honduras and Heads to U.S. Border
After a caravan of hundreds of Honduran asylum seekers left the Central American country on Monday with plans to reach the U.S. border, President Donald Trump used the news to call on Democrats to "end the shutdown" by providing the funding he has demanded to build his long-promised border wall between the U.S. and Mexico.
"A big new Caravan is heading up to our Southern Border from Honduras," Trump wrote in an early Tuesday morning tweet. "Tell Nancy and Chuck that a drone flying around will not stop them," he said, referring to House Speaker Nancy Pelosi and Senate Minority Leader Chuck Schumer.
"Only a Wall will work. Only a Wall, or Steel Barrier, will keep our Country safe! Stop playing political games and end the Shutdown!"
The president further claimed that polls were "showing that people are beginning to understand the Humanitarian Crisis and Crime at the Border.
"Numbers are going up fast, over 50%," he tweeted, without citing any source for his numbers. "Democrats will soon be known as the Party of Crime. Ridiculous that they don't want Border Security!"
The president's latest border tirade came after 600 to 800 people joined the new caravan that departed from Honduras on Monday, according to an estimate provided to Reuters by Miroslava Serpas, the head of migrant affairs at the Ciprodeh human rights research center, which is accompanying the group.
Read more: Military expands role at U.S.-Mexico border to focus on "surveillance and detection"
The caravan will follow in the footsteps of a number of groups that have made their way to the U.S. border over the past year, including the thousands of asylum seekers who arrived in the Mexican border town of Tijuana in November.
Hundreds of people who traveled with that caravan, which left Honduras in October, are still waiting at the Tijuana border to have their asylum claims processed by U.S. officers. Others have since chosen to return to their home country after they were forced to wait for weeks at the border with inadequate shelter.
Last week, Trump told reporters he was aware of "another major caravan forming right now in Honduras," before suggesting that his administration was "trying to break it up."
It is unclear how exactly the Trump administration has attempted to disband the group. But Trump said that "so far, it's bigger than anything we've seen and a drone isn't going to stop it and a sensor isn't going to stop it, but you know what's going to stop it in its tracks? A nice powerful wall."
While asylum seekers have the right to make asylum requests at U.S. ports of entry, Trump has made the caravans traveling to the U.S. in recent months a major talking point in his campaign to crack down on immigration.
The president's focus appeared to intensify in the lead-up to the 2018 midterms, with Trump ordering the deployment of more than 5,000 troops to the U.S.-Mexico border days before the November election.
As the new caravan makes its way to the U.S., the Department of Defense has announced that it would extend its mission at the southern border, providing assistance to the Department of Homeland Security until the end of September.
There are currently about 2,350 active duty troops stationed along the southern border as part of the mission that initially began on October 30, which was first dubbed "Operation Faithful Patriot," according to The Associated Press.
The deployment had been expected to last until December 15, but it was extended to January 31 before it was extended once again to September 30.
With the fresh extension, the military's focus at the southern border was also expected to change, with the Defense Department announcing that troops would be dedicating their time to "mobile surveillance and detection," as well as to installing concertina wire between ports of entry and continuing to provide aviation support.
Meanwhile, the ongoing partial government shutdown over border-wall funding has continued into its fourth week after Trump refused to sign a spending bill to keep the government running that did not include the $5.6 billion he has demanded for his long-pledged wall.
Although Trump originally claimed responsibility for any government shutdown, on Monday he again blamed Democrats for the shutdown while speaking at a Farm Bureau convention, asserting that the "government remains shut down for one reason and one reason only: The Democrats will not fund border security."
Trump has warned that the shutdown could go on for years if Democrats did not agree to his border wall demands, while Democrats have remained firm that they will not allow billions of taxpayer dollars to go toward Trump's wall, although they have allotted $1.3 billion for other forms of border security.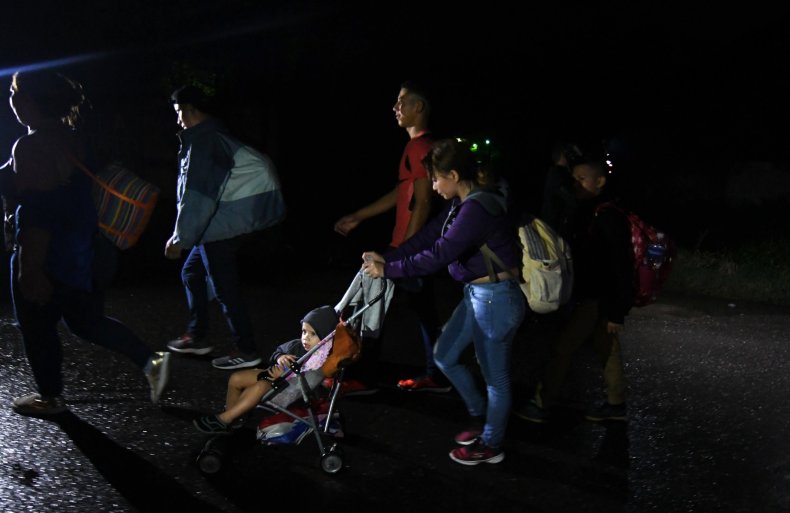 This article has been updated with statements from President Donald Trump.