New Millionaire Playgrounds: Where the Next Generation of the Super Rich Are Coming From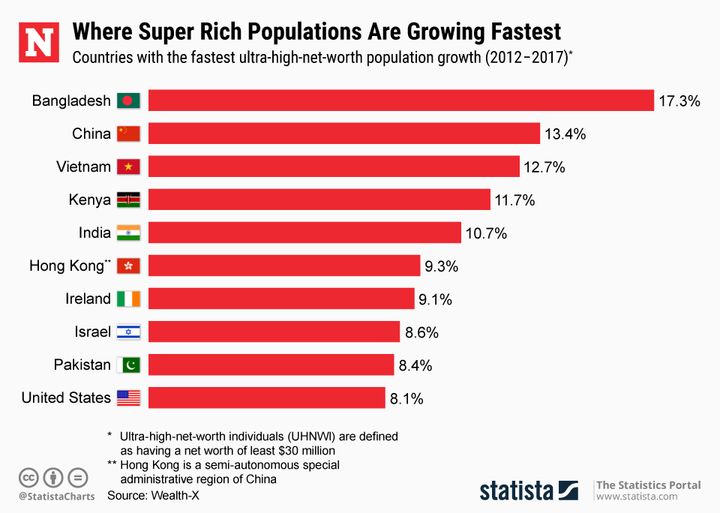 Rising asset values and robust corporate earnings have made Asia the region with the fastest growing number of mega-rich people, according to new figures looking at wealth gains over the last five years.
The United States continues to be the place with the most ultra-high-net-worth individuals (UHNWI), which is defined by someone who has $30 million or more. There are around 80,000 people with that level of wealth in the United States, which is more than the total of the next five countries combined, Japan, China, Germany, Canada and France.
But statistics ilustrated by Statista also show that between 2012 and 2017, Bangladesh has emerged as the country with the fasting growing numbers of so-called UHNWIs. Its ultra-rich club has grown by 17.3 percent, more than twice North America's growth rate of 8.1 percent.
Over the same period, China's number of mega rich increased by 13.4 percent. In Vietnam, it was 12.7 percent. There was also double-digit growth of the super rich in Kenya at 11.7 percent, and India at 10.7 percent.
The combined riches of Asia's ultra wealthy is now $8.365 trillion, and its proportion of global wealthy rose from 18 percent to 27 percent, closing in on the world's second wealthiest region, Europe (28 percent).
The report by Wealth-X, released in September, said the overall worth of the world's richest population increased by over 16 percent to $31 trillion in 2017, which was "buoyed by a synchronized upturn in the world economy, rising asset markets, and robust corporate earnings."
It said this increase was "a testament to the auspicious economic climate, the ultra wealthy population and its total net worth increased in all seven major regions, contrasting with the diverse performances seen a year earlier."
Its World Ultra Wealthy Report 2018 also stated that there are around 35,000 ultra wealthy women, an increase of 13.7 percent since 2012.
Hong Kong now has the largest number of UHNWIs, while New York posted the weakest growth among the top 10 cities. The report predicted that Asia would continue to be the hub of growth.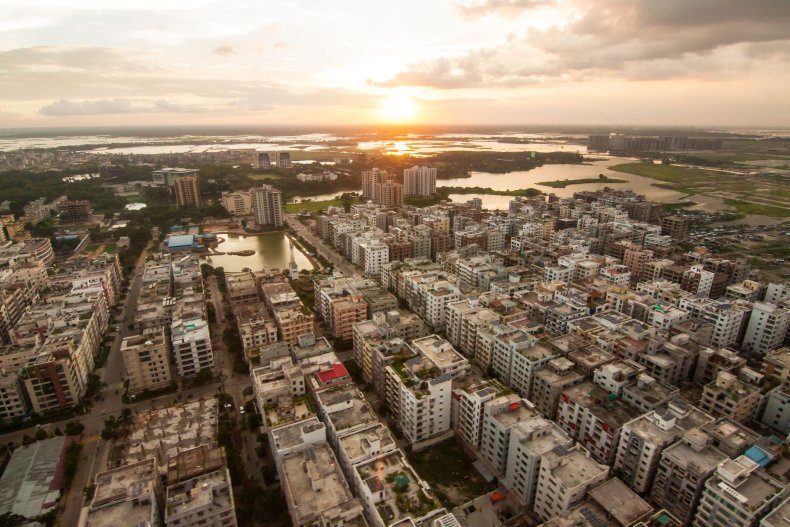 "The global UHNW population is forecast to rise to 360,390 people by 2022, an increase of almost 105,000 compared with 2017. The level of UHNW wealth is projected to increase to $44.3 trillion, implying an additional $12.8 trillion of newly created wealth over the next five years," the report said.
Vincent White, managing director of the Wealth-X Institute, told CNBC: "Asia recorded the highest growth in UHNW (ultra high net worth) population accompanied by a disproportionate rise in combined wealth of over one quarter. In the forecast through to 2022 we expect to see a continuation of this growth, closing the gap with the Americas and EMEA."
A report by DBS Bank predicted that Asia's middle class will expand threefold over the next decade, from 525 million people to 1.74 billion. This would make Asia home to half the world's middle class population by 2020.