Who Is the New Miss USA Asya Branch? Miss Mississippi Performed at Trump Rally
Mississippi's Asya Branch has won Miss USA 2020, after months of delays caused by the coronavirus pandemic.
The 22-year-old was crowned on Monday in a competition that aired live from Elvis Presley's Graceland in Memphis, Tennessee. She succeeds Miss USA 2019 Chelsie Kryst.
Branch was awarded the coveted title ahead of second runner-up Miss Oklahoma USA Mariah Jane Davis, and first runner-up, Miss Idaho USA Kim Layne.
Prior to this win, Branch made history when she was the first African American to be named Miss Mississippi USA in 2018 and comes from Booneville. This is also the first time Mississippi has won the title.
"I told my mom if I win Miss USA, I would have made history twice," Branch said in an interview with Mississippi's Daily Journal. "It's been 10 years since Mississippi made it to the top 15 at Miss USA. I'm hoping to revise that cycle and bring the crown back home to Mississippi."
The senior at the University of Mississippi previously took part in a roundtable with President Donald Trump and performed the National Anthem at a Trump rally in Southaven, Mississippi, in October 2018.
In a now-deleted Instagram post (per The Daily Beast) from the event, she wrote: "Incredible honor to sing the national anthem tonight in Southaven for the President Trump rally."
In her final statement on Monday night, Branch spoke about gun laws.
"As someone who grew up in a home with guns, I learned at an early age how to load, how to fire and gun safety," Branch said. "And I think that education should be available to everyone. I believe that we should require people to pass training and safety courses before they are allowed to purchase a gun and before receiving a permit."
She added: "I think it's important that we not ban guns because, obviously, people will find a way to get they want anyway. But, I think it's our Second Amendment right and we just need more safety surrounding that."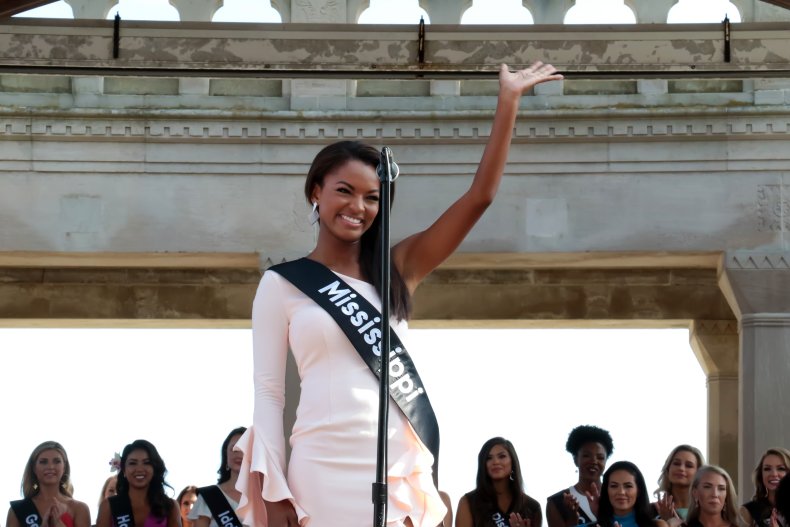 Branch's win means she will be representing the U.S. at the Miss Universe 2020 pageant.
Branch was also asked about what can be done to bring America "back together."
The pageant contestant said the country needs to "set a better example" if it wanted to "continue to be the greatest nation."
"I think this is an issue of trust," she said. "We've lost trust in the systems that seem to keep our country running—from the media to business to our government. It's all about restoring that trust and coming together and working together to heal and trust in the systems."