New Music Friday: Cardi B 'Press,' Miley Cyrus Mixtape, New Katy Perry and Everything Out on May 31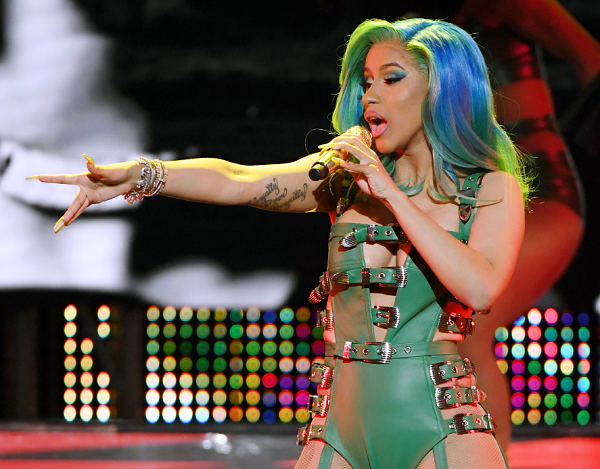 The weekend got off to a festive start, thanks to a number of artists releasing new music on Friday. While Cardi B and Katy Perry set fire to the end of May with new sizzling singles, Miley Cyrus unveiled a whole EP of new tunes that will likely stream long after June. Read on for a list of all the New Friday Music songs and projects worth checking out below.
"Press" by Cardi B
The Bronx-born rapper has teased this highly anticipated single for months on social media, and just when fans had all but given up, Cardi finally dropped the track. With fiery bravado, gut-punching attitude and finesse, the rapper makes it clear "Cardi doesn't need no press" while taking jabs at the media, her haters and anyone else who judges anything she does.
Miley Cyrus' She Is Coming Ep
Don't mess with Miley's freedom. With energy reminiscent of her 2013 hit album Bangerz, the singer belts out messages of women's empowerment, liberty and attitude throughout the six-song project. Producer Mike Will Made-It's DNA is spread throughout the project with notable contributions from RZA, King Henry, Mark Ronson and others. There's even some homage to Wu-Tang Clan on the track, "D.R.E.A.M." equipped with a feature from Ghostface Killah while RuPaul brings all "Sashay Shante" vibes with her addition on "Cattitude."
"Never Really Over" by Katy Perry
You know summer is near when Perry releases a new bop, and her latest single definitely sets the tone. An on-and-off couple takes center stage in the song, highlighting the drama of breaking up with a lover you'll likely get back with... only for the relationship to fall apart all over again.
"Love Thru The Computer" by Gucci Mane and Justin Bieber
Zapp & Roger's 1985 "Computer Love" gets updated with a bounce beat, as Gucci Mane delivers an ode to his wife and longtime love Keyshia Ka'Oir. He raps the story of their relationship from his days of ogling her in a magazine from his jail cell, to the moment he saw his bride walk down the aisle. He gets some help from Beiber, who's similarly feeling all the love with his wife Hailey Baldwin.
Skepta's Ignorance Is Bliss
The British rapper—who is responsible for the U.S.'s love of Grime—reclaimed the U.K. genre's throne with the release of his fifth studio album, comprised of the hard-hitting melodies and rhythmic flow he's known for.