Alarmed by the huge jump in teenage nicotine vaping in the past year, the Food and Drug Administration reported in findings released Monday that 1.3 million more high school students use e-cigarettes now than in 2017.
According to the data, it was the largest annual spike in the survey's 44-year history of studying the use of any substance, including marijuana, reported The New York Times.
The FDA said many teenagers may not know that vaping includes a seriously addictive substance, nicotine, which is particularly disruptive to a developing adolescent brain.
The survey, sponsored by the National Institute on Drug Abuse, found that 37 percent of high school seniors had tried vaping, an increase from just under 28 percent in 2017. Nearly 21 percent of seniors said they had recently vaped in 2018, compared with 11 percent in 2017.
The graphic below by Statista illustrates the survey results.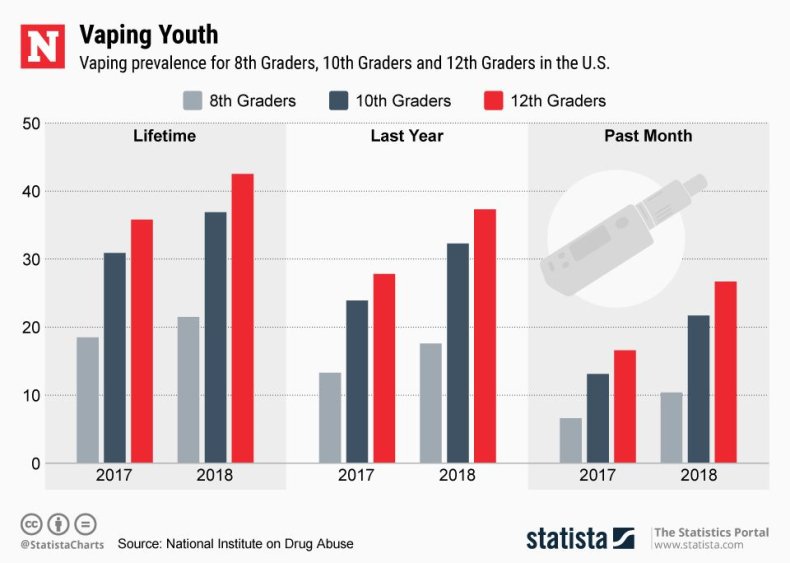 "The most surprising news to me was how frequently teenagers are vaping," Dr. Wilson Compton, deputy director of the National Institute on Drug Abuse, which commissioned the survey, told NBC News. "Right now over one-third of high school seniors report using a vaping product."
Compton added that students might avoid confirming whether they actually vape flavored e-cigarettes versus nicotine e-cigarettes. More than 25 percent said they vaped "just flavoring" in the past year, up from 20.6 percent in 2017.
Juul, the most popular e-cigarette among teenagers, has especially high levels of nicotine. Researchers worried about the long-term effects the aerosol-based chemicals could have on an adolescent brain.
Lead author of the survey Richard Miech, a sociologist at the University of Michigan, said vaping was reversing "hard-fought declines" in the number of adolescents who use nicotine.
The University of Michigan annually questions about 45,000 students from 392 public and private schools in grades 8, 10 and 12 concerning their behavior and attitudes about alcohol and drugs.
The results revealed that more than one in 10 eighth graders said they had vaped nicotine in the past year. Also, 37.3 percent of 12th graders said that had done the same—an increase from 27.8 percent in 2017.
More frequent use by teenagers nearly doubled, as 21 percent of those surveyed said they had vaped within the past 30 days—up from 11 percent in 2017.
Even as some e-cigarette companies advertise that their products may help cigarette smokers quit, researchers said vapers tend to also cross over into smoking regular cigarettes. Experts fear that high-nicotine content in trendy e-cigarettes may be creating a new generation of tobacco addicts, NBC News reported.
Overall, cigarette use is down—3.6 percent of high school seniors reported they smoked regular cigarettes daily, compared with 22.4 percent 20 years ago.
As a consequence of the uptick in teenage vaping, researchers have been studying potential drug therapies to help teenagers and their developing brains avoid lifelong addiction.
Started in 1975, the annual FDA survey measures drug and alcohol use, plus related attitudes, among students nationwide. It measures three time periods: Past month, past year and lifetime use. The National Institutes of Health funds the "Monitoring the Future" survey.
This article was updated to include an infographic.