New Obama Spokesman Jay Carney Seen as More Sympathetic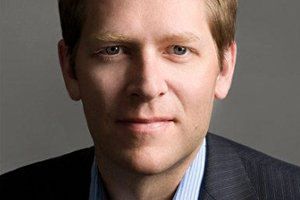 The news came, fittingly enough, in the form of a leak. White House officials passed the word to reporters Thursday that President Obama had chosen Jay Carney to lead the administration's press office. Carney, currently the spokesman for Vice President Joe Biden, is a former reporter himself, who for years led Time magazine's Washington bureau.
Carney's promotion is a notable departure from the administration's latest round of hiring, which brought in former officials from the Clinton White House, including director of the National Economic Council, Gene Sperling, and chief of staff Bill Daley, both former White House officials in the 1990s.
At Thursday's briefing before the news was announced, Robert Gibbs, the outgoing spokesman, poked fun at reporters' questions about who would be chosen, and the president's method for making the announcement (Gibbs joked that trumpets would be used). But normal interactions between reporters and Gibbs had grown tense in recent months, as the president's top spinmeister often seemed to approach relations with the media with an element of contempt.
Carney could be different. While he'll be a senior official, he'll head only the press office rather than do double duty as a policy adviser, as Gibbs had done since Obama's first day. Reporters in the press room mused in recent weeks that Carney, who covered the Clinton White House, would be more sympathetic than Gibbs has been to journalists' demands for timely answers. Officials also said Thursday that Dan Pfeiffer, the current communications director, will oversee a merged press and communications office.
But Carney could pose a downside to Obama's brand of change. Unlike most of the president's Chicago-centric inner circle, Carney is a D.C. stalwart, having lived in the metro area for almost 17 years. He's also had an opportunity to polish his chops as an administration spin doctor since joining Biden's staff in 2009.
Carney, who is married to ABC News's Claire Shipman (who also once covered the White House), will have a full plate when he takes the reins in the next few weeks. With the arrival of senior adviser David Plouffe and a new chief of staff, Obama has begun to pivot toward his 2012 reelection effort. Straddling the line between running a campaign and still being the federal government's highest-profile spokesman may be one of Washington's hardest jobs. Carney, Obama thought, was the best man for it.