New Ohio Health Secretary Backs Out For 'Personal Reasons' Hours After Governor Announces Hire
The woman chosen to be Ohio's newest health department director withdrew her name from consideration hours after Governor Mike DeWine selected her for the role, "citing personal reasons."
DeWine announced Thursday afternoon that Dr. Joan Duwve would become the new director of the Ohio Department of Health. Duwve, a Cleveland-area native, most recently served as the director of public health for South Carolina's Department of Health and Environmental Control (DHEC).
She was meant to assume her position around October 1, four months after Dr. Amy Acton resigned from the role in June amid mounting public pressure and criticism, Cleveland.com reported. The department has since been led by interim director Lance Himes.
In a statement provided to The State newspaper, Duwve said that she had decided to withdraw her name in part because of the harsh treatment Acton had received.
"In conversations preparing for the transition to the Ohio Department of Health, I was informed that the former director's family had faced harassment from the public," Duwve said. "While I have dedicated my life to improving public health, my first commitment is to my family. I am a public figure. My family is off limits. I withdrew my name from consideration to protect my family from similar treatment."
In early May, a group of about 25 demonstrators gathered outside Acton's home in a suburb of Columbus, Cleveland.com reported. They carried signs protesting the state's stay-at-home orders, which Acton signed.
DeWine confirmed Duwve would not be accepting the position in a tweet Thursday evening.
"The Governor's administration will continue its search for a full-time Director of the Ohio Department of Health," DeWine wrote.
In an email to Newsweek, Dan Tierney, a spokesman for DeWine's office, declined to comment further on the matter.
After getting word of Duwve's withdrawal, socially conservative activists worked to link her decision to the fact that Duwve had previously worked for Planned Parenthood as a volunteer coordinator in the early 1980s.
"Seriously. How did this happen?" Aaron Baer, president of Citizens for Community Values, an anti-abortion organization, tweeted. "How did a former 'Planned Parenthood, Volunteer Coordinator' get serious consideration as our health director."
DeWine, a Republican, opposes abortion and has previously declared his administration as "pro-life." The governor knew about Duwve's work with Planned Parenthood before offering her the job, Tierney told Cleveland.com.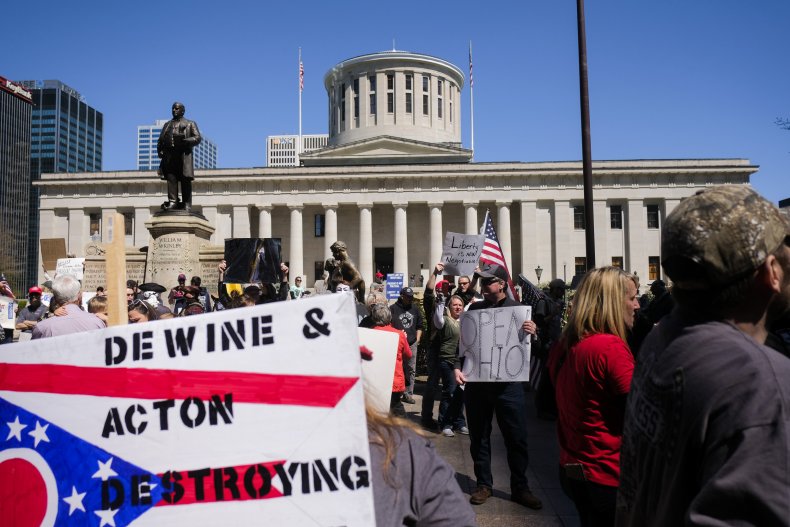 Duwve assumed her role with South Carolina's health department in April, according to the Post and Courier. Before that, she served as an associate dean for the Indiana University public health school in Indianapolis.
Duwve graduated from Ohio State University as an undergraduate and received her medical degree from Johns Hopkins University, as well as a master of public health from the University of Michigan.
Duwve had to deal with the coronavirus pandemic in South Carolina while acting in her previous role, DeWine said during a press briefing Thursday. The governor praised Duwve for sharing similar passions on public health issues.
"She's been immersed in this battle just like we have been immersed in this battle," DeWine said.