New Oklahoma National Guard Commander Will Not Enforce Pentagon's Vaccine Mandate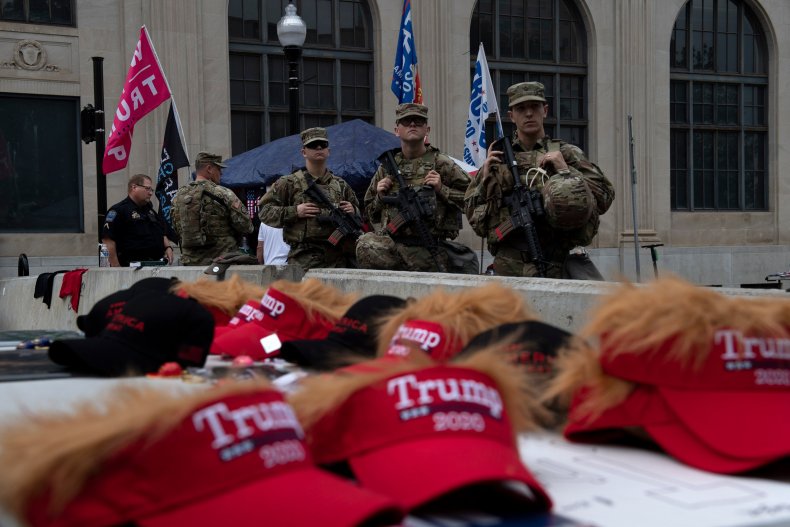 The new commander of the Oklahoma Army and Air National Guard has indicated that he will refuse to enforce the Biden administration's COVID-19 vaccine mandate for troops.
The Department of Defense (DoD) ordered all members of the military to become vaccinated against the virus earlier this year, setting an extended deadline for National Guard troops to be vaccinated by June 30, 2022. However, Republican Oklahoma Governor Kevin Stitt sent a formal request to block the mandate for Oklahoma National Guard troops to the DoD on November 2.
On Wednesday, Stitt named Army Brigadier General Thomas Mancino as the state's new adjutant general and National Guard commander. Mancino, who has not yet been confirmed by the Oklahoma state Senate as required, immediately issued a memo indicating he would not enforce the mandate, which he described as "irresponsible."
President Joe Biden is the commander in chief of the U.S. military as the country's sitting president. However, Mancino insisted that Stitt, not Biden, was the commander in chief of the state's National Guard as long as troops were not deployed federally.
Mancino, who officially has no power until he is confirmed by the state Senate, ordered the Oklahoma National Guard to ignore the mandate while deployed in Oklahoma but to follow the mandate while deployed federally.
"I hereby order that no Oklahoma Guardsman be required to take the COVID-19 vaccine, notwithstanding any other Federal requirement," Mancino wrote in the memo. "Oklahoma Command's will continue to process Federal vaccine waivers in accordance with DoD policy."
"Additionally, no negative administrative or legal action will be taken against Guardsmen who refuse the COVID-19 vaccine," he added. "Additional implementation policy may be forthcoming."
Although governors do control their state's National Guard while the troops are not federally deployed, the forces are federally funded. Ignoring the Pentagon's vaccine mandate may potentially set off a chain of events that could result in funding being pulled, although the legal situation is not entirely clear.
Air Force Major Matthew Murphy, a spokesman for the National Guard Bureau, told Stars and Stripes that Mancino's memo was "a legal gray area that would have to be reviewed by our lawyers."
Army Major General Michael Thompson, Oklahoma's former adjutant general and commander of the National Guard, told KOKH that he was given no reason for his dismissal and learned of Mancino's appointment Wednesday on Twitter.
"We are aware of the memo issued by the Oklahoma Adjutant General regarding COVID vaccination for Guardsmen and the governor's letter requesting exemption," DoD Press Secretary John Kirby said in a statement obtained by Newsweek. "We will respond to the governor appropriately."
"That said, Secretary [of Defense Lloyd] Austin believes that a vaccinated force is a more ready force," Kirby added. "That is why he has ordered mandatory vaccines for the total force, and that includes our National Guard, who contribute significantly to national missions at home and abroad."