New Orleans will reinstitute an indoor mask mandate to help prevent the spread of COVID-19 in preparation for an expected influx of Mardi Gras visitors.
Dr. Jennifer Avegno, the city's health director, said the mandate goes into effect on Wednesday at 6 a.m. and will apply to people participating at events in the city, including annual Mardi Gras balls taking place later in February.
Despite the rising COVID-19 cases, the city kicked off its Carnival season last Thursday, returning from a hiatus in 2021.
However, Avegno said the state's COVID-19 hospitalization numbers have increased "by a factor of seven" in three weeks. She said hospitals and emergency rooms are experiencing staff strains, with some wait times as long as 12 hours.
Avegno said the growing coronavirus cases, driven by the Omicron variant, will affect people seeking treatment for injuries and other illnesses during the Mardi Gras season when tourists are known to overindulge.
While Avegno said she hopes the number of COVID-19 cases will decrease during the next few weeks, she also indicated that hospitalizations and deaths can rise weeks after cases are initially reported.
Akilah Jefferson Shah, an assistant professor of pediatrics at the University of Arkansas for Medical Sciences College of Medicine, has said that New Orleans officials should not be afraid to update COVID policies if needed, according to the city's WWL-TV.
"I think today to say that the cases are going to be better and the infections are going to be better and it's not going to put a lot of people at high risk for an event that's happening in several weeks is a little premature," Shah was quoted by WWL-TV.
New Orleans city officials canceled many Mardi Gras events last year. The canceled parades meant many nonprofits lost funding, such as The Roots of Music, whose executive director estimates that the group lost $60,000 in funds.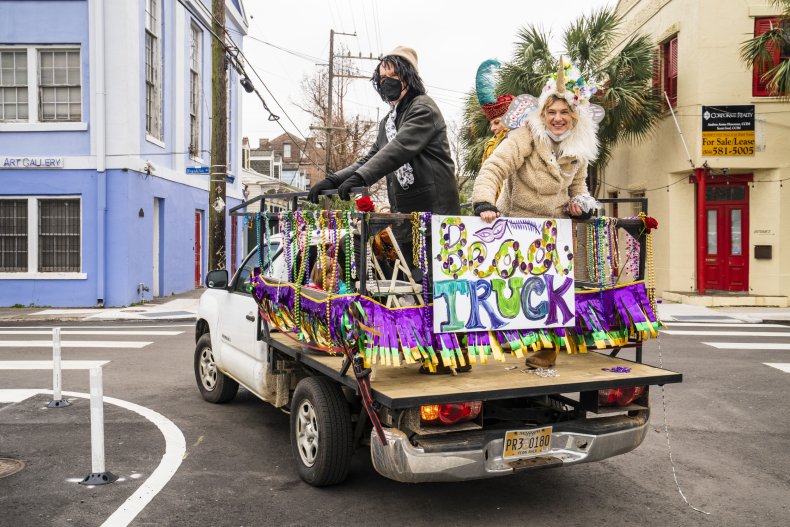 Mardi Gras, or Fat Tuesday, falls on March 1 this year. Major parades, which draw millions of tourists and many locals to the city, begin during the last two weeks of February.
The city is determined to proceed with this year's celebration and already requires people to show proof of vaccinations or negative tests for entry into bars, restaurants, and other venues. Performers will also have to provide evidence of immunization and must comply with mask mandates. According to the city, the traditional over-the-eye costume will not substitute for a mask.
The beginning of Mardi Gras 2020 had few restrictions in place, but officials quickly realized it was an early Southern superspreader of the virus, which resulted in last year's decision to cancel the celebration.
Despite the milder Omicron-driven cases, the state health department reported more than 1,900 people were hospitalized with COVID-19 in Louisiana as of Monday, up from about 200 in mid-December.
The Associated Press contributed to this report.