New Orleans COVID Patients More Likely to Die at Home Than in Rest of U.S., Report Finds
In New Orleans, one of the early U.S. hotspots for the coronavirus pandemic, patients in critical condition were more likely to die in their own homes than in a hospital, a ProPublica investigation found.
COVID-19 fatality statistics within the city suggested an anomaly, according to the report published Wednesday. While national data from the Centers for Disease Control and Prevention (CDC) showed that coronavirus patients aged 85 and older died at home only 4 percent of the time, local coroner records found that it was 17 percent in New Orleans.
Reporters analyzed records of the city's more than 460 deaths from the beginning of the pandemic through early May. The investigation found that the majority of patients died in a hospital, and a smaller number in a nursing home, but ProPublica focused on the 55 people who died outside of any acute care setting, such as the patient's own home or a hospice facility.
The news organization attempted to reach all 55 families and spoke with 35 of them, finding that further deviation occurred among racial lines when it came to the manner of care patients received.
For instance, three of the families of white individuals who died either with home or hospice care told reporters they avoided the hospital from the beginning of their loved one's sickness. Some Black families said the same, ProPublica reported.
But 25 families told reporters that their loved ones died after seeking care at a hospital. All of these families were Black. Some were told upon showing up to the hospital that they were not sick enough to be admitted, but 18 of the families had patients who were discharged from the hospital and admitted to hospice care, according to ProPublica.
The majority of those 18 cases occurred with Ochsner Health, Louisiana's largest non-profit, academic health care system.
Eight families told ProPublica they felt pressured by Ochsner staff members to accept hospice care, often after being forced to discuss their loved one's condition over the phone. Because of the risk of infection, many hospitals did not allow visitors until a patient was nearing death, meaning that critically ill patients were often left to advocate for themselves.
An Ochsner spokesperson did not tell ProPublica whether families were permitted to visit the hospital to discuss hospice or other treatment options.
"Ochsner, like many health systems and hospitals across the country and as required by [the Louisiana Department of Health] instituted a zero-visitor policy," the spokesperson said. "This policy did have an exception for essential visitors that included limited visitors for end-of-life patients."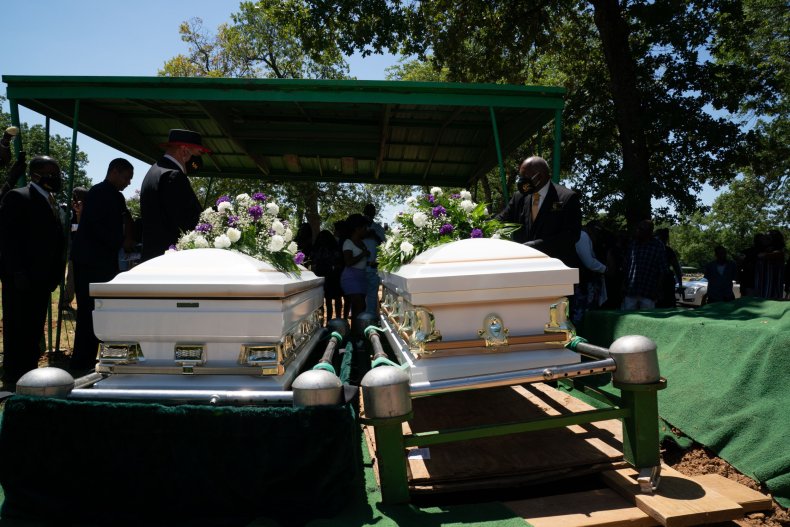 Heath officials working in hospitals in three other early virus hotspots, including Seattle's UW Medical Center, New York City's SUNY Downstate Medical Center and Chicago's Rush University Medical Center, all said they handled palliative cases in the hospital instead of sending patients home for hospice.
In New Orleans, this was not always the case.
Rodney Lavalais told ProPublica that he received a call from Ochsner West Bank 23 hours after his 86-year-old mother, Sarah Johnson, was admitted with coronavirus symptoms. Doctors told him there was nothing more they could do to save Johnson, and that her kidneys were failing.
"They told us we couldn't see her, and that maybe contributed to our decision to bring her home," Lavalais told ProPublica. "They said hospice will be there to make sure she's comfortable."
In his mother's final days, Lavalais and other relatives were virtually left alone to care for Johnson, as hospice companies had limited their in-person visits for employees to mitigate infection risk.
But they soon discovered that hospital records showed Johnson's recommendation for hospice was based upon a doctor's speculation on her mental state, and that her kidneys had actually improved to the point that they were no longer failing on the day Johnson was sent home.
"If she stayed in a few more days and got more IV fluid, I think she would've done fine," said Dr. Brobson Lutz, an infectious disease doctor on staff at Ochsner, who served as the New Orleans Director of Health for 13 years and reviewed the case for ProPublica. "She was only mildly symptomatic for COVID. She was certainly getting better and responding."
Dr. David Goldfarb, clinical director of the nephrology division at NYU Langone Health in New York City, agreed, telling ProPublica that Johnson's kidney problems didn't necessarily warrant hospice care.
"She has pretty bad kidney function, but she's not going to die of kidney failure," he said. "The acute kidney injury wasn't bad enough to really make sense as a hospice diagnosis."
An Ochsner spokesperson told ProPublica that, per national standards, "hospice was determined and recommended by the care team if the patient had a life-limiting illness in which death is anticipated in the next six months."
Goldfarb acknowledged that, as an 86-year-old coronavirus patient who already experienced kidney issues, Johnson's long-term life expectancy wasn't good. But while it was not unreasonable for Ochsner to recommend hospice, it wasn't the only option, Goldfarb told ProPublica. The family should've had a choice, he said.
Ochsner did not answer ProPublica's questions about the families who said they felt pressured into hospice. Relatives often had to make these difficult end-of-life decisions more quickly because of coronavirus' rapid nature, a spokesperson told ProPublica.
The spokesperson wrote to ProPublica in an email that "we do not and did not cut corners on our patient's care at any time during or after COVID-19," despite some experts' suggestion that Johnson may have survived had she remained in the hospital longer to receive further care.
Newsweek contacted Ochsner for further comment, but did not hear back in time for publication.