New Orleans Kicks Off Carnival Season With Wary Eye on COVID After 2021 Cancellation
New Orleans will begin its Carnival season today after last year's hiatus from parades and festivities, despite rapidly rising COVID-19 cases from the omicron variant.
2020 Mardi Gras celebrations began in the city with little in the way of restrictions, but officials soon realized events were largely becoming superspreaders of the virus. With that in mind, New Orleans canceled most events for the 2021 season, including restricting access to Bourbon Street, known for its raucous parties and bar scene.
The lack of parades meant a loss of funding for nonprofits, such as The Roots of Music, which depends on parade revenue. At the time, Suzanne Raether, the group's executive director, said they missed out on about $60,000 in funds.
This year, the festivities and parades of Carnival have returned, with the first parade planned for Thursday.
Carnival starts with the traditional kickoff of the Phunny Phorty Phellows boarding a St. Charles streetcar with a small brass band. The rolling party follows the historic streetcar line all the way to Bourbon Street. An annual march in the French Quarter that honors Joan of Arc will also take place.
New Orleans is requiring proof of vaccination for all riders and performers, and/or a negative COVID test. Face coverings are also required for parades, but the traditional over-the-eye costume masks can not be a substitute according to the city.
More parades are to follow in February.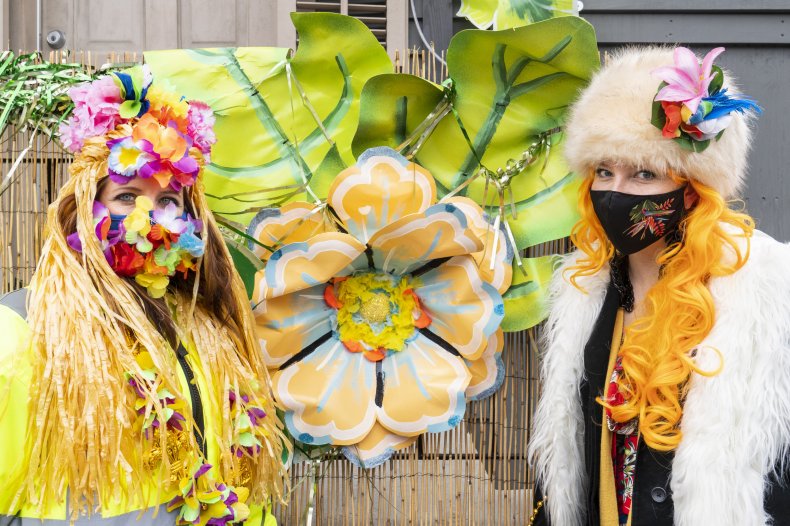 "It was certainly the right thing to do to cancel last year," said Dr. Susan Hassig, a Tulane University epidemiologist who also is a member of the Krewe of Muses, and who rides each year on a huge float in the Muses parade. "We didn't have vaccines. There was raging and very serious illness all over the place."
Now, she notes, the vaccination rate is high in New Orleans. While only about 65 percent of the total city population is fully vaccinated, according to the city's statistics, 81 percent of all adults are fully vaccinated. And the overall percentage is expected to increase now that eligibility is open to younger children.
Sharing Hassig's cautious optimism is Elroy James, president of the Zulu Social Aid and Pleasure Club, a predominantly Black organization whose Mardi Gras morning parade is a focal point of Carnival. Early in the pandemic, COVID-19 was blamed for the death of at least 17 of Zulu's members. Compounding the tragedy: Restrictions on public gatherings meant no traditional jazz funeral sendoff for the dead.
"I think most krewes, particularly, I know, for Zulu, we've been very proactive, leaning in, with respect to all of the safety protocols that have been in place since the onset of this thing," James said Wednesday. "Our float captains are confirming our riders are vaccinated. And part of the look for the 2022 Mardi Gras season is face masks."
Statistics still show reason for concern in a state where the pandemic has claimed more than 15,000 lives over the past two years. Louisiana health officials reported more than 1,287 hospitalizations as of Tuesday — a sharp increase from fewer than 200 in mid-December. Still, reports nationwide indicate the omicron-driven illnesses are milder than previous cases. Hassig notes that a lower percentage of patients require ventilators, a sign of less-severe illness.
And dedicated parade participants aren't stopping precautions at masks and shots. Muses founder Staci Rosenberg said the krewe had planned to gather at a bar a couple of blocks off the streetcar route to await the passing of the Phunny Phorty Phellows' procession. Now, they've moved that party to an outside parking lot.
Hassig, meanwhile, says she doesn't plan to attend any indoor gatherings. She, is, however, determined to ride in the Feb. 24 parade — vaccinated, face covered with an N95 mask and knowing that outdoor activities are generally less likely to spread disease.
The Associated Press contributed to this report.