New Orleans Lifts Indoor Mask Mandate After Rise in Vaccination Rates
The city of New Orleans has officially lifted its indoor mask mandate after experiencing an increase in vaccination rates.
On Wednesday, New Orleans released a statement on Twitter and in an official press release detailing the current vaccination rates, what areas are still under the indoor mask mandate, and next steps throughout the transition process.
On the official New Orleans Twitter page, it was stated that because of "significant improvement in COVID-19 metrics caused by strong vaccination rates" and "vaccine-test mandates," the indoor mask mandate will be suspended for most public places.
The areas of New Orleans in which the indoor mask mandate is still in effect include public transportation, healthcare facilities, and early childhood, elementary, and secondary educational institutions. New Orleans also stated that "a proof of vaccine or negative COVID test [within 72 hours] will continue to be required for entry at certain businesses."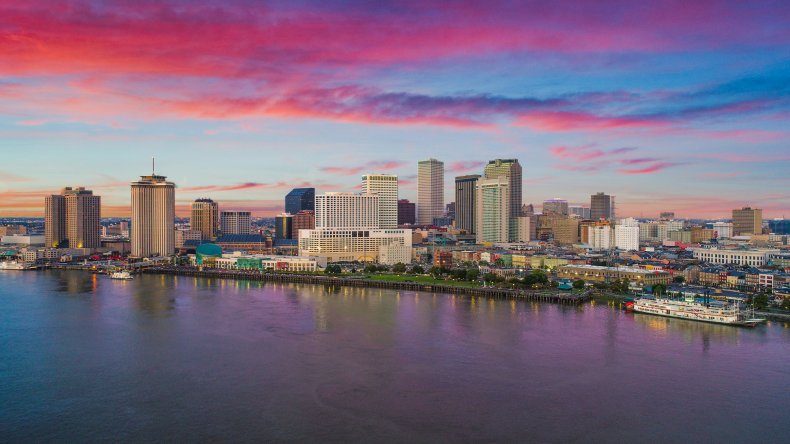 Currently, 60.3 percent of the total population in New Orleans is fully vaccinated and 75.6 percent of the eligible population is fully vaccinated, according to city officials.
The announcement regarding the conclusion of the indoor mask mandate was made by New Orleans Mayor LaToya Cantrell in an official press release. Along with vaccination rates, Cantrell's decision to end the indoor mask mandate for most public places was due to COVID-19 cases, hospitalizations and deaths decreasing due to mitigation measures, indoor proof of vaccination and other implementations.
The New Orleans Health Department (NOHD) is continuing to encourage residents ages 2 years or older to wear masks within certain areas and social distance in accordance with the Centers for Disease Control and Prevention (CDC) guidelines.
NOHD Director Dr. Jennifer Avegno said in a press release that the mask mandate has greatly benefited the city of New Orleans.
"The indoor mask mandate that was in place over the past several months helped us reduce the surge in cases we saw due to the Delta variant," said Avengo. "Even though the numbers are currently low, we must remind our residents that this pandemic is not over and remains dangerous for all that may come in contact with the virus."
New Orleans is currently in stage three of its reopening plan which includes specific indoor and gathering guidelines related to reopening the state in its entirety.
In July 2021, the mask mandate was reinstated due to a surge of new COVID-19 Delta variant cases and hospitalizations across the state.
The indoor mask mandate is set to officially end on October 29.
Newsweek reached out to Mayor LaToya Cantrell for comment.