A months-long effort to recall embattled New Orleans Mayor LaToya Cantrell has fallen short of its goal by thousands of signatures, giving her a much-needed victory after a deluge of criticisms over issues like crime and the city's trash collection.
Speaking with reporters at an event in Hammond, Louisiana Governor John Bel Edwards said the citizen-led campaign to recall Cantrell had not met the threshold needed to prompt a recall election. The petition was delivered Tuesday morning to state officials in Baton Rouge.
According to numbers provided by Edwards' office, while the recall petition that the activists delivered had 67,022 handwritten signatures, only 27,243 of them belonged to qualified electors. About 45,000 names were needed to force a referendum vote on New Orleans' first female mayor.
"I won't be calling an election," he told reporters. "The threshold was not satisfied."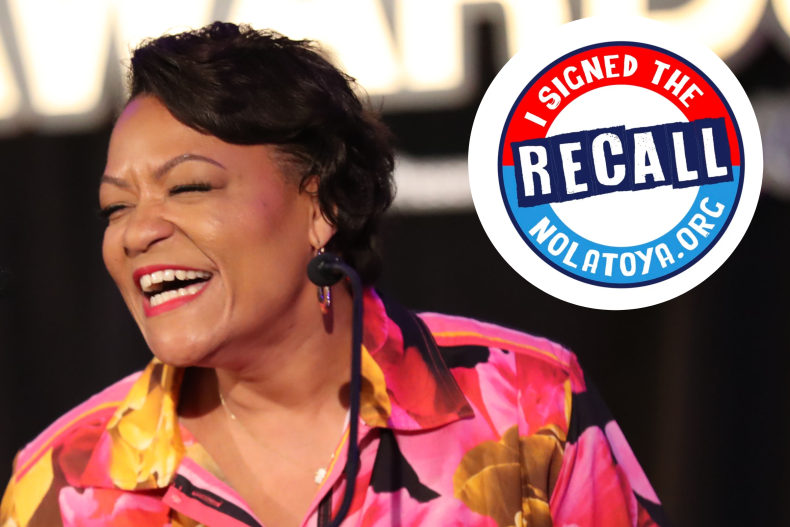 Newsweek reached out by email to Nolatoya, the group behind the recall effort, for comment.
In previous comments, Eileen Carter, the group's co-founder, said her organization had secured more than 49,000 signatures on its petition for a recall election and had previously sued Orleans parish for keeping more than 30,000 voters on the rolls who were no longer eligible to vote in the district. Eliminating those 30,000 voters would have lowered the required signatures threshold for the petition.
However, state data shows the recall effort was rife with errors. Of the supplemental signatures, local media reported, nearly 5,000 were duplicates, while nearly 900 came from voters outside of Orleans parish. An additional 26,000 signatures were rejected for reasons ranging from a lack of data necessary to verify they were legitimate to signatures that were obtained before or after the deadline.
"It doesn't seem like the recall effort was particularly well organized," John Couvillon, a political strategist and Baton Rouge-based pollster, told Newsweek.
The news comes on the heel of mountains of negative press and controversy that has enveloped Cantrell's administration six years after she was swept into office with roughly 60 percent of the vote. The Democrat won amid a surge in progressive activism in cities around the country during the Donald Trump administration.
Heralded for her efforts to address the city's gun violence as a city councilwoman, Cantrell has since found herself mired in controversy over the city's violent crime rates, her hard-line approach to addressing the COVID-19 pandemic, and a mounting trash collection crisis in the city that opponents say was directly tied to issues within Cantrell's administration.
Last month, Cantrell was seen flipping an obscene gesture at hecklers during a Mardi Gras parade. In February, the Times-Picayune newspaper endorsed the recall effort, calling it an opportunity for Cantrell to "defend her record, present her vision for the future and let voters know she takes their concerns seriously."
Cantrell, meanwhile, had said the effort was nothing more than an effort by Republicans to remove her from power and disenfranchise the city's Black voting base, citing the group's support by local GOP businessman Rick Farrell.
On March 1, she said at a news conference that the recall campaign was based on "lies and misinformation" and that "it is no longer about recalling me as the mayor of the city of New Orleans, for a lack of doing the job. It's been proven work has been done and is continuing."
Newsweek reached out by email to Cantrell's office for comment on the defeat of the recall effort.
At the end of the day, Cantrell—unlike her Chicago counterpart, Lori Lightfoot, who was ousted from the mayor's office earlier this year—had the local liberal establishment behind her, which helped her survive the recall effort, Couvillon said.
"Chicago was seen as a case where Mayor Lightfoot had alienated enough people to where you had dissension within the Democratic Party, whereas in this case, I didn't see any of what I would consider the power players who were wanting to spearhead this effort," he said.