New Orleans Mayor Mitch Landrieu on the 10th Anniversary of Hurricane Katrina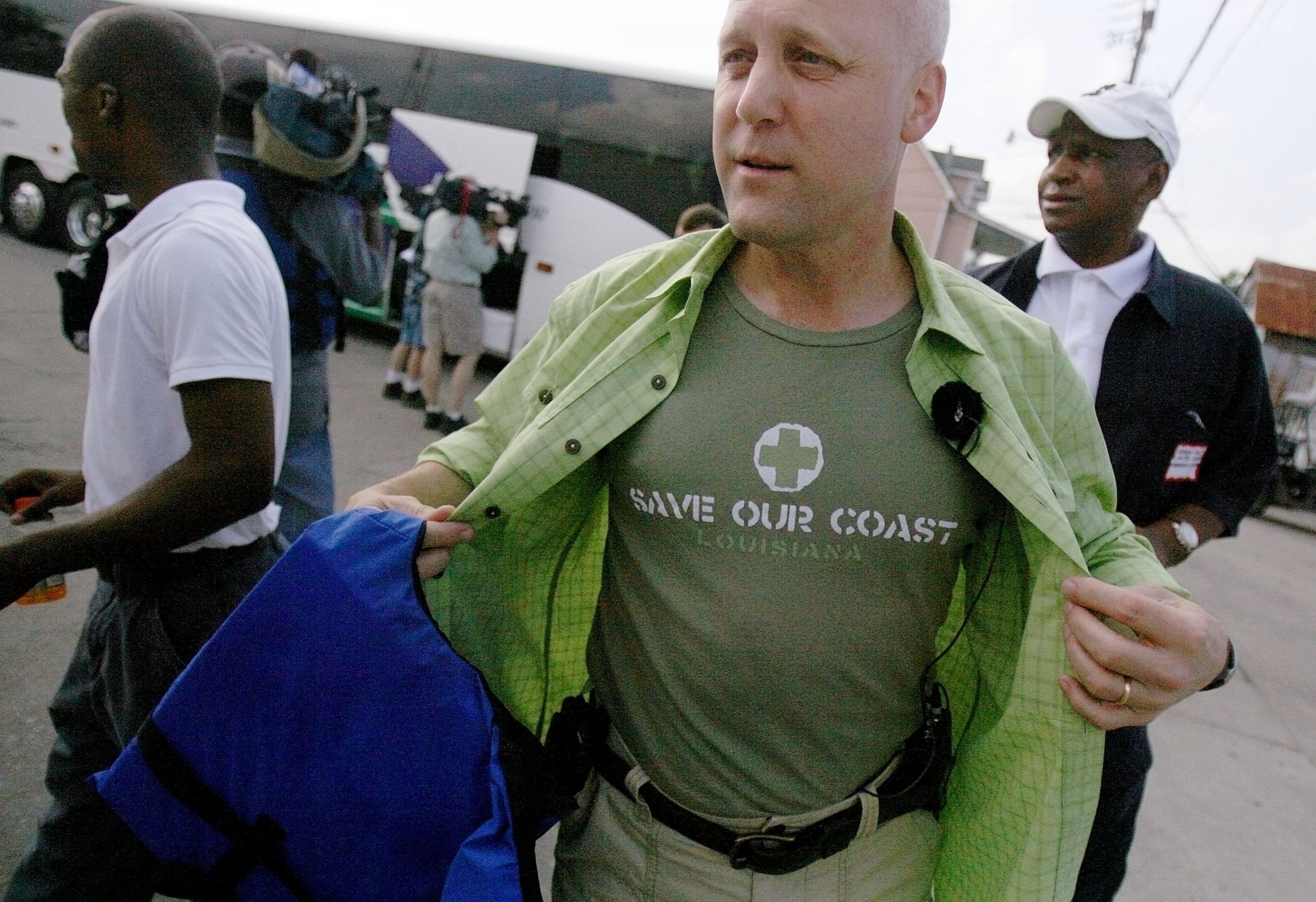 When Mitch Landrieu took office, New Orleans got its first true, dedicated leader in eight years. Landrieu was taking over for Mayor Ray Nagin, a man remembered as anything but right for the job in the aftermath of Hurricane Katrina.
Nagin on more than one occasion skipped town altogether to avoid the post-storm madness, and in addition to being incompetent he was corrupt: He was found guilty of fraud, conspiracy, money laundering and other charges in 2014. He's currently serving a 10-year prison sentence.
Landrieu has spent his time as mayor being the anti-Nagin. He's been in office since 2010, taking over five years after the storm—when much was still left to be done. Though no political leader is perfect, Landrieu was bred for the job. He comes from an impressive family: His father was a beloved mayor and his sister, Mary, was a formidable senator. Above all else, Landrieu prides himself on uniting a city that was divided by political challenges and the long-enduring aftermath of the storm.
After Hurricane Katrina, Landrieu was "everywhere." Working as lieutenant governor, he had a variety of state obligations to attend to, and on August 28, a day before the storm, he had to attend a funeral.
"I was at the funeral and then we had to evacuate with everyone else," Landrieu recalls in an interview with Newsweek. "I left early to go to Baton Rouge and spent time at the operations center. Then I had to get back to the city to keep the lines of communication open. I was involved in the rescue, getting people to safety, and helping with the evacuation."
Because he was so involved in the rescue efforts and was bouncing between the two cities, it was some time before Landrieu was able to look in on his family home in the Broadmoor neighborhood. "We didn't have time to check on anything. Everything was underwater," he says. As the chaos wore on, Landrieu had to find new schools for his children and help his family adjust to this new life.
"We have hurricanes all the time, the expectation is that we'll be able to dust ourselves off and get back up. I thought Monday morning we were in good shape, that even though it would be tough, we'd be able to recover quickly. Then the general came into the emergency center and said there were reports of a levee breach. I knew if that's what it was, it would be a catastrophic event," Landrieu remembers. "Once the city started to fill up with water, you have 500,000 homes that got hurt, we had 1,800 people dead. This was not a natural disaster, this was a man-made disaster and an infrastructure failure."
From there, the future mayor worked to understand how long it would take to rebuild New Orleans. He was receiving the "best guesstimates" of experts, but was still amazed to see some cleaning beginning a month after the storm. Though this brought optimism, it also made it clear exactly what had been stuck underwater for the month following the storm: Bodies, cars and bits and pieces of homes were floating in toxic sludge. After the water was pumped out, these and more lay on the ground, waiting to be dealt with.
When it came time to rebuild, Landrieu said that was the silver lining of the storm: Help poured in from the international community. "Everyone in the world came to our aid—governments, private citizens, faith-based communities. People from all over the country took into the bosom of their neighborhoods all of our citizens. Even though the initial response of the federal government was weak, we had the National Guard, we had state-based organizations and we had people from all over the government with boats," Landrieu says. "One of the blessed things about the event was the people who reached out. Out of a catastrophic event came a beautiful thing. It was angels among us. People lost the sense of themselves and helped other people."
It never occurred to Landrieu that the city would not rebuild. Though some politicians made comments about razing the city for farmland and experts constructed the ill-fated "green space" map, Landrieu said "nobody here on the local level thought anything other than rebuilding the city in a thoughtful way." He dismissed any ideas of shrinking the city's footprint as just plain "silly."
Ten years after Katrina, Landrieu recognizes the city isn't perfect. "We don't have as much money as we need and people still have difficulty. It'll take some folks longer to come back," he explained. Though New Orleans is not yet at 100 percent reoccupancy rates in every neighborhood, it's doing quite well overall. Only four neighborhoods are under 50 percent reoccupancy, including the Lower Ninth Ward, one of the city's poorest and most devastated by Katrina.
"The Lower Ninth Ward, well, Rita and Katrina did not cause all of our damage. It's not really all that surprising that the neighborhoods that did worse before the storm are doing worse after the storm," Landrieu says. To help rebuild the area, the city has pledged hundreds of millions of dollars in investment funds and works with a variety of charities to promote reoccupation. "We will continue to work with Make It Right [actor Brad Pitt's charity] and other organizations to build there. It is going to take some time and the market is going to have to reassert itself. We want housing options. We are going to have to keep hammering at it. The economy needs to get better and folks need to choose to invest here. We want people to know that the Lower Ninth Ward is available."
The tourism trade, for which New Orleans is best known, has more than bounced back since the storm, he says: "We are doing a bigger book of business than we did before and we have 800 more businesses than we had before. It's a $5 billion industry with 80,000 jobs. As a result of that, we can build a new airport." But Landrieu isn't relying on tourism to be the economic backbone of the city. "If we want to be a great 21st century economy, we can't just be tourism," he says. "We need the port, we need oil and gas, we need medicine. We need the economic impact from that."
Landrieu has made good on promises of economic innovation: This summer, a $1.1 billion hospital opened. It'll replace the city's shuttered Charity Hospital, which closed as a result of the storm. The city hopes the new hospital will create hundreds of jobs, attracting the best and brightest from competing facilities.
When asked if Katrina has allowed New Orleans to improve in a way it couldn't have otherwise, Landrieu pauses and said regardless of the innovations, the storm would have been best avoided. "The storm isn't viewed as an opportunity but it's the chance to get it right," he explains. "New Orleans has turned itself around and has built the city that we should've built in the first time."
On the 20th anniversary of the storm, 10 years from now, Landrieu hopes New Orleans is able to compete with New York City and Chicago: "We now know what it looks like to win. We have very, very high demands and expectations of themselves in the future. For the first time in 40 years, we are getting better rather than worse. We want to keep that going. At 20 years, we want a city where no one is left behind and the people are at peace."