New Orleans Saints Quarterback Competition is 'Over' According To NFL Analyst Shannon Sharpe
When Drew Brees retired after the New Orleans Saints 2020 season, it was widely believed that Taysom Hill would slide right in as his replacement.
Saints coach Sean Payton had cultivated playing time for Hill, designing offensive schemes to put the ball in Hill's hands for both run and pass plays. When Brees went down with an array of injuries last November, Hill filled in admirably, going 3-1, completing 72 percent of his passes and rushing for four touchdowns in four starts.
However, the top pick in the 2015 NFL Draft, Jameis Winston, has performed well enough to earn New Orleans' starting quarterback spot, according to several analysts, including former tight end turned analyst, Shannon Sharpe.
Winston, cast off by the Tampa Bay Buccaneers for turning the ball over too much — he has 88 career interceptions and 23 fumbles lost in 76 NFL starts — has looked efficient completing 16 of 22 passes (72.8 percent) with three touchdowns and one interception this preseason. He was 9 for 10 with 123 yards and two TD tosses to second-year receiver Marquez Callaway in three drives in New Orleans' 23-21 preseason victory over the Jacksonville Jaguars on Monday.
Meanwhile, Hill has wilted under the competition. He is 19 for 32 (59.4 percent) with one touchdown and an interception in two games and ceded the starting spot to Winston on Monday after opening under center in New Orleans' first exhibition game against the Baltimore Ravens.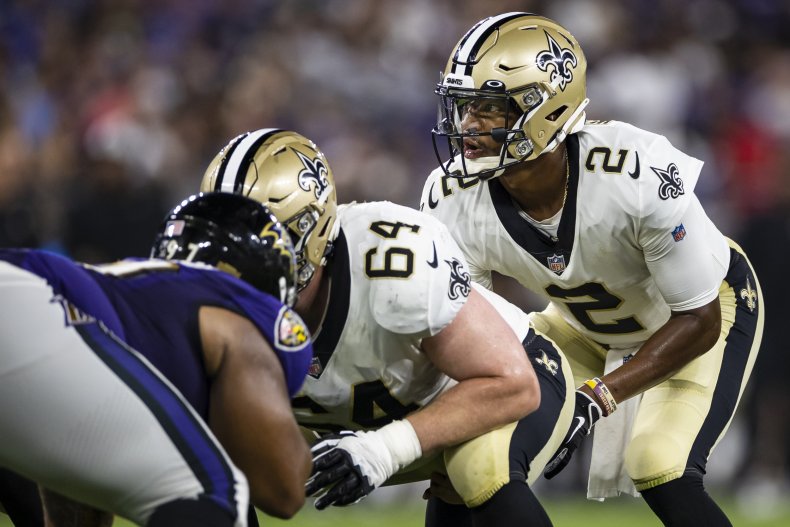 Hill's loss was Winston's gain, and the opportunity to start — which Winston hadn't done since December 29, 2019 — wasn't lost on him, even if it came only in a preseason game.
"It was exciting," he said. "I haven't started a football game in so long, so I was so excited to get an opportunity to start and just lead the pack."
Interestingly, it was Winston who squandered the opportunity to replace Brees in 2020. Winston was the Saints' backup but posted lackluster numbers — 6 for 10 for 63 yards and a 78.3 quarterback rating — in his lone appearance in Week 10 against the San Francisco 49ers, which opened the door for Hill to take over as the starter.
Payton was mum when asked to name a starter after the game Monday, saying "when we know what direction we're going, we'll let you guys know."
Hill's contract, which was restructured after last season, complicates matters. Hill is guaranteed more than $12 million for the 2021 season, which is starting-quarterback money. Winston's contract guarantees him $5 million but can reach $12 million if he achieves a certain level of bonuses.
Even if Winston was named the starter, Hill would still be waiting if he faltered. But this season is huge for Hill's NFL future.
Hill's contract, which was reported as a four-year deal, can be voided after each season, meaning the Saints will only be charged dead-cap space for his signing bonus. Additionally, Hill is 31 years old — four years older than Winston — and players who rely heavily on rushing ability tend to age worse given the wear and tear on the body.