New Orleans Saints Stadium to Be Renamed Caesars Superdome
The New Orleans Saints will play at the newly renamed Caesars Superdome after a 20-year contract was approved Thursday.
The Louisiana state's Joint Legislature Committee on the Budget approved the naming rights "without objection" after a morning meeting called for a vote on the deal, according to The Times-Picayune.
"Today the Louisiana Joint Legislative Committee on the Budget (JLCB) approved the naming rights convention for the Superdome," Greg Bensel, senior vice president of communications for the Saints, told Newsweek. "This approval was a procedural step in securing the naming rights for the Superdome and now we move to finalize our partnership agreement. Once that is official, we will have a formal announcement."
The deal is reportedly worth 138 million, according to the Times, with the Saints named as the recipient of the proceeds. The team plans to use the money for a renovation that will take multiple years to complete.
The Caesars Superdome will be the first NFL stadium to bear the name of a casino. Caesars Entertainment is already the official casino sponsor of the league, becoming the NFL's first gambling sponsor in 2019.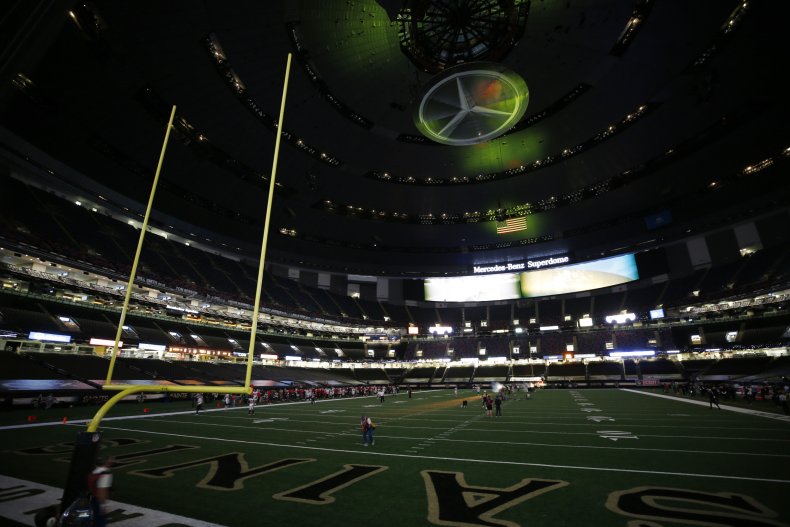 When Hard Rock acquired the naming rights for the Miami Dolphins' stadium in 2016, the company was not allowed to associate the deal with gambling ventures.
The logo for the front of the Superdome received some pushback from Louisiana State Senator Katrina Jackson at the meeting. Jackson said the mockup photos of the name looked "gaudy and cartoonish."
The lettering for the stadium is written in two different fonts, with the word "Caesar" written in the Caesar Entertainment style, and the "Superdome" in bold, capital letters.
"We don't want it to turn into a minor league baseball outfield wall," said Evan Holmes, ASM Global's business operations director said.
Holmes said the committee will consider Jackson's comment, according to the Times.
NFL fans on Twitter also brought up issues with the new name. Many people mentioned how they initially thought the pizza company Little Caesar's was the new sponsor for the Saints.
"The Caesar's Superdome?!? LOLLLLL. Good gawd, how fitting. Maybe the other arena will be "Lil Caesar's"?" Twitter user @PaulMcRambles wrote.
"Little Caesar's palace hot n ready Superdome," @jeffreydecorte tweeted.
The stadium has used the "Mercedes-Benz Superdome" name since the German car manufacturer purchased the naming rights in 2011. The company decided against renewing its naming rights contract, and its claim to the Louisiana Superdome expired on July 15.
Mercedes-Benz started sponsoring the Atlanta Falcons in 2017 by buying the naming rights for the Mercedes-Benz Stadium, also called "The Benz".