New Orleans Shooting Videos Capture Chaos During Mardi Gras Parade
Videos on social media captured the chaotic aftermath of a shooting at a Mardi Gras parade in New Orleans.
Five people were shot in the 1600 block of Terpsichore Street during the Krewe of Bacchus parade in New Orleans on Sunday night, the New Orleans Police Department said.
Officers were in the vicinity when they heard shots fired at around 9:30 p.m. On arrival, they found five people suffering from gunshot wounds.
The victims include a young girl, a woman and three men. All were transported to hospital, where one of the men was later pronounced dead. The other four victims are reportedly in a stable condition, police said.
NOPD Chief Deputy Superintendent Hans Ganthier said one person was detained at the scene moments after the shooting.
"With the help of our partners we were quickly able to apprehend the subject that we believe responsible for this," Ganthier said.
Videos posted on social media showed litter strewn in the streets as officers worked the scene.
One clip showed an officer directing parade-goers away from the crime scene.
"This is all a crime scene, go in this direction," the officer tells people in the video. "I apologize for any inconvenience. People are injured. Thank you."
A witness told WWL-TV that people were falling all over themselves trying to get out of the way of the gunfire, leaving their belongings behind. At least a dozen shots were fired they said.
The witness also said that there had been a number of skirmishes in the same area before the shooing occurred that officers had broken up.
Andrew Crawford said he had been at the parade with his family when they had to run to safety when shots rang out.
"I don't want to see this happen again during Mardi Gras, you know small children and families," he told the station. "It's unfortunate. You want to protect the ones you love. It is what it is. It sucks."
Two guns were recovered at the scene, Ganthier said. He said he is not certain whether there was anyone else involved, and urged the public to come forward if they have any information.
"This is really not something we wanted to see. We really wanted this to be a safe Mardi Gras and we continue to work towards that end," Ganthier said. "We really, really want the public's help. If there were other individuals involved, please call CrimeStoppers."
The New Orleans Police Department have been contacted for further comment.
The police department is asking the public to contact NOPD's Sixth District with any information on the shooting at (504) 658-6060 or Crimestoppers anonymously at (504) 822-1111 or toll-free at 1-877-903-7867.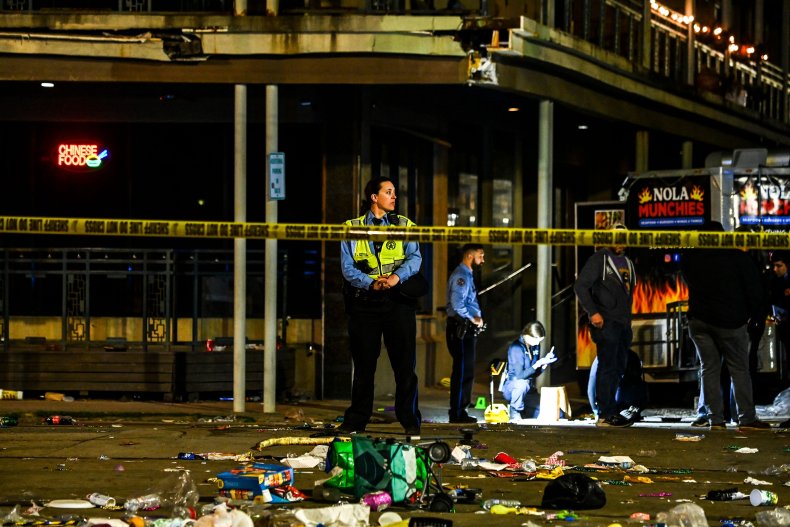 Update 2/20/23, 3:36 a.m. ET: This article has been updated with additional information.