New Orleans Tornado Ruled EF3, Reached Wind Speed of 160 MPH
A tornado that touched down and caused damage near New Orleans, Louisiana has officially been classified as an EF-3 tornado, with wind speeds estimated at about 160 miles per hour, according to the National Weather Service (NWS).
The NWS report stated that at least one person has been confirmed dead after the Tuesday storm with at least two others injured as several houses were damaged or destroyed.
The tornado was given an EF-3 rating on the Enhanced Fujita scale, which estimates maximum wind speeds reached within a tornado by analyzing the damage that is dealt by the tornado. EF-3 storms have wind speeds from 136-165 miles per hour, and are classified as "severe."
Much of the most severe damage was reported in Arabi, a St. Bernard parish neighborhood just east of New Orleans, including a house that was reportedly lifted off its foundation and pushed into the road by intense winds.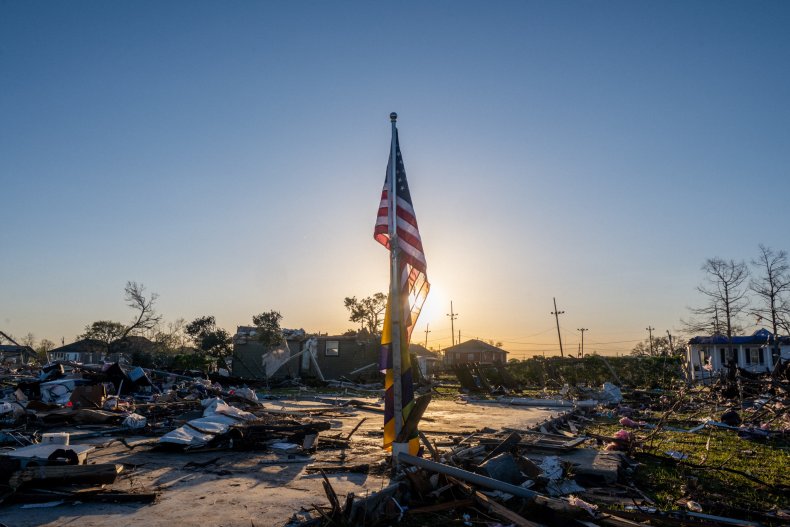 Videos and photos have revealed the extent of damage to the area, including houses that had walls cave in and roofs taken off, and cars overturned in the streets.
"It was a very narrow, intense tornado with two areas of concentrated EF3 damage. One was a house that was swept off its raised foundation with all walls and the roof destroyed," the NWS stated.
Another house built within the last six months stayed standing, but was shifted 90 degrees off its foundation and moved about 50 yards north. A nearby home was "mostly destroyed," according to the NWS.
The report estimated that the tornado was on the ground with a width of 320 yards at its largest, traveling over 11 miles on the ground. The NWS said those figures could be updated in the coming days as satellite and drone footage are reviewed.
At 160 mph winds, Tuesday's tornado passed a tornado that touched down in 2017 with 150 mph winds, becoming the strongest tornado on record for metropolitan New Orleans, according to David Bernard, chief meteorologist for local news station WVUE.
The NWS report also included details about another tornado that touched down in St. Tammany parish, which has been classified as EF-1 with 90 mph winds. The tornado caused some structural damage as well as significant damage to dozens of trees. NWS has not confirmed any injuries or deaths from that storm.
Tornadoes and severe thunderstorms were also reported Tuesday across Texas as tens of thousands of people were left without power. No injuries were reported in Texas but more pictures and videos across social media showed similar damage, as the NWS Fort Worth said Wednesday that damage from tornadoes had been reported in at least 12 locations.
Update 03/24/22, 2:30 p.m. ET: This article was updated with additional information.
Update 03/24/22, 1:47 p.m. ET: This article was updated with additional information.