Avant Garde King Pierre Cardin Takes Brooklyn by Storm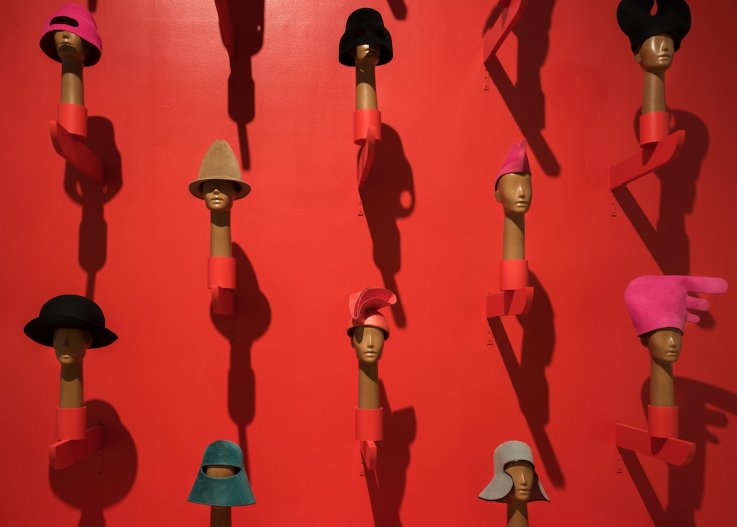 Pierre Cardin, the legendary French designer known for his avant-garde and Space Age designs, is taking Brooklyn by storm in a new retrospective at the Brooklyn Museum titled, "Pierre Cardin: Future Fashion."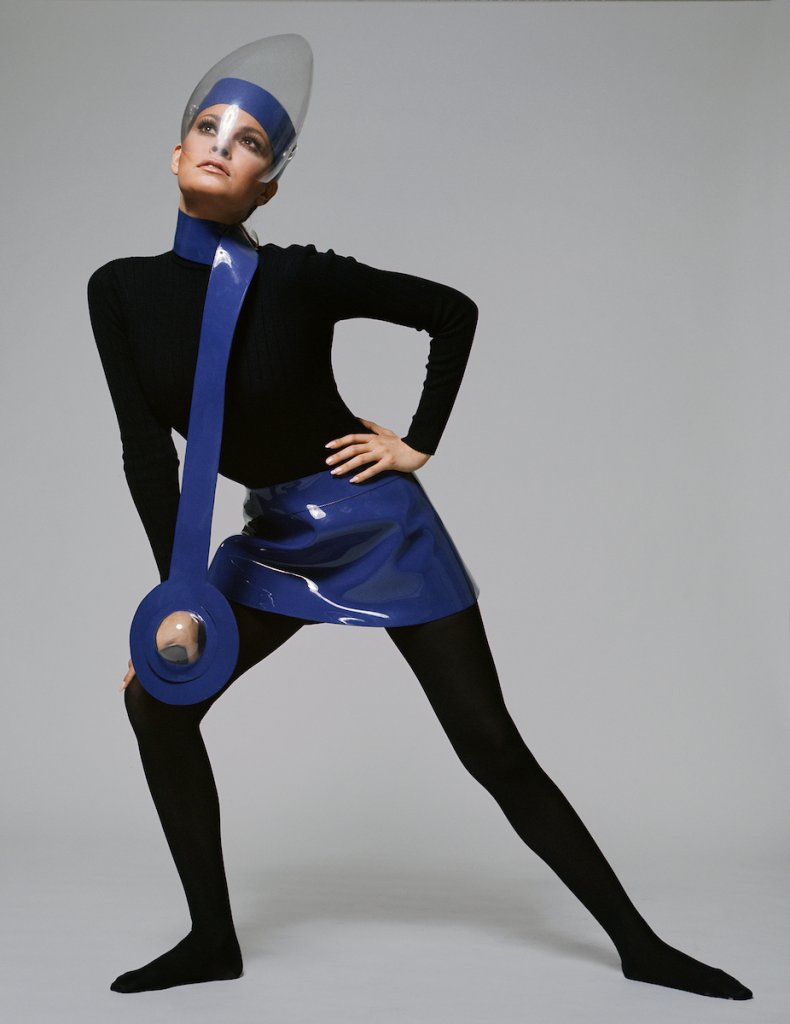 The expansive exhibit runs through January 5, 2020, tracing the legendary career of one of the world's most innovative designers, whose futuristic designs and trailblazing efforts to democratize high fashion for the masses pushed the boundaries of the industry for more than seven decades. Included in the retrospective are over 170 objects that date from the 1950s to the present, including haute couture and ready-to-wear garments, accessories, photographs, film, and other materials drawn primarily from the Pierre Cardin archive.
"One of the similarities between fine art and couture fashion is that they are both one-of-a-kind, handmade objects," Matthew Yokobosky, Senior Curator of Fashion and Material Culture, Brooklyn Museum who curated and designed the retrospective, told Newsweek.
"A made-to-measure garment could take as long to sketch and produce, as a sculpture or painting. And material-wise, high-fashion and fine art both typically rely on the highest-quality materials. While both fashion and art can be mass-produced . . . prints, the idea of Warhol's factory, licensed designs—Cardin's couture garments are on par with the fine art of his time. His Target dress could be seen along-side Target paintings by Jasper Johns or Kenneth Noland; his kinetic dresses could be seen alongside kinetic sculptures by Alexander Calder. Cardin often remarked that being a couturier is to create sculpture with fabric."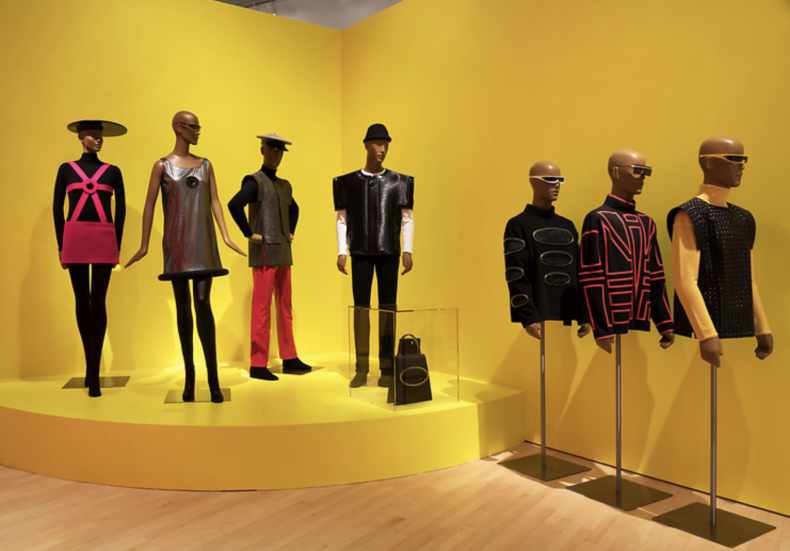 Trained in his teens as a tailor, Cardin lived in Vichy, France, during World War II and served in the Red Cross. Following the war, he moved to Paris, working at Maison Paquin and briefly at Elsa Schiaparelli before joining Christian Dior's groundbreaking house in 1947. In 1950, Cardin founded his own fashion house, focusing first on costume design and then on haute couture. His ability to sculpt fabric with an architectural sensibility, which became his signature, was complemented by his love of geometry.
"After looking at Mr. Cardin's work, you begin to see that perhaps in another life he was a mathematician," Yokobosky said. "His geometry is so precise; his designs incorporate parabolas and spirals. His stores and homes feature Modern geometric progressions and bold colors and it was his use of the circle that truly propelled the design."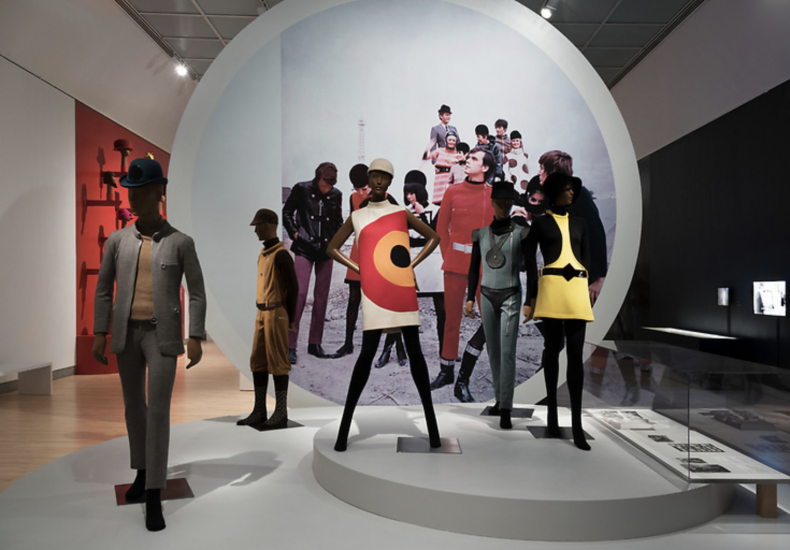 For Cardin's landmark 1964 "Cosmocorps" collection, he designed futuristic looks using vinyl, metallic fabrics, large zippers, and hats that resembled astronauts' helmets. Since then, he has continuously turned to futurism and new technologies for inspiration. Cardin introduced his own fabric in 1968, "Cardine," which embraced a future of synthetic fabrics by molding a bonded, uncrushable Dynel fiber into three-dimensional patterns.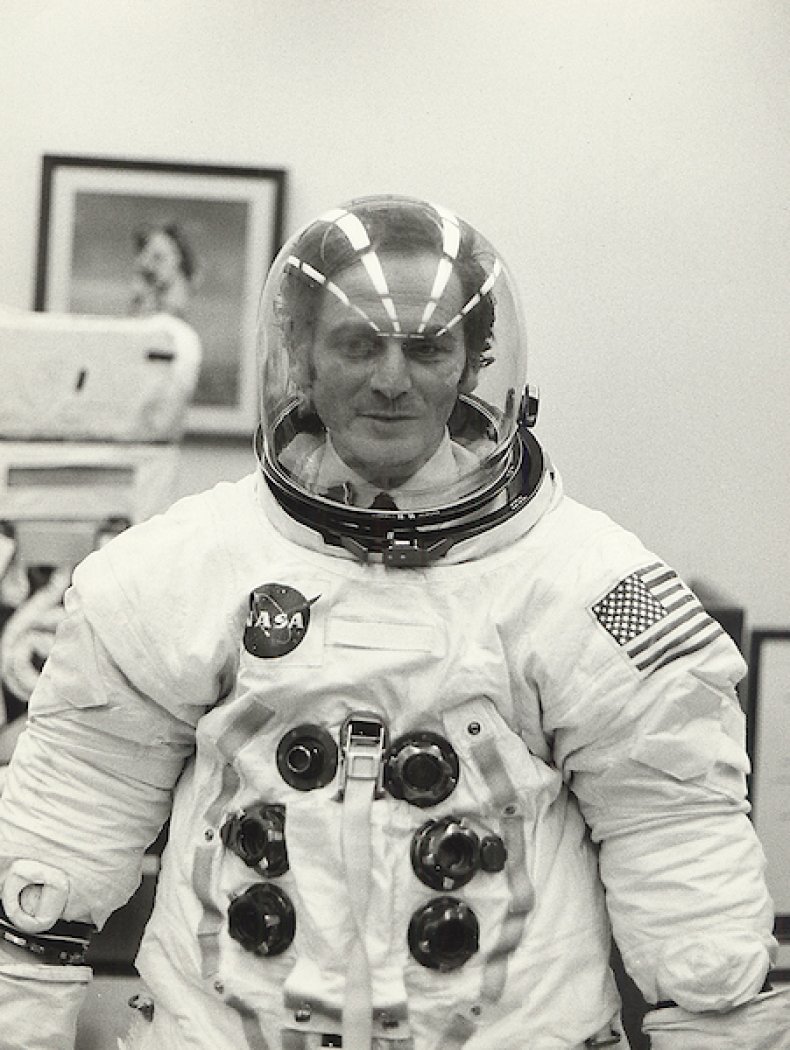 In 1971, Cardin took an inspirational trip to NASA, where he became the only civilian in history to wear an original spacesuit worn by an Apollo 13 astronaut. Cardin was the first couturier to launch a prêt-à-porter (ready-to-wear) collection, in 1958 at Parisian department store Printemps, and later to create a much-copied unisex clothing line. In the late 1960s, Cardin began to license his own name. The financial success of this unprecedented move allowed him to become one of the few designers to own his company outright.
Yokobosky noted that some of the highlights include "a red day suit from Jacqueline Kennedy's wardrobe, experimental designs of the 1960s, that looked at unisex dressing, the incorporation of vinyl and new materials, such as his 'Cardine' fabric, and the design of kinetic fashions, meant to be seen as moving sculpture." Well before it became popular, Carding also embedded clothing with lights and LEDs, as well as encrusted evening wear. The exhibit also displays his explorations into handmade lacquer furniture—"sculpture utilitaire" as he described it.
"What I hope is that 'Pierre Cardin: Future Fashion' will be a 're-discovery' of Pierre Cardin. Many people know him through licensed works bearing his name, like most designers today. But Cardin has a seven-decade history as a tailor and fashion designer, making one-of-a-kind garments, and this is the focus of the Brooklyn Museum exhibition," Yokobosky said.