A police officer is under investigation—but has been praised by his superiors—after he shot a suspect on his third day in the job.
Officer Christian Collins opened fire at suspect Torey Barber on Thursday night after being called to multiple reports of a gunman on the loose at a shopping plaza in St. Petersburg, Florida.
Collins has now been placed on leave, which is standard procedure when an investigation into an officer-involved shooting is conducted, while 22-year-old Barber has been hospitalized after he was shot in the upper body.
Barber was suffering from mental health issues when the incident unfolded at around 8:50 p.m. in the area of 22nd Avenue South and 34th Street South, according to Pinellas County Sheriff Bob Gualtieri.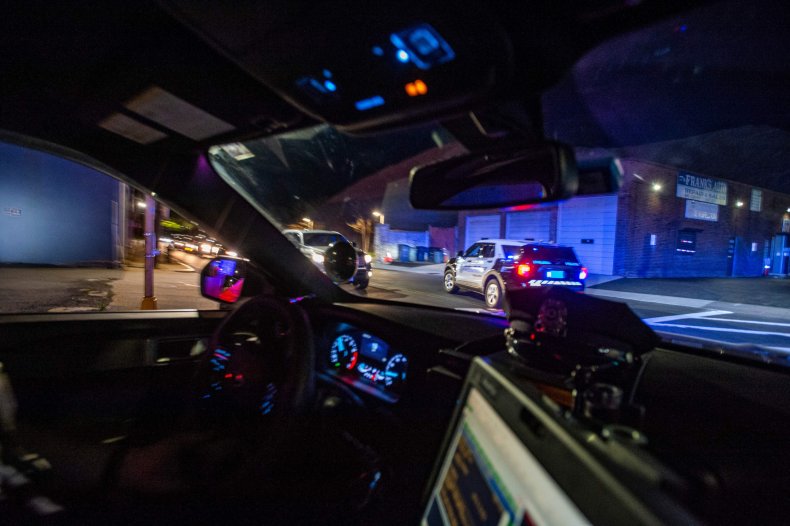 Gualtieri told local news channel WFLA 8 that Collins and his training officer, Fred Jackson, tried to apprehend Barber, but the suspect fled when they ordered him to drop his weapon.
Jackson chased the suspect, who was on foot, but when he ran away Collins followed him into the plaza's parking lot in a police car. At that point, the sheriff said, Barber stopped running and aimed his gun at Collins, who then shot Barber through the open passenger-side window.
The sheriff added: "The reason he fired, and rightfully so, [was] because the bad guy [had] a gun and points the gun at him. At that point he did what he had to do to protect himself."
Barber was shot "in the arm, the upper body area," the sheriff said, noting his injuries were "non-life threatening".
Discussing Collins, Gualtieri said: "He's a new St. Petersburg officer; he's a new recruit with prior experience from the Philadelphia Police Department. In fact, he's about three days into his field training here at St. Petersburg Police Department. But, again, he is an experienced officer."
He said Barber had no fixed address, adding: "As far as we know, right now he's transient…One of the things we do know about Barber is that he has mental health issues."
Gualtieri described the weapon used by Barber as a "semi-automatic."
Forensic teams are now combing the area for evidence, and several witnesses who saw the shooting will be interviewed. In addition, footage from the two officers' body-worn cameras will be reviewed along with security camera videos from the stores overlooking the lot.
Footage filmed at the scene overnight showed a large section of the parking lot taped off, and several evidence markers on the ground, as numerous officers investigated.
A spokesperson for Pinellas County Sheriff's Office told Newsweek that Barber's "injuries from the shooting are non-life threatening."
She added: "He has been booked into the Pinellas County Jail and charged with aggravated assault on a law enforcement officer with a firearm and resisting officer without violence."