New Poll Shows Americans' Changing Opinions on Biden, Putin, Zelensky
Americans' perceptions of Russia's and Ukraine's leaders have changed significantly since the beginning of the conflict in Ukraine two weeks ago, according to a new poll. But perceptions of their own president shifted only slightly.
As Russia's invasion of Ukraine continues to dominate headlines, a new Economist/YouGov Poll released Thursday reveals how the conflict is shaping Americans' opinions of the three leaders. The poll found that Americans hold Ukrainian President Volodymyr Zelensky in high regard while an increasing minority view his Russian counterpart, Vladimir Putin, as "weak" and ever more see him as a threat. President Joe Biden also saw a modest bump after months of declining approval.
"The share of Americans who view Zelensky favorably has doubled in a couple of weeks, with little change to the share who view him unfavorably," reads a YouGov news release.
The poll of 1,500 adults, conducted between March 5 and March 8, found that 60 percent of Americans view Zelensky "very favorable" or "somewhat favorable." Just 17 percent viewed him unfavorably.
The positive perception of the pro-western Ukrainian leader among Americans is up considerably since before the conflict broke out. A similar poll conducted between February 19 and February 22 (before Russia invaded) found that 30 percent of Americans viewed him favorably. Over half didn't have an opinion.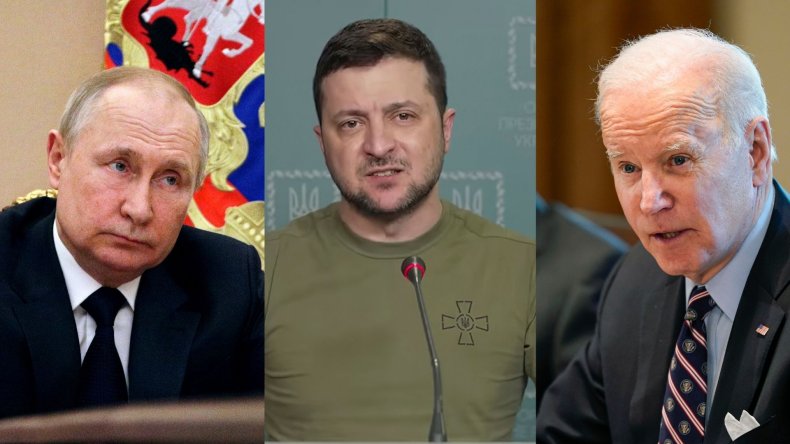 "Though Zelensky is well-liked by many Americans, few expect him to hold onto his presidency for long," reads a press release describing the poll's results.
Roughly a third of Americans say Zelensky will be president in a year, about the same for those who think he won't. Those who are unsure made up 38 percent.
"American opinion on Putin has been negative for some time, leaving little room for it to get worse," reads the statement from YouGov. "Yet Russian forces' actions that have killed civilians and prevented civilian evacuation may have hurt Putin's standing among Americans further."
Over two-thirds of Americans say Putin is guilty of war crimes and is deliberately striking civilian areas. Additionally, 68 percent of Americans now view Putin as a "very serious threat," up from 60 percent from a poll taken before the conflict.
Americans also now see Putin as a weaker leader. The poll found 69 percent of Americans saw Putin as a "very strong" or "somewhat strong" leader, down from 78 percent before the invasion. Now, nearly a third of Americans see him as "somewhat weak" or "very weak," up from about a quarter before the war.
The poll, however, found less dramatic changes in how Americans see their president. Now, 42 percent of Americans approve of Biden's handling of foreign policy, up from 37 percent in late January.
Forty-four percent of Americans now either "strongly approve" or "somewhat approve" of Biden's handling of Russia and Ukraine, according to the poll. That's an increase from 42 percent found by an earlier poll.
The percentage of Americans who see Biden as a strong leader or are confident of his ability to handle an international crisis has barely budged. Just 33 percent are confident in Biden's ability, and 44 percent see him as a strong leader, both an increase of two percentage points from February 26.
Just 42 percent of Americans approve of Biden's foreign policy, an increase from 41 percent from an earlier poll.
"While Americans' views of leaders of other countries can be subject to rapid changes—as they can be based on less exposure, and are less tied to U.S. party politics—Americans' views of Biden are more stable," reads a YouGov statement. "But small positive shifts toward Biden on a few questions suggest at least some Americans are thinking more positively about him as a result of his handling of the war in Ukraine."
However, YouGov noted that despite the uptick in Americans holding a positive view of Biden, a majority still disapprove of his leadership.