New Poll Shows Biden With 11 Point Lead Over Trump—the Identical Margin Clinton Had In October 2016
Democratic presidential nominee Joe Biden is leading President Donald Trump by double digits in the latest NBC News/Wall Street Journal poll—but the margin is identical to former Democratic presidential candidate Hillary Clinton's lead in 2016.
The new poll, which was published Thursday, shows Biden ahead with the backing of 53 percent of registered voters while the incumbent Republican president is supported by just 42 percent—a margin of 11 percentage points. That's an improvement of 3 percentage points for Trump, as NBC/WSJ showed the president with just 39 percent support compared to 53 percent for Biden in a survey carried from September 30 to October 1.
Notably, Clinton was ahead of Trump by exactly 11 points in an NBC/WSJ poll released on October 16, 2016.
"There's also the memory of what happened in 2016: The October NBC News/WSJ poll from four years ago — after the release of the damaging 'Access Hollywood' video of Trump but before FBI Director James Comey intervened in the race's final days — showed Hillary Clinton with an identical 11-point lead over Trump," NBC News wrote in its article about the new poll.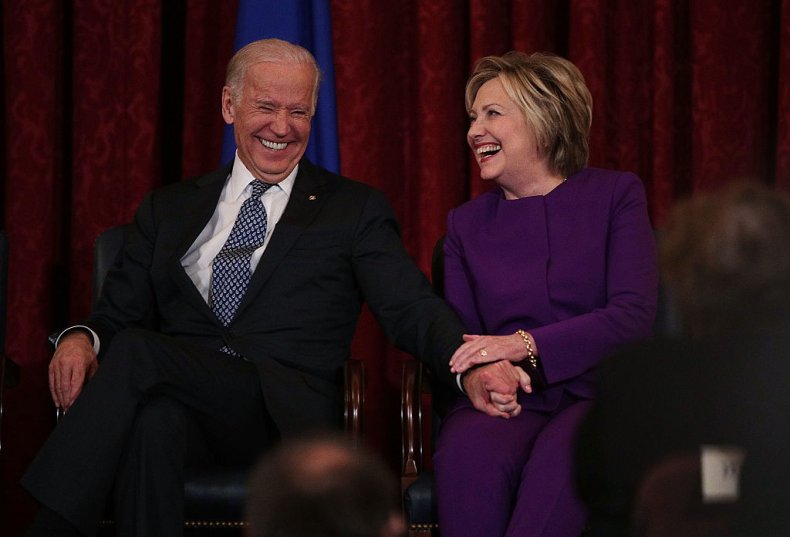 But there are some significant differences. For one, Clinton was only backed by 48 percent of voters in the October 2016 poll, while Trump was supported by 37 percent. Biden is polling over 50 percent—or 5 percentage points higher than Clinton was in the 2016 survey. While Clinton's and Biden's margin over Trump may be the same, the current Democratic nominee still appears to be in a better position than his predecessor. Now, Trump is down 11 percentage points while only 5 percent of voters remain undecided or plan to support other candidates. If Trump secured the backing of all 5 percent, he would still be 6 percentage points behind his Democratic challenger.
Biden's lead over Trump in national and state level polls has also been remarkably more stable than Clinton's was in 2016. Nearly all recent polls show Biden with a double digit lead over the incumbent president. The last major national poll to suggest Trump had the advantage came from conservative polling firm Rasmussen reports in mid-September, showing the president ahead by just 1 percentage point. Meanwhile, Rasmussen's most recent poll shows Biden leading by 5 points.
The current Real Clear Politics average of national polls puts Biden ahead by about 9.2 percentage points, with the backing of about 51.6 percent of voters compared to just 42.4 percent who support Trump. FiveThirtyEight's average shows a slightly higher margin of just over 10 percentage points in favor of Biden. Trump is supported by about 42 percent of voters and Biden is backed by 52.4 percent.