New Poll Shows Biden's Lead Over Trump Grows to 9 Points in Wisconsin, Beyond the Margin of Error
New polling out of Wisconsin shows Democratic presidential nominee Joe Biden with a 9-point lead over Donald Trump in the key swing state, well outside of the margin of error just over a week until Election Day.
The survey, which was conducted by YouGov for the University of Wisconsin-Madison from October 13 to 21, shows Biden backed by 53 percent of likely voters, while just 44 percent support the president. Notably, that's a gain of 3 percentage points for the former vice president and a loss of 2 percentage points for Trump, compared with results from the survey when it was carried out in September.
"It's actually the first time that the margin is big enough that we can say it's statistically significant, even accounting for the margin of error," Barry Burden, a political science professor and director of the Elections Research Center at UW-Madison, told the Wisconsin State Journal.
"It's not a guarantee that Biden will win the election, but it is saying that we can be pretty confident from the data that he is in the lead among the people who were interviewed," Burden said.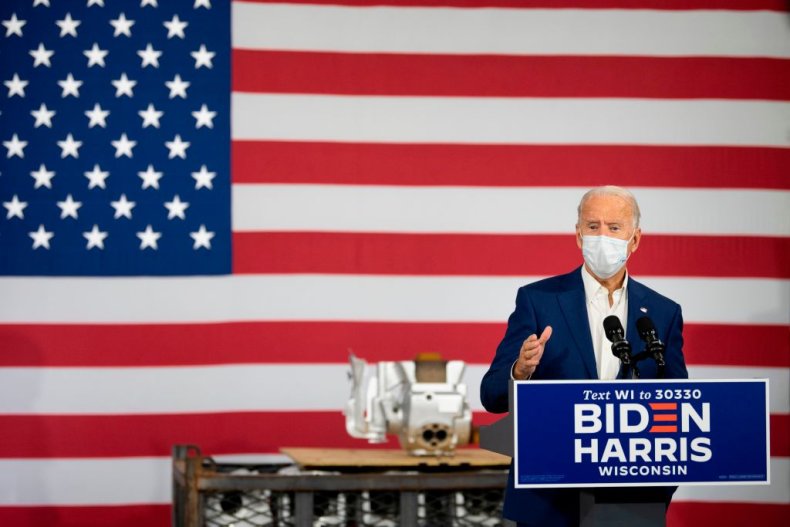 The survey interviewed 800 Wisconsin residents and has a margin of error of plus or minus 4.07 percentage points among likely voters.
Wisconsin is seen as a key battleground in the 2020 presidential election. Trump narrowly won the state in 2016 by a margin of just 0.7 percentage points. Previously, Democrats had won the state in every presidential contest going back to 1988. Democrats are aiming this year to win back Wisconsin, along with Florida, Michigan, Ohio and Pennsylvania, which all supported President Barack Obama in 2008 and 2012 before flipping red for Trump in 2016.
Most recent polls in Wisconsin show Biden as favored to win the election. The current Real Clear Politics average of Wisconsin polls has the Democratic candidate up by about 4.6 percentage points. No Wisconsin poll since August shows Trump in the lead, but an October survey by Susquehanna Polling and Research showed a tied race.
Another poll, carried out by Fox News from October 17 to 20, had the former vice president backed by 49 percent of likely voters in the state, compared with just 44 percent who supported the president—a margin of 5 percentage points in favor of the Democrat.
Biden appears to be favored in Florida, Michigan and Pennsylvania, but the Democrat's lead is narrow in Florida. Real Clear Politics' averages show Biden ahead by nearly 8 points in Michigan, by just over 5 points in Pennsylvania and by only 1.5 points in Florida. Although the race is very close in Ohio, Trump appears to have a slight edge with an average of 0.6 points, according to Real Clear Politics.
Meanwhile, Biden is far ahead of Trump in the average of national polls. FiveThirtyEight has Biden ahead nationally by an average of 9 percentage points, and Real Clear Politics shows Trump behind by an average of 8 percentage points.