New Poll Shows Elizabeth Warren Leading Joe Biden by 7 Percentage Points
Senator Elizabeth Warren has expanded a lead in the Democratic presidential race, according to a Quinnipiac Poll released on Thursday.
Warren polled at 28 percent among Democrats and Democrat-leading independents, while former Vice President Joe Biden earned support from 21 percent of that voter pool.
The poll shows a notable decline for Biden, who in Quinnipiac's October 14 poll received 27 percent support and was just three percentage points behind Warren. But while the former vice president declined in standing, voters still said they thought that he had the best chance of beating Trump in the 2020 election.
However, support for Biden in this area had fallen since the October 14 poll, which was published before the most recent debate. Though 12 percent of Democrat and Democrat-leaning independents who paid close attention to the October 15 debate said that Biden performed better than all other candidates, 15 percent said that he performed the worst.
The graphic below, provided by Statista, illustrates Elizabeth Warren's growing popularity.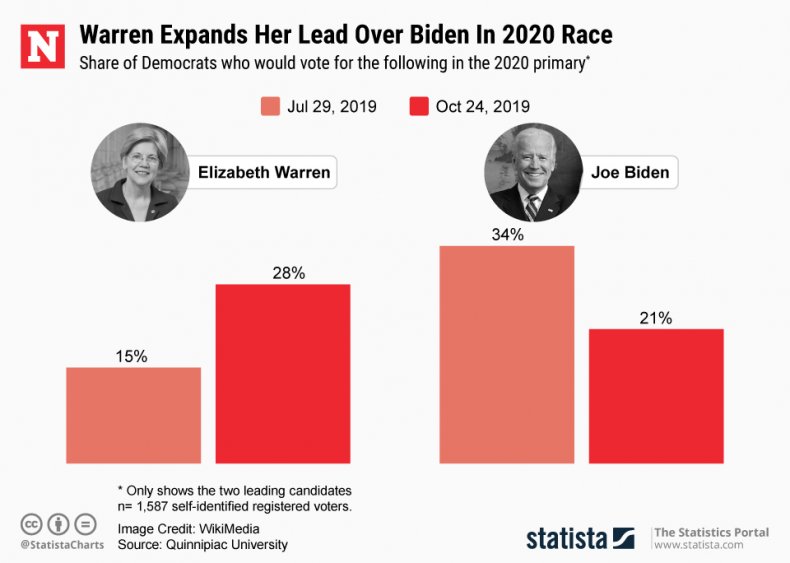 "Last week's debate didn't help Vice President Joe Biden, who saw his numbers slip to where they were in early July following the first Democratic debate. Then, like now, he ranked among candidates doing the worst job in the debate. Later in July, his numbers rebounded. The question remains whether this is a blip or a trend," Quinnipiac University Polling Analyst Mary Snow said in a press release.
Despite the Quinnipiac numbers, polling averages from Real Clear Politics indicate that Biden still has a national lead. Warren follows behind the former vice president, while Vermont Senator Bernie Sanders ranks in third. The three candidates remain separated from other contenders, none of whom have reached double-digit averages.
Though the highest proportion of voters said Biden performed worst at the debate, 17 percent said South Bend, Indiana, Mayor Pete Buttigieg performed best, placing him second to Warren. Buttigieg took a more aggressive stance in the last debate than he had previously, distinguishing himself from other candidates and challenging their statements. The 37-year-old gained 13 percent support in a USA Today/Suffolk University poll for the Iowa Caucus, and he also gained support in the Quinnipiac poll, rising from 8 to 10 percent.
Vermont Senator Bernie Sanders, whose heart attack earlier in October generated concerns about his health, also rose in the Quinnipiac poll. The 78-year-old was endorsed by Representative Alexandria Ocasio-Cortez at a rally last weekend in New York, and despite fears of his viability following the heart attack, his campaign appears reinvigorated. Sanders dropped from 16 percent support in Quinnipiac's October 8 poll to 11 percent in the October 14 results. He rebounded back to 15 percent in the poll released on Thursday.
Other questions in the survey indicated a positive sentiment for Sanders. He was viewed as the most honest candidate, and though Warren is still perceived as the candidate with the best policy plans, Sanders has closed the gap. In the October 14 poll, Warren pulled 40 percent support on this question, while Biden earned 16 and Sanders had 12. In Thursday's poll, Warren received 30 percent, Sanders held 20 percent and Biden earned 15 percent.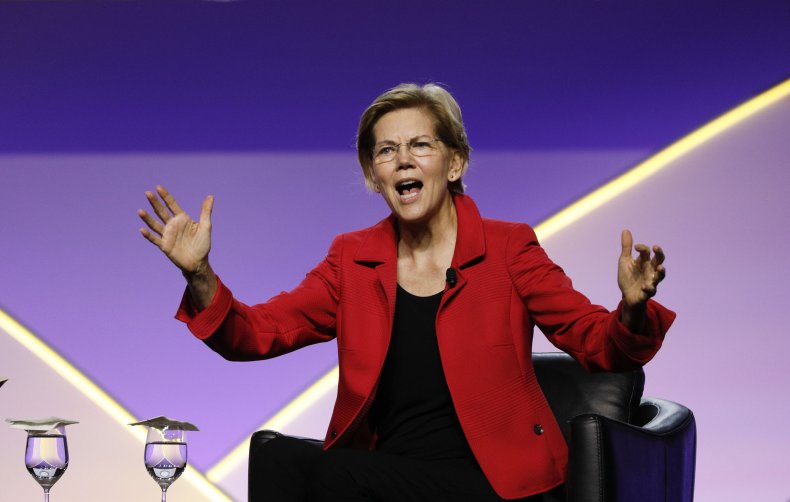 This article was updated to include an infographic.