New Poll Shows Joe Biden Beating Donald Trump in General Election
A growing number of voters say they will back presumptive Democratic presidential nominee Joe Biden over President Donald Trump in the general election in November, new polling has shown.
The latest survey from Reuters and Ipsos, which was conducted from April 15 to 21, showed that 47 percent of registered voters backed Biden while just 39 percent said they'd support Trump in the presidential election. That's an increase of 2 percent support for Biden since the poll was conducted the previous week, and an increase of 4 percent from two weeks back.
Additionally, the polling by Reuters and Ipsos has shown growing discontent with Trump's handling of the coronavirus pandemic. Only 44 percent of respondents approved of the president's handling of the crisis, while 52 percent disapproved. Compared to the previous week, that's an 8 point drop in approval for Trump's management of the pandemic and 13 points lower than March.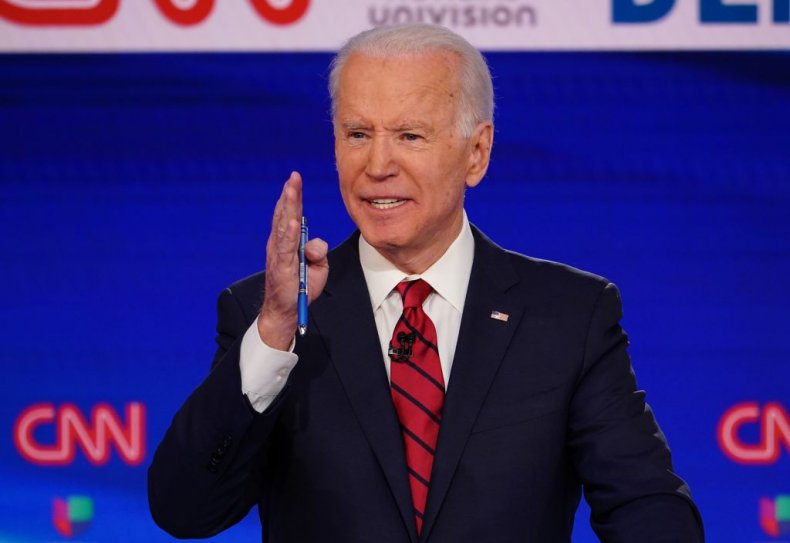 Most recent national surveys show Biden as the favored candidate to win in the 2020 presidential election. An average of national polls compiled by Real Clear Politics shows Biden up by about 5.8 points.
Biden's best recent poll was conducted by CNN in early April. That survey showed Biden ahead of the president by 11 points, winning in the hypothetical matchup with 53 percent to Trump's 42 percent. Meanwhile, another poll from early April conducted by Fox News showed Biden and Trump tied, both with support from 42 percent of respondents. In other April polls, the former vice president's lead over the president has ranged from 4 points to 8 points.
Last week, Biden's former progressive rivals Senators Bernie Sanders of Vermont and Elizabeth Warren of Massachusetts both endorsed his campaign for president. Additionally, former President Barack Obama, who Biden served under as vice president, endorsed his former running mate's campaign.
These endorsements appear to have boosted Biden's overall favorability with Democratic voters, particularly those under 45. Polling data from Morning Consult showed that Biden's favorability jumped 9 points among the youngest Democratic voters with the endorsements, bringing the former vice president's favorability to 68 percent with Democrats under the age of 45. That survey also found Biden ahead of Trump by 5 points, with 47 percent backing the former vice president while 42 percent backed Trump.
But as Democrats realized in 2016, significant leads in national polls does not necessarily translate to victory in the November election. Former Democratic presidential contender Hillary Clinton at one point led Trump by more than 20 points in multiple national surveys, but she went on to lose in the general election.
While Clinton garnered nearly 3 million more votes than Trump in the general election, her Republican rival won a series of narrow victories in key battleground states. This propelled Trump to a big win in the Electoral College.
Recent polling in several key battleground states shows Biden ahead of Trump, however. Averages compiled by Real Clear Politics of the most recent surveys in Michigan, Wisconsin, Florida, Pennsylvania and Arizona show Biden in the lead in each state.