New National Poll Shows Every Prospective Democratic Nominee Beating Donald Trump
A new poll shows President Donald Trump losing to every prospective Democratic nominee if the 2020 general election were held today.
A Quinnipiac University survey released Tuesday shows Trump trailing to six Democrats vying for the party's nomination -- Joe Biden, Michael Bloomberg, Pete Buttigieg, Amy Klobuchar, Bernie Sanders and Elizabeth Warren.
Former Vice President Biden had the biggest lead on Trump compared to the other Democratic candidates. Fifty-one percent of registered voters polled said they would cast their ballot for Biden while 42 percent said they'd support Trump.
The race was tighter between the president and the other Democrats. Senator Sanders was shown beating Trump by 8 percentage points and Senator Warren was shown defeating him by 7 percentage points.
These results are similar to a poll conducted by Quinnipiac University in October. That survey showed Biden beating Trump by 11 percentage points, Sanders leading Trump by 7 percentage points and Warren defeating Trump by 8 percentage points.
But unlike the earlier surveys, the latest poll includes Bloomberg. The former mayor of New York City, was just behind the top three Democratic candidates despite only joining the 2020 race last month. Forty-eight percent of registered voters polled said they'd back the 77-year-old media mogul compared to 42 percent who said they'd vote for Trump.
Buttigieg and Klobuchar were also shown defeating Trump. The South Bend, Indiana mayor garnered 48 percent support from registered voters compared to Trump's 43 percent. Senator Klobuchar was shown defeating Trump 47 percent to 43 percent.
The Quinnipiac University poll surveyed 1,553 registered voters from December 4 to December 9. The margin of error for the survey is plus or minus 2.5 percentage points.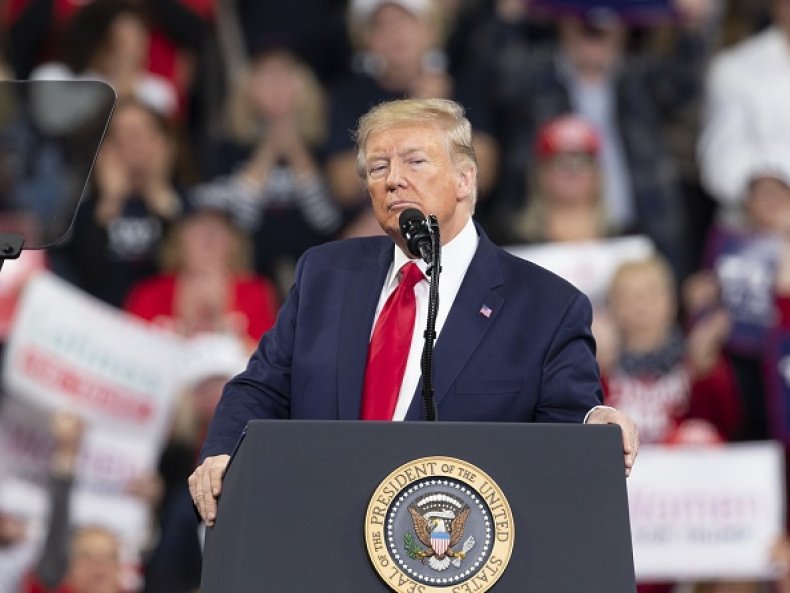 While the 2020 election is less than a year away, Trump's hold on the presidency is increasingly uncertain as House Democrats move forward with impeachment. On Tuesday, the House officially introduced two articles of impeachment against the president, including abuse of power and obstruction of Congress.
The impeachment probe was launched by House Democrats in late September amid reports that Trump tried to pressure Ukraine to investigate Biden and the 2016 presidential election.
"Our president holds the ultimate public trust. When he betrays that trust and puts himself before country, he endangers the Constitution; he endangers our democracy; he endangers our national security," said Representative Jerrold Nadler, the House Judiciary Committee chairman, while announcing the charges.
Slightly more than half of the registered voters polled by Quinnipiac University think that Trump should not be impeached and removed from office, while 45 percent say he should be impeached and removed.
Trump reacted via Twitter to the articles of impeachment shortly after they were announced, calling the idea that he pressured Ukraine to investigate his political rivals "ridiculous." He also called the probe a "WITCH HUNT!"