New Poll Shows Donald Trump Beating All Democratic Presidential Front-runners in Iowa
A new 2020 poll shows President Donald Trump leading every top Democratic challenger in the key swing state of Iowa.
An Emerson poll released Wednesday had Trump besting four front-runners who are vying for the Democratic Party's nomination: Joe Biden, Pete Buttigieg, Bernie Sanders and Elizabeth Warren.
Buttigieg, the youngest candidate in the race, fared the best in a head-to-head matchup with Trump. The South Bend, Indiana, mayor trailed the president by just 1 percentage point. Forty-six percent of registered voters polled said they'd back Trump compared, with the 45 percent who would support Buttigieg.
Biden also wasn't too far behind Trump. The former vice president was defeated by 4 percentage points, as 49 percent of Iowa voters said they'd cast their ballot for Trump, compared with 45 percent who'd vote for Biden.
Senators Sanders and Warren did the worst in head-to-head matchups with Trump. Both lawmakers lost to the president 50 to 43 percent. That's a slight shift from an earlier Emerson poll of Iowa voters that showed Sanders leading Trump by 1 percentage point while Warren and Biden trailed him by 2 percentage points.
The latest Emerson poll surveyed 1,043 registered voters in Iowa from December 7 to December 10. The margin of error for the survey is plus or minus 3 percentage points.
In 2016, Trump beat Hillary Clinton by nearly 10 percentage points, capturing Iowa's six electoral votes. But the state has long been considered a swing state. Former President Barack Obama won Iowa in both 2008 and 2012.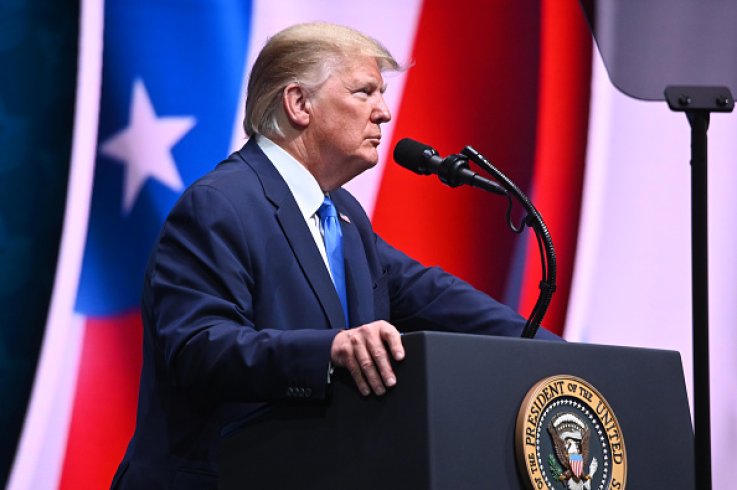 While the 2020 election is less than a year away, Trump's hold on the presidency has become increasingly uncertain as Congress moves ahead with impeachment proceedings. Earlier this week, the House's Judiciary Committee introduced two articles of impeachment against Trump: abuse of power and obstruction of Congress.
The impeachment investigation began in late September after reports that Trump tried to pressure Ukraine to investigate Biden and his son Hunter. At the center of the probe is Trump's July 25 call with Ukrainian President Volodymyr Zelenskiy and his decision to temporarily withhold nearly $400 million in military aid to Ukraine.
Trump called the accusation that he pressured Ukraine to investigate a potential political opponent "ridiculous" in a tweet shortly after the articles of impeachment were introduced. He also referred to the entire investigation as a "WITCH HUNT!"
According to the Emerson poll, most Iowans are not in favor of impeachment. Fifty percent of registered voters said they oppose impeachment, while 38 percent were supportive.
New Poll Shows Donald Trump Beating All Democratic Presidential Front-runners in Iowa | U.S.