'The New Pope' Recap: Why Jude Law Starts the HBO Series in a Coma After the Events of 'The Young Pope'
For its second season, The Young Pope has become The New Pope, with John Malkovich's John Brannox becoming Pope John Paul III after Pope Pius XII, aka Lenny Belardo (Jude Law) went into a coma in the season finale.
This happened after Lenny collapsed in that finale. Why this is has not been fully explained in the show, but The Young Pope suggests a number of causes that led up to the collapse. First of all, there is Pius' bad diet, summed up by his preference for cherry Coke Zero for breakfast. He also may have a possible cardiac condition hinted at throughout the HBO series.
Mostly, though, the attack comes after he looks into the Venice crowd as sees two displeased-looking hippies who may or may not be his biological parents. Earlier in the season, we learned that Lenny's parents left him at an orphanage at a young age after moving from America to Venice. However, it is never said whether they are his parents that he is seeing, just two people that remind him of his mom and dad, or if they are a vision that Lenny is having due to his cardiac arrest.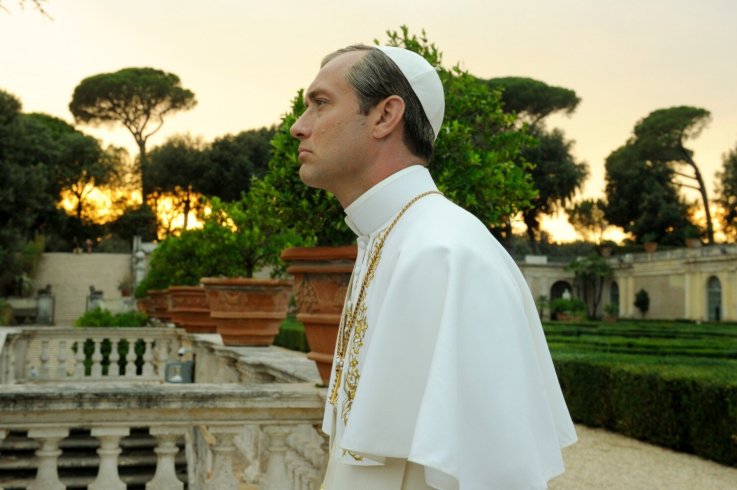 Viewers of The New Pope wondering what happened to Lenny's mentor Sister Mary (played in The Young Pope by Diane Keaton), the woman who raised him in an orphanage who he brought with him to The Vatican, this is also explained in the finale of the first season. In that episode, Pius sent her to Africa.
Sister Mary is central to one of the big storylines of The Young Pope. In the show's often dreamlike flashbacks, we see him perform miracles, leading Sister Mary to believe that the Pope is an actual saint who it is her God-given duty to protect.
This has implications for The New Pope, where a cult of followers has grown around "Saint Pius" since he has gone into a coma, causing problems for The Vatican generally and Brannox specifically.
Elsewhere, the first season of The Young Pope sees Pius grow into the role until he emerges just before his heart attack in Episode 10 leaves him as a potentially great pope, one whose conservative stances on abortion and gay rights have softened slightly—though not enough to stop conflict between him and Brannox, famed proponent of "the middle way."
The New Pope airs Mondays at 9 p.m. ET on HBO.
'The New Pope' Recap: Why Jude Law Starts the HBO Series in a Coma After the Events of 'The Young Pope' | Culture