New Rank Choice Results Show Kathryn Garcia Narrowly Behind Eric Adams in NY Mayoral Race
Newly released ranked-choice voting results for the New York City mayoral Democratic primary race show former New York City Sanitation Commissioner Kathryn Garcia narrowly behind Borough President Eric Adams in the final round of voting.
According to data released by the New York City Board of Elections on Tuesday, in the 11th round of ranked-choice voting, Adams received 51.1 percent of votes while Garcia received 48.9 percent of votes—a total of 368,898 votes for Adams and 352,990 votes for Garcia. Maya Wiley, former counsel to current Mayor Bill de Blasio, was eliminated in the final round of the ranked-choice voting after receiving just 29.3 percent of votes in the 10th round.
While Garcia trails by less than four percentage points, the results released on Tuesday do not include absentee ballots. The New York City Board of Elections requires absentee ballots to be postmarked by June 22. Tuesday marked the final day for absentee ballots to be accepted by the board of elections.
In results released on June 22, Adams held a much larger lead over Garcia. On June 22, Adams received 31.66 percent of votes compared to 19.48 percent received by Garcia.
Garcia previously trailed Wiley by less than three percentage points (22.22 percent to 19.48 percent).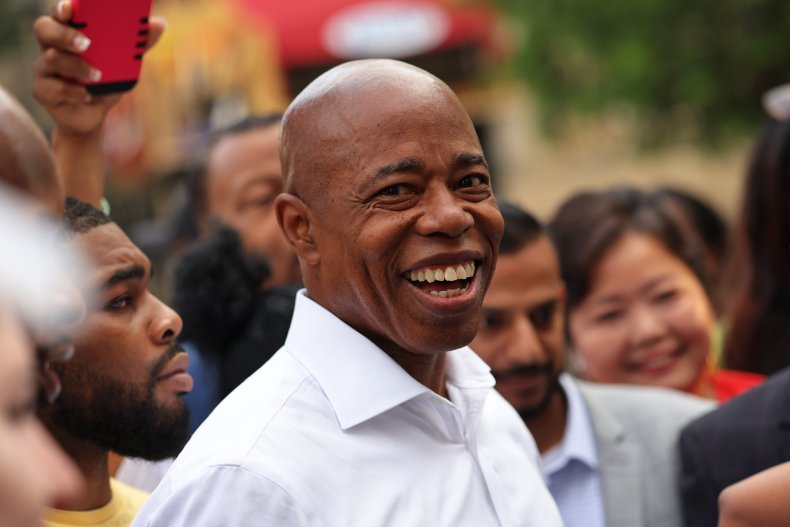 In response to the new results, Garcia said in a statement: "Even with today's ranked choice report we are still waiting for more than 120,000 absentee ballots to be counted and we are confident about a path to victory. Once all the votes are counted, I know everyone will support the Democratic nominee and that's exactly what I intend to do. We look forward to the final results. Democracy is worth waiting for."
Ranked-choice voting in the New York City mayoral race allows voters to vote for their desired candidate in ranked order. As voters rank their preferred candidate, the first to receive 50 percent of votes will be declared the winner.
Two Democratic candidates have already exited the race prior to the results released on Tuesday. Former Democratic presidential nominee Andrew Yang dropped out of the race after the initial ranked-choice voting results were released last week.
"I am a numbers guy," Yang said while speaking to supporters. "And I am not going to be the next mayor of New York City based on upon the numbers that have come in tonight. I am conceding this race."
Earlier on Tuesday, mayoral candidate Ray McGuire also announced that he was conceding the race.
"I know when I first decided to run that the odds were stacked against us. I'd never run for office before and few New Yorkers even knew my name. But I saw all the ways our city was hurting—rising gun violence, schools that couldn't get our kids to read at grade level, jobs lost and small businesses on the bring—and I believed in my core that we needed a new approach," McGuire said in a statement. "I could not be more humbled by your support along this journey."
The official results of the New York City mayoral Democratic primary will likely be released in the coming weeks as election officials continue to count the remaining absentee ballots.
Newsweek reached out to Adams for comment but did not receive a response in time for publication.
Updated June 29, 2021, 4:40 p.m. ET to include a statement from Garcia's campaign.