New Republican Ad Asks If GOP Will Defend Trump or The Rule of Law Amid Impeachment
Republicans for the Rule of Law released a scathing ad asking Republicans why they won't fight President Donald Trump for ignoring subpoenas from Congress, citing House GOP lawmakers who successfully stood their ground against former President Richard Nixon in 1974.
The conservative group, led by outspoken "never Trump" Republican Bill Kristol, released its latest advertisement targeting the GOP's hypocrisy. In the ad, several Nixon-era Republican members of the House Judiciary Committee warned of the dangerous precedent set by not impeaching the president. The video directly parallels Nixon's refusal to comply with subpoenas to that of Trump doing the exact same move today. Kristol's Republican group previously ran an ad in October which helped successfully push Trump to abandon plans to host next year's G-7 summit at his own Florida golf course.
This week's advertisement is currently being run on a digital billboard in New York City's Times Square. The ad echoes Kristol's own frequent criticism of Trump from a conservative viewpoint and attempts to cajole today's GOP into respecting the rule of law by harkening back to history.
"When Nixon obstructed Congress and refused to comply with subpoenas Republicans in his own party stood up to him," Monday's ad begins, before showing clips of GOP House members condemning their congressional colleagues for trying to defend Nixon's rebuke of the legislative body.
"If we refuse to impeach the president because of his defiance of the Congress, then future respondents will be in the position where they can determine themselves what they're going to provide in impeachment inquiries and what they're not going to provide," said Robert McClory, Illinois Republican and member of the House Judiciary Committee, at one of the Nixon investigation hearings.
"There is no valid claim on the part of the president to ignore our subpoenas. The historical precedent we are setting here is so great if we do not pass this article today, the whole impeachment power becomes meaningless," said Maryland Republican Lawrence "Larry" Hogan at the 1974 Nixon hearings.
Kristol's conservative perspective ads and commentary have successfully persuaded fellow Republicans and moderates outside of the "never Trump" spectrum to pressure the president out of self-serving actions in the Oval Office. The group has also posted billboards in swing states across the country hoping to sway the views of vulnerable GOP lawmakers.
In October, the Republicans for the Rule of Law group ran an advertisement on Fox & Friends accusing Trump of using self-dealing and corruption in order to host next year's G-7 summit. Within days, Trump abandoned that plan and lashed out at his critics on Twitter.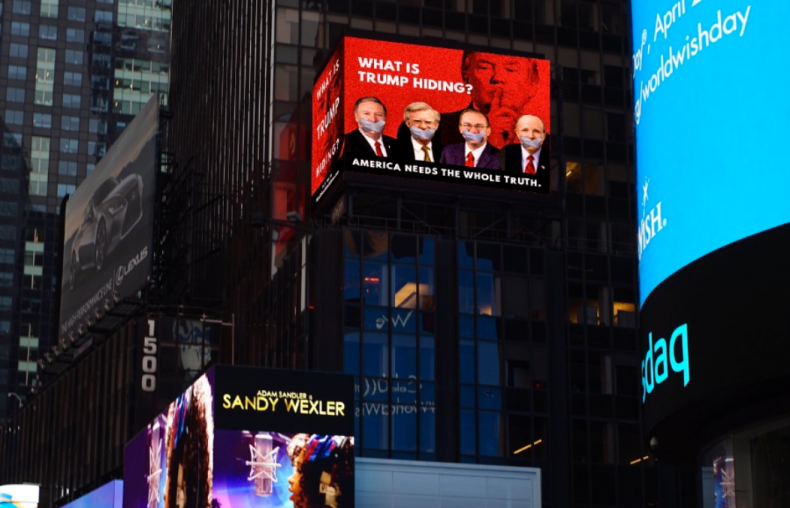 Earlier this month, former White House Counsel under President Barack Obama, Robert "Bob" Bauer penned a cautionary opinion piece which said the GOP's incoherent defense of Trump is intentional and indicative of the limits of Congress to check the executive branch. The op-ed repeatedly described Trump as the Founding Fathers' definition of the "demagogue" they worried about hundreds of years prior.
"President Trump has made full use of the demagogic playbook. He has refused all cooperation with the House. He lies repeatedly about the facts, holds public rallies to spread these falsehoods and attacks the credibility, motives and even patriotism of witnesses."