New Republican 'Fox & Friends' Ad Uses Lindsey Graham's Own Words to Call for Fair Senate Trial With Witness Testimonies
Republicans for the Rule of Law (RRL), a conservative group whose stated purpose is "defending the institutions of our republic," will run an advertisement on Fox & Friends tomorrow morning calling for a fair Senate trial by using Senator Lindsey Graham's own words against him.
The 30-second-long video, which will air on Fox News' Fox & Friends and MSNBC's Morning Joe on Friday morning in Washington D.C., features Graham advocating for the Senate to allow witness testimony during the impeachment process of former President Bill Clinton.
"In every trial that there has ever been in the Senate regarding impeachment, witnesses were called. When you have a witness telling you about what they were doing and why, it's the difference between the truth, the whole truth and nothing but the truth," Graham said in 1999.
The advertisement then highlights Graham changing his view on a fair trial in the impeachment proceedings against President Donald Trump.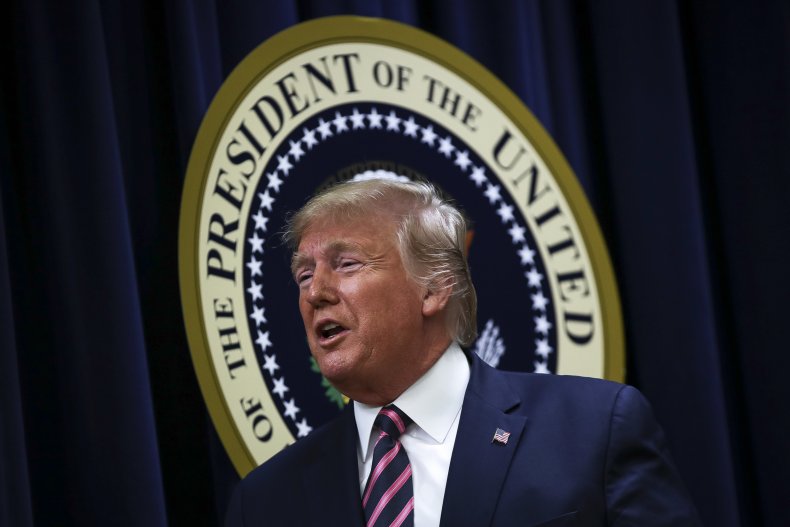 It comes after the House's historic vote this week that made Trump the third U.S. president in history to be impeached. After more than six hours of partisan debate on the House floor, the lower chamber on Wednesday evening voted 230-197-1 on the abuse of power article and 229-198-1 on the obstruction of Congress article, officially impeaching the president for attempting to press Ukraine's president to probe the family of former Vice President Joe Biden.
Hours before the vote, Graham vowed to reject White House and Democratic attempts to call on witnesses during Trump's Senate trial because he wants the process to be as short as possible. "I am not going to support witnesses being called for by the president. I am not going to support witnesses being called for by Senator [Charles] Schumer," the GOP senator said.
Sarah Longwell, RRL's executive director, rebuked Graham's reversal and stressed the importance of a fair trial in a statement emailed to Newsweek. "There is no more fundamental American value than a fair trial," she said. "Republicans have demanded the truth in every previous impeachment, and they should do the same now. Senators of both parties should withhold judgment before they've heard the evidence, and they should insist on hearing all the evidence before they vote."
"Regardless of outcome, a fair process is vital for the Constitution and the country," Longwell added.
RRL was first established last March after reports began emerging of Trump's intentions to dismiss then-special counsel Robert Mueller. The 448-page redacted Russia report, released by Attorney General William Barr in April, proved that the president did attempt to discharge Mueller in June 2017, but was unsuccessful when ex-White House counsel Don McGahn refused and said he would rather resign.
Since then, RRL has run over 60 advertisements on Fox News programs encouraging Republicans to break with Trump and hold him accountable. Though they also advertise on other networks, RRL told Newsweek in May that the group prefers Fox News because of its wide-ranging viewer demographic and reach. In 2018, the network drew over double the adult viewers aged 35 and above that CNN attracted, according to Nielsen Media Research.
Watch the new RRL ad below: