Watch: GOP Group Runs Ad in Mitch McConnell's Home State Slamming Him For Blocking Election Security Bills
An organization comprised of life-long Republicans unveiled a new TV ad Thursday morning, taking aim at Senate Majority Leader Mitch McConnell for recently blocking election security bills as officials continue to warn about ongoing Russian efforts to subvert U.S. elections.
The minute-long video, created by Republicans for the Rule of Law, comes as Democrats have blasted McConnell and other Senate Republicans for blocking votes on various House-passed measures that would, among other things, provide additional federal funding to states and would require post-election audits, back-up paper ballots and the notification of federal authorities about any offers from foreign entities to help a campaign, candidate or family member of a candidate. It will air on viewers' screens in Washington, D.C., and in the Republican's home state of Kentucky.
"We can't count on Trump for election security," the group's director and longtime Trump opponent Bill Kristol wrote on Twitter. "And Mitch McConnell is blocking the Senate from even considering bipartisan election security legislation. Enough."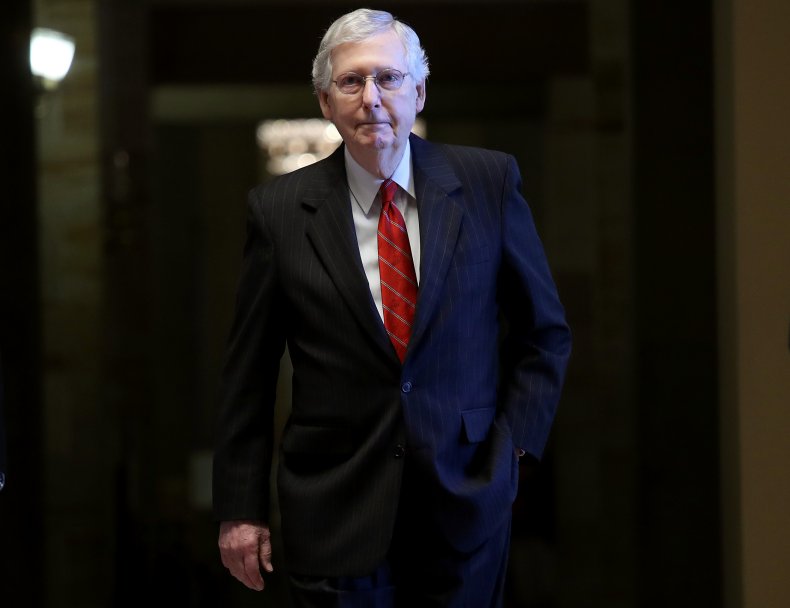 The ad begins by highlighting McConnell's move last month to block a vote on two election security bills that Democrats tried to force a unanimous consent vote on.
"The facts are that this administration has made the strides on election security and are vigilant and proactive as we head into 2020," McConnell said on the Senate floor at the time, comments which are included in the ad.
The video goes on to question if Americans can "trust" Trump to tackle election security, featuring the following clips: Trump's decision to side with Russian President Vladimir Putin at a summit to say he believed Putin's denial that Russia meddled in the 2016 elections; a clip from an ABC News interview, where Trump said he would accept damaging information on a political opponent from Russia; and his denial of former special counsel Robert Mueller's claim that Russia is trying to interfere "as we sit here."
"You don't really believe," Trump said to reporters at the time when asked whether he raised the topic of Russian election interference with Putin in a recent meeting. "Do you believe this?"
The ad ends by urging viewers to "call Senator McConnell and tell him: America is relying on you to let Congress do its job and secure our elections."
McConnell's office did not respond for comment.
Kristol, along with other Republicans, founded Republicans for the Rule of Law, which is "dedicated to defending the institutions of our republic and upholding the rule of law. We are fighting to make sure that the laws apply equally to everyone, from the average citizen to the president of the United States. We believe in fidelity to the Constitution, transparency, and the independence of prosecutors from politics."
The group has criticized the president on a variety of issues and has also created ads that highlight the damning information laid out in the Mueller report and why Trump should be impeached.
Matt Whitlock, a senior advisor at the National Republican Senatorial Committee, which is the campaign arm for Senate Republicans, ridiculed Democrats' claims that the election security bills were bipartisan. One of the bills, Securing America's Federal Elections Act, only received the support of a single House Republican: Representative Brian Mast of Florida.
"The House's 'election security bills' were hardly bipartisan. You don't have to accept every Democrat talking point at face value, Bill," Whitlock wrote on Twitter. Whitlock was unable to be reached for further comment.
McConnell has since railed against the pieces of legislation as "highly partisan" and measures that came from the "same folks who hyped up a conspiracy theory" about Trump-Russia collusion, a strong statement that McConnell had no intent on even debating the bills. He's since been given the nickname "Moscow Mitch" by his critics, of which he blasted in a floor speech as "lying" and partaking in "modern-day McCarthyism."
"Leader McConnell's Senate has been a big, black hole," Senate Minority Leader Chuck Schumer told reporters last week as the chamber embarked on August recess. "There has not been a single bill open for amendment all year — not one bill."
The New York Democrat expressed optimism about pressuring McConnell and Senate Republicans to act on election security legislation once they return this fall, but it was clear he wasn't going to hold his breath.
"I don't think Leader McConnell will change his behavior overnight," Schumer said.