New York Town With First Major Coronavirus Outbreak Set to Reopen This Week
Once the epicenter of New York's coronavirus outbreak, the town of New Rochelle is on track to reopen today with its deaths and hospitalizations trending downward.
Having met six of seven metrics for reopening, the Mid-Hudson Valley region was allowed to start reopening Tuesday if they met the state's seventh requirement, according to Governor Andrew Cuomo. In the first phase, retail stores can open for curbside or in-store pickup and construction, manufacturing, agriculture, forestry and fishing businesses can resume operations.
A lawyer who lived in New Rochelle but worked about 20 miles away in New York City, became the state's first case of community transmission in early March. After going undiagnosed, the man inadvertently infected other residents, and the outbreak prompted officials to order more than 100 families who were at a bat mitzvah with the attorney to self-quarantine.
To prevent further spread of the outbreak, Cuomo announced the imposition of a one-mile containment area in New Rochelle. All schools and places where large groups gather within the radius were to close for two weeks. At the time, residents were still permitted to walk the streets and patronize local shops that didn't meet the definition of "large facilities that do large gatherings."
"It is a dramatic action ... but it is the largest cluster in the country," Cuomo said during a press conference announcing the decision. "And this is a matter of life and death."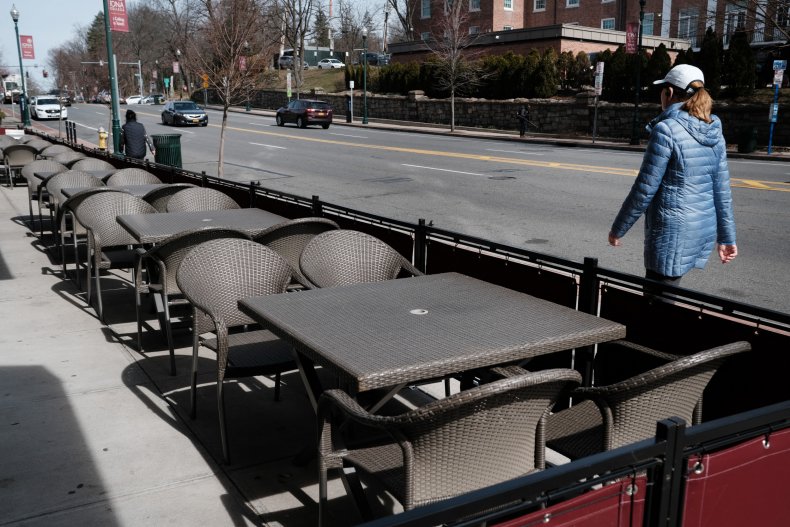 New Rochelle–and the rest of the state–were later put on PAUSE, an acronym used to describe New York's mitigation measure policy. The governor closed non-essential businesses, limited restaurants to take-out and delivery service and prohibited gatherings.
In order to reopen, Cuomo required regions to meet seven metrics, including a decline in total and new hospitalizations and in deaths. Regions must also have 30 percent of their hospital and ICU beds available, enough capacity to conduct 30 tests per 1,000 residents and meet contact tracing requirements.
On Saturday, Cuomo announced the Mid-Hudson Valley region met every metric except having sufficient contact tracers. The region identified enough contact tracers to meet the state guidelines, but as of Saturday, they had yet to be trained. Cuomo said he told county executives if the contact tracers took the online course over Memorial Day weekend, the region could reopen on Tuesday.
The governor said the parties agreed to train people on Saturday, Sunday and Monday. Newsweek reached out to Westchester County Executive George Latimer to confirm training had been completed but did not receive a response in time for publication.
Along with Westchester county, the Mid-Hudson region also includes the counties of Ulster, Dutchess, Sullivan, Orange, Putnam and Rockland. Of the state's 362,764 cases, about 60,000 were in the Mid-Hudson region, according to the New York Department of Health.
The Mid-Hudson region may not be the only reopening in New York to start this week. If deaths in the Long Island region continue to drop, it's possible the region could reopen on Wednesday, Cuomo said on Saturday. Once Long Island reopens, the only region still waiting to enter Phase 1 in New York is New York City, the epicenter of the outbreak.