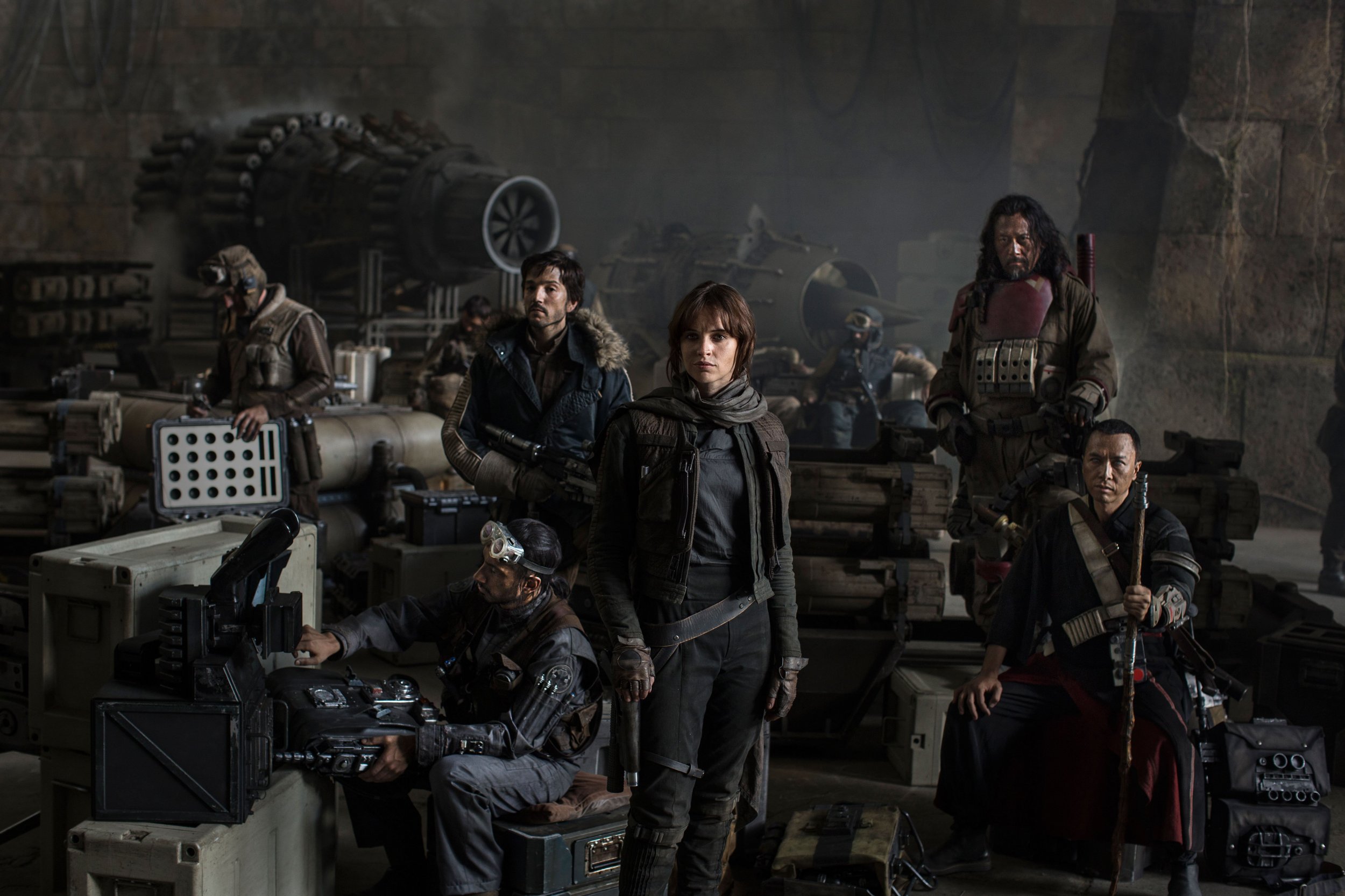 The release of the highly anticipated Star Wars spinoff Rogue One is just nine months away but we've still yet to see an official trailer, or much in the way of footage in general.
Considering that Disney and Lucasfilm released the first trailer for The Force Awakens over a year before its release, the secrecy surrounding Gareth Edwards's film is a little startling.
While fans await a closer look at the movie, it seems lucky Disney stockholders got a sneak peek at a shareholders' meeting in Chicago on Thursday. According to movie blog /Film, the mouse house's CEO Bob Iger treated guests to a sizzle reel of new footage, as well as confirming that the events of the film will take place before the events of Star Wars Episode IV: A New Hope.
It's already known the standalone film—starring Felicity Jones, Diego Luna, Riz Ahmed and Forest Whitaker—will follow a band of rebels trying to steal plans for the original Death Star (the same plans, of course, that end up in the hands of Princess Leia in the first Star Wars movie). But the new footage, described by a person in attendance at the event, provides some more insight into what we can expect.
Included in the mish-mash of teasers is "a shot of [a] black stormtrooper, possibly called Death Troopers," says Matthew Hansen. He also describes seeing an image of "two AT-ATs that had a slightly different look with the door panel on the side of the body painted a lighter beige color."
As for the cast, there was footage of "[Jones'] character on what looked like the inside of a ship or shuttle with her arm holding on and the hatch/ramp open behind her."
The verdict? Hansen says, "It all looked great, had a classic Star Wars / A New Hope look and feel."
Disney previously screened some very early footage to fans during the Star Wars Celebration convention in Anaheim, California, in April 2015, but opted not to disseminate it online. In fact, they've been very diligent over the last year in removing handheld phone recordings of the clip from YouTube and other video sharing sites.
For now, then, fans must simply take solace in the cast photo that Disney has made publicly available. It'll likely be the only official promo material we see until after the home video release of The Force Awakens in April.
Rogue One marks Lucasfilm's first standalone feature in the Star Wars saga, outside of the new trilogy kick-started by 2015's The Force Awakens. Another spin-off, focusing on the adventures of a young Han Solo, is penciled in for a 2018 release.
Rogue One: A Star Wars Story is scheduled for a December 16 release in the U.S .