New San Francisco Initiative to Pay Individuals Not to Shoot Others
A new program in San Fransisco will pay people at high risk of shooting someone not to pull the trigger to help alleviate rising gun violence in the city.
The Dream Keeper Fellowship is set to launch in October and pay 10 individuals $300 each month to not be involved in shootings, Sheryl Davis, executive director of the Human Rights Commission, told Newsweek in an interview Tuesday.
Davis explained that the program is not "transactional," but will rather focus on making investments in communities most impacted by violence.
"It's not necessarily as cut and dry as folks may think. It's not as transactional as, 'Here's a few dollars so that you don't do something bad,' but it really is about how you help us improve public safety in the neighborhood," she said.
Participants will be paired with life coaches from the city's Street Violence Intervention Program and will be considered "community ambassadors" who work to prevent violence. They will work on their professional, personal, and community development and will be thought of as "partners" in engaging community members and decreasing violence.
"As you become better, your community benefits from that," she said.
The program aims to get to the "root causes" of violence, "which in so many ways are economic," according to Davis.
"We need to be getting to the root causes of why some neighborhoods are safer than others," Davis said.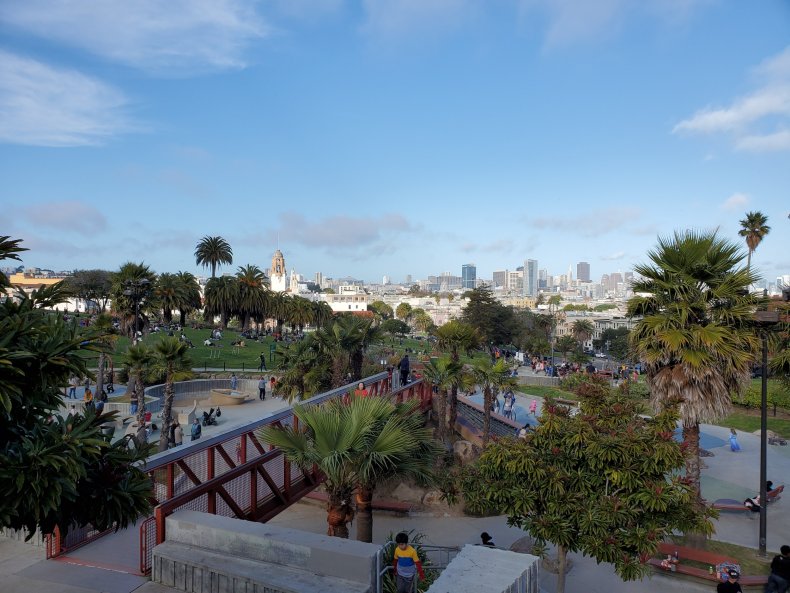 There are opportunities for participants to earn an additional $200 each month as they work to improve their community. Some ways they can earn more are by working, going to school and even being a mediator in situations that could lead to violence.
Davis hopes the program will engage participants, make them more civic-minded, and allow them to be a part of the solution. In the long term, she hopes it will create safer communities.
"These small investments can transform the lives of individuals, but they can also transform communities," Davis said.
The program is based on a similar program in neighboring Richmond, California, which helped reduce gun homicide in the city by 55 percent, according to a 2019 study by the American Journal of Public Health.
It's being funded through the Dream Keeper Initiative, which is San Fransisco's effort to redirect funding into the Black community. The initiative supports a variety of programs, including an art complex, youth development and education, guaranteed income programs, and homeowner promotion says Mayor London Breed's office.
Gun violence in San Fransisco has increased in 2021, according to mid-year data released by the police department. In the first half of the year, there were 119 gun violence victims, more than double from 2020, when the mid-year number was 58.
The city reported 26 homicides in the mid-year statistics, up from 22 in 2021.
Gun violence has increased nationwide since the start of the COVID-19 pandemic, according to the Gun Violence Archive. So far in 2021, there have been 13,601 gun-related deaths, including homicide, murder and unintentional shooting deaths. For all of 2020, that number was 19,411. It was 15,448 in 2019.
An analysis from March by the San Francisco police found that most gun violence is linked to 12 high-risk groups with "extensive justice system histories."