New 'Spider-Man' Gameplay Trailer Has Miles Morales, Aunt May and More
The latest trailer for Spider-Man on PS4 includes tons of gameplay footage, and looks absolutely awesome. The trailer, which can be watched above, includes many familiar faces like Miles Morales, Aunt May and several notable baddies.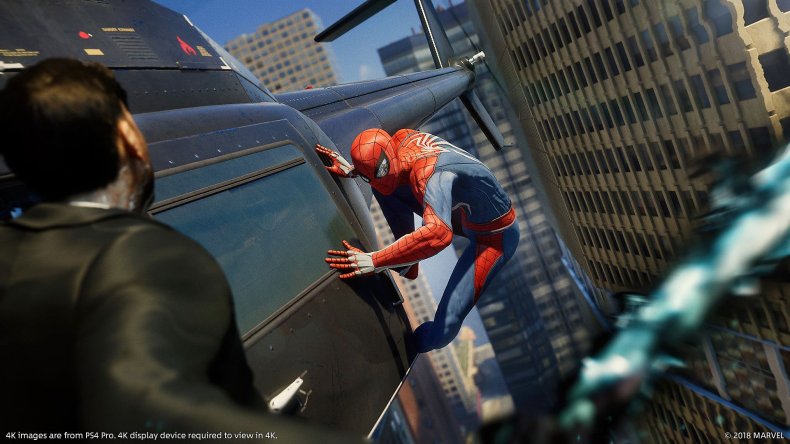 Among the list of villains seen in the video, we can clearly make out Kingpin, Rhino, Scorpion and Mr. Negative. There also may have been an incredibly short clip with Vulture in it as well. While we don't know for sure, we also believe the woman shooting a gun at Spider-Man is Silver Sable, a mercenary and hunter of war criminals. According to the game's Wikipedia page, Spider-Man will also face off against Electro, Taskmaster and Shocker as well.
While the trailer doesn't specifically show captured footage of real-time gameplay, all scenes were recorded with a PS4. This means we probably aren't playing during the part where Peter is taking down the helicopter and saving it from slamming into a busy New York City street, but we probably will be playing the moments right before the scene takes place.
We also don't really learn any new information about Spider-Man's plot from this trailer. We already know from previous interviews and trailers that Peter Parker will face off against Mr. Negative and his Inner Demons gang. To complicate matters, Mr. Negative's real-world persona, Martin Li, operates a series of shelters that Aunt May works at. Bringing down Mr. Negative could have major implications for the people Peter loves most.
Spider-Man releases exclusively for PS4 on Sept. 7. Pre-orders are already available, with three different options for securing your copy in advance. Pre-order the Standard edition to receive a bonus Spidey Suit Pack, extra Skill points, an early unlock of the Spider Drone gadget, a Spider-Man PS4 theme and a PSN avatar. The Digital Deluxe edition includes all those rewards as well as bonus post-release DLC and a physical pin.
If you want the full Spider-Man experience, you'll want to pre-order the Collector's Edition. This includes everything from the Digital Deluxe edition along with a Steelbook game case, a sticker, a mini art book and a statue. The Collector's Edition is $150, while the Digital Deluxe version is $80.
So what do you think? Are you excited to swing into action in the new Spider-Man? What other questions do you have about the game leading up to the launch? Let us know your thoughts in the comments section below.