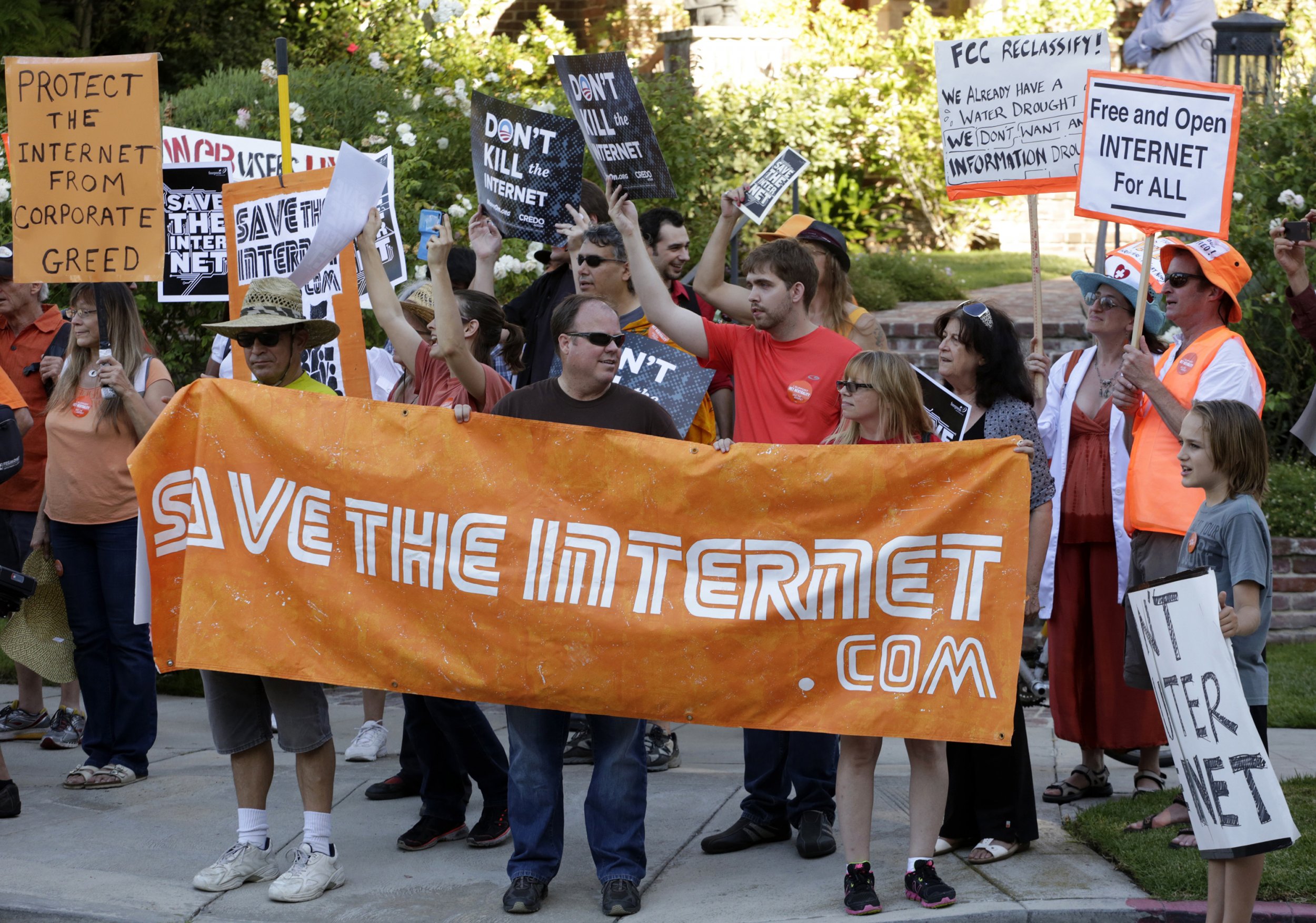 A new smartphone plan, unveiled on Wednesday by Sprint, will charge users separately for access to different social media sites. While the plan will likely make phones more affordable for certain customers, digital rights advocates worry it will threaten net neutrality, the notion that no data flowing over the internet should be given preferential treatment.
First, a breakdown of Sprint's new offering, dubbed the Virgin Mobile Custom plan: Customers pay a flat fee of $35 for unlimited calling and texts. From there, they pay $12 dollars for a limited amount of data plus unlimited access to one of four social media apps—either Facebook, Twitter, Instagram, or Pinterest. Unlimited access to the additional three sites cost $10. And use of a streaming music app such as Pandora or Spotify is $5 more.
For users who don't use social media frequently, the plan may be cost effective. A base unlimited contract (which would give access to one social media app) would cost only $47 dollars on top of the price of their phone. The cheapest iPhone plan, by comparison, is $50. And if users don't want unlimited phone and text, the base fee can be as low as $6.98, dropping the total of a Virgin Mobile Custom plan to $18.98. "They can tailor what they pay for to match their own and their family's needs," Dow Draper, the president of Sprint's Prepaid Group, said in a press release.
While the plan will no doubt save casual phone users money, digital rights advocates find its approach problematic. The principle of net neutrality, the Electronic Frontier Foundation wrote, "calls for all data that travels over the Internet to be treated equally." Sprint's new plan, by contrast, gives users unlimited access only to certain apps (unless users pay additional fees). Sprint did not return Newsweek's request for an interview.
Net neutrality advocates argue providing users easier access to some sites than others gives large companies an edge over smaller competitors. In the case of the Virgin Mobile Custom Plan, the concern is that making it easier for users to access one of four social media sites favors those companies. Users looking for the most affordable plan will necessarily choose one of those four apps as their unlimited option. In that way, it will become their go-to social media app on their phone. "They have already pre-selected which services the customers can choose," says Corynne McSherry, the Intellectual Property Director at the Electronic Frontier Foundation. "What about what's not on that list? The service you haven't heard of just being developed in someone's dorm room. One of the big worries is that the internet will stagnate."
Still, McSherry doubts the new plan will catch on. "I think Sprint miscalculated here," she says, pointing out that a fundamental expectation of Internet users is that they have access to the entire network. "This is an opportunity for users and subscribers to vote with their wallet," she says. "If this plan isn't successful, the internet will have spoken."
Virgin Mobile Custom will be available from August 9.