A New Stimulus Bill Could Give $4,000 Tax Credit to Those Still Unemployed by Pandemic
Senators Amy Klobuchar of Minnesota and Ben Sasse of Nebraska last week introduced bipartisan legislation that, if passed, would give Americans who are unemployed as a result of the coronavirus pandemic a $4,000 tax credit.
The money would be intended for use on training programs and skills development courses needed to make those struggling with unemployment more competitive in a post-pandemic workforce.
Klobuchar, who was campaigning for the 2020 Democratic presidential nomination until she ended her bid in March, has worked with Sasse, a Republican, on skills training legislation before. Their new bill also received early support from New Jersey Senator Cory Booker, another former 2020 Democratic presidential candidate, and Republican Senator Tim Scott of South Carolina.
"This new legislation will help Americans gain skills that will be in demand for years to come and position them to rapidly reenter the workforce with increased earning potential as soon as businesses begin hiring again," Klobuchar said in a news release.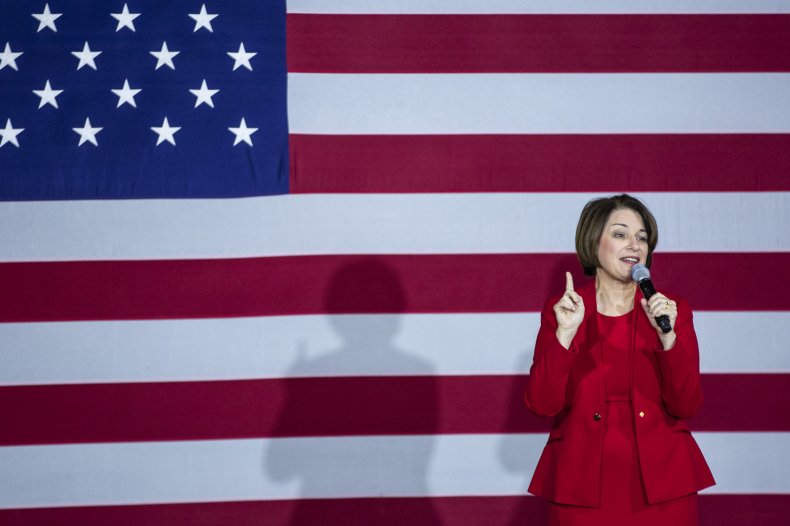 Introduced as the Skills Renewal Act, the bill is designed to provide out-of-work Americans with money to enroll in courses and programs that will teach them new skills. Though the extent to which the pandemic will permanently alter the workforce once stay-at-home orders have fully lifted is unknown, some companies have already said they will allow employees to continue working remotely through the end of the year, regardless of whether their local governments require them to do so or not. Recent polling has also indicated a majority of Americans prefer to work from home even after the pandemic has run its course.
If passed, the Skills Renewal Act would provide a $4,000 credit available for use through the end of 2021. The credit will be available to all Americans who are unemployed due to the pandemic, regardless of what kind of job they lost or how much they earned, according to a summary of the legislation on Klobuchar's website. Training programs applicable for reimbursement through the credit include apprenticeships, certification programs and college courses.
A companion bill was also introduced to the House of Representatives on May 20. The House bill similarly received bipartisan support, with Representatives Derek Kilmer of Washington, Susan Brooks of Indiana, Terri Sewell of Alabama and Glenn Thompson of Pennsylvania all signing on to endorse it.
In a news release, Sasse said that though the shift toward a remote workforce has been gradual in recent years, the pandemic forced many companies to swiftly embrace the idea of remote employees.
"Our economy was changing rapidly before this nasty virus and the current economic crisis is going to speed things up," Sasse said. "We have to make sure that Americans have the skills we need to compete. Workers who are using this bumpy time to update their skills and retrain for new jobs are going to be a big part of that comeback, and we ought to reward them for their perseverance and grit."
The Skills Renewal Act was introduced to the Senate's Committee on Finance just one day prior to the chamber's final day in session before its Memorial Day recess. The committee, which is chaired by Republican Senator Chuck Grassley of Iowa, will decide whether or not to begin discussing the bill's proposals once the Senate returns on June 1.
Newsweek reached out to Grassley's office for comment but did not receive a response in time for publication.
The bill is one of many attempts congressional legislators have made recently to address the spike in unemployment caused by the pandemic. As of last week, nearly 40 million Americans had filed for unemployment since COVID-19 began spreading across the U.S., and many economic experts have predicted the country's unemployment numbers will continue to rise into the summer.