Headaches, and a loss of taste or smell are the symptoms tied closest to a positive infection with COVID-19 among children, new research says, but unlike previous findings, about two-thirds of kids who tested positive were experiencing symptoms prior to testing for the virus.
A new study tested nearly 2,500 kids under the age of 18 for severe acute respiratory syndrome coronavirus 2 (SARS-CoV-2) and found headaches and anosmia (loss of smell) and ageusia (loss of taste) were most commonly associated with positive infection results. About two-thirds of children who came back with positive test results were reporting symptoms at the time of swab testing. This is much higher than a previous Public Health Agency of Canada (PHAC) study which found symptoms in only 26 percent of cases. Sixty-four percent of kids were symptomatic prior to testing in this latest study of kids over one month old.
The Centers for Disease Control and Prevention (CDC) updated its own findings in August "to reflect new evidence about COVID-19 in children," after researchers began highlighting that children were increasingly showing symptoms before a positive test.
Dr. Finaly McAlister, one of the study co-authors, told Newsweek Tuesday that 42 percent of kids with positive swabs, who had their swabs done as part of contact tracing, were also asymptomatic. McAlister said this was largely due to contact within households given that many of these kids were tested in the March to September months in which school was out.
A headache, and loss of smell and taste were predictive of a positive test at much higher percentages than other symptoms.
Headache symptoms were present in 16 percent of infected children, versus only 6 percent in negative cases. Eight percent of kids who tested positive for COVID-19 reported the loss of taste or smell, compared to just one percent of kids who tested negative for coronavirus. Similarly, 4 percent of kids with nausea or vomiting tested positive, compared to just a handful of kids who ultimately tested negative.
Unfortunately, the researchers noted, the most common symptoms among children whose tests came back negative—coughing, runny nose and fever or chills—"were the same" among kids who tested positive.
About 36 percent percent of kids who tested positive (695) were asymptomatic, with mild coughs and a runny rose being equally as present among kids who simply had allergies, sinus infections or the common cold. Those specific symptoms were designated as not predictive of positive infections.
The authors of the study, published Monday in the Canadian Medical Association Journal, cautioned that previous PHAC findings are "likely an underestimation of the true prevalance of asymptomatic [COVID-19] infections, as those without symptoms are much less likely to seek testing than those with symptoms." The study was conducted using swab testing of children's nose, sinuses and throat between April 13 and September 30.
Overall, the results from about 2,500 children found 1987 tested positive. Four hundred seventy-eight had a negative result.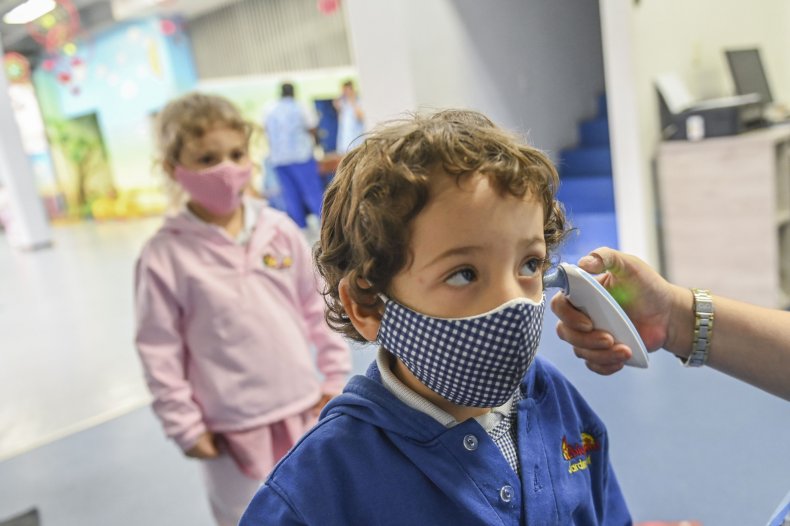 About the writer
Benjamin Fearnow is a reporter based out of Newsweek's New York City offices. He was previously at CBS and Mediaite after working as a news curator at Facebook. Fearnow has pieces published in The Atlantic as well as stories published about him in Wired and The New York Times. He attended the Columbia University School of Journalism after graduating from Indiana University-Bloomington. Email: b.fearnow @ newsweek [dot] com.