New Study Shows High Rates of Concussions in High School Cheerleading
A new study released by the American Association of Pediatrics has revealed that cheerleaders sustain a higher rate of concussion during practice than in competition, a trend opposite that of most head injuries in sports.
The study, released on Tuesday, shows concussion trends in different sports, including cheerleading, one of the sports with the highest rate of concussions. The risk of concussions in cheerleading may not be very apparent, but the study shows how they could be comparable to sports like football, hockey, or soccer.
According to the study, 63.7 percent of concussions occurred during competitions in high school sports. The data in the study showed that boys' football had the highest rate at 10.4 concussions per 10,000 athletic exposures followed by girls' soccer with 8.19 and boys' ice hockey with 7.69. When the study focused specifically on practice, boys' football remained the highest at 5.01 per 10,000.
However, this was not the case for cheerleading, which had the second-highest rate of 3.6 per 10,000 athletic exposures during practice. The research showed that more information was needed, but the different locations of cheerleading practices could play a role in the rate of concussions.
Among all sports, 36.3 percent of concussions occurred during practices.
The author of the study, Avinash Chandran, who is currently a post-doctoral research associate at the University of North Carolina at Chapel Hill, said there are a few different reasons for concussions occurring at higher rates during cheerleading practices.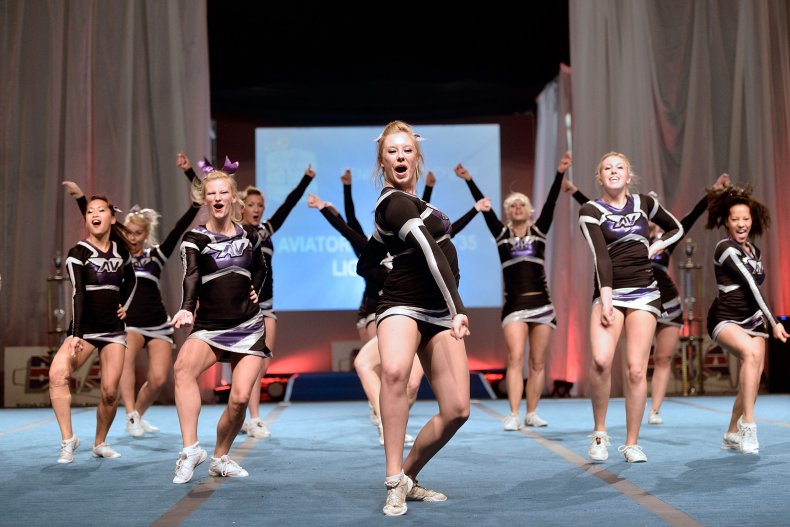 "Unfortunately, not all states recognize cheerleading as a sport -- which may impact the conditions in which cheer squads may practice," Chandran said. Some of those locations, such as hallways, gymnasiums and football fields, could lack the proper safety equipment needed to prevent concussions.
Another study released in 2012 by the AAP stated, "only 29 state high school athletic associations recognize cheerleading as a sport."
The 2012 study states that "being classified as a sport affords valuable safety resources and regulations, such as access to certified athletic trainers and team physicians." Schools that do not consider cheerleading a sport may have different protocols regarding the diagnosis of a concussion. "It is also possible that cheer squads have less access to medical care and coaching support than other high school sports," Chandran said.
A study done by fivethirtyeight.com shows that injuries are less likely in cheerleading competitions compared to practice because competitions usually take place on the proper mats and equipment.
The 2012 report by the AAP also stated that concussion rates have "increased by 26 percent" from 1998 to 2008.
"Concussion rates increase with age and competitive level, likely because of the increasing difficulty of stunts," the study said.