New Subaru Impreza Billed as 'Modern Day Swiss Army Knife'
A new Subaru has arrived. The cover was pulled off the next-generation 2024 Subaru Impreza today at the LA Auto Show, revealing Crosstrek-like looks and the freshest technology Subaru offers.
This version of the Impreza grows in size, but only slightly. The small car still is slated to compete directly with the Toyota Corolla and Honda Civic, but it offers something they don't - all-wheel drive.
Subaru has been making the Impreza since 1992. The car isn't a huge seller in the U.S., around 26,000 models have been purchased by buyers year-to-date. Toyota sells that many Corollas about every 45 days.
The sixth-generation Impreza drops the sedan body style in favor of a hatchback (Toyota offers a hatchback version of the Corolla). Previously, it had been offered in both variants. This body style, Subaru of America CEO says, will allow it to perform like a "modern day Swiss Army knife" for buyers, enabling more adventurous lifestyles than a sedan typically does.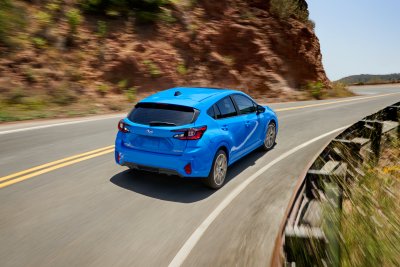 Subaru's taken technology and equipment from its other vehicles, most notable the WRX sedan's dual-pinion electronic power steering rack, and employed it within the hot hatch. It also borrows an optional powertrain from its SUVs.
Designed to offer tremendous value for customers, the new Impreza will be sold in Base, Sport and RS trim levels. Impreza Base and Sport are powered by a 2.0-liter four-cylinder engine that delivers 152 horsepower (hp) and 145 pound-feet (lb-ft) of torque. Impreza RS drivers have access to 182 hp and 178 lb-ft of torque courtesy of Subaru's 2.5-liter four-cylinder Boxer engine.
Impreza Sport and RS get the company's SI Drive performance management system, 18-inch alloy wheels and a sport-tuned suspension. All Imprezas have their engines paired with a continuously variable transmission (CVT). Impreza RS gets paddle shifters.
Subaru has also given its top model black exterior treatments and upgraded LED lights. Its interior has gun metal-colored and carbon fiber accents, as well as the "RS" logo featured. Heated seats, a power moonroof, a Harman Kardon 10-speaker audio system and a rear USB port come standard on the Impreza RS.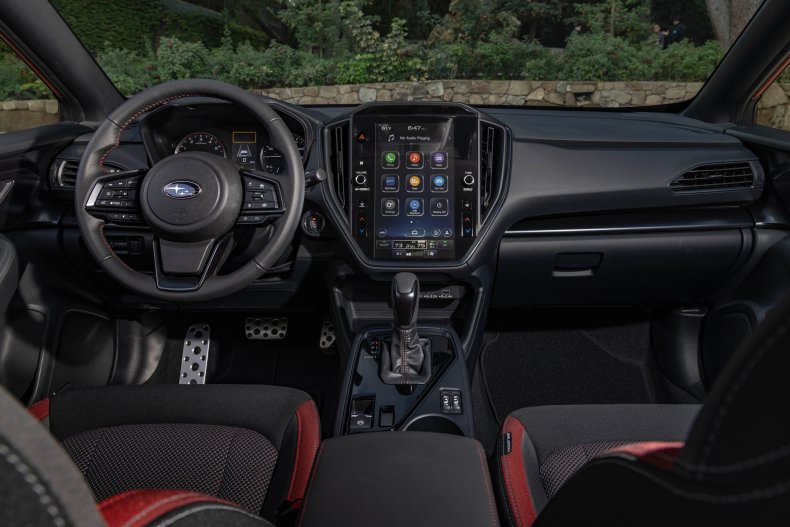 Subaru's focused on making the driver's experience in the car better for this new generation. A fresh approach to structural adhesive has helped make this version quieter than the last. The driver gets a more supportive seat. The automaker says that it has "ample" head and legroom, and storage space.
All models get power door locks, windows and side mirrors as well as welcome lighting and keyless access, a tire pressure monitoring system and 60/40 split-folding rear seats. Impreza RS cars come with a 10-way power-adjustable driver's seat with lumbar support.
The Impreza's climate control is designed to focus on areas of the car that are occupied. Dual-zone climate control is standard.
Buyers who upgrade to an Impreza Sport or RS get an 11.6-inch infotainment system that pairs with wireless Apple CarPlay and Android Auto.
EyeSight Driver Assist Technology comes standard on the new Impreza, with updates designed to offer a quicker response to obstacles and emergency situations. Vehicles equipped with blind spot monitoring with lane keeping assist and rear cross-traffic alert technology also come with automatic emergency steering, which helps assist with steering control to avoid a collision when traveling under 50 miles per hour (mph).
Pricing for the 2024 Subaru Impreza will be announced at a later date, the current model starts at $19,295. It goes on sale next year.