New 'Targeted' GOP Stimulus Excludes Second Stimulus Check, Offers Some Unemployment Relief
A new coronavirus stimulus package was unveiled by Senate Republicans on Tuesday, the latest piece of legislation pushed by GOP lawmakers to address the struggling economy due to the ongoing pandemic as Congress returns from August recess.
The multi-hundred billion-dollar bill is Republicans' slimmest relief proposal yet, a "targeted" measure that Senate Majority Leader Mitch McConnell (R-Ky.) will try to advance in the upper chamber Thursday after trying to rally GOP colleagues.
The legislation excludes a second round of individual $1,200 checks while including money for the Paycheck Protection Program, schools to reopen, $300 weekly enhanced unemployment benefits through December 27, the U.S. Postal Service and liability protections, among other things.
However, Americans shouldn't count on more relief anytime soon.
The bill is not expected to muster enough support to even pass a procedural vote, much less a vote on final passage. Sixty votes will be needed to overcome a filibuster, which means the GOP-led chamber will need several Democrats to cross the aisle. Democrats are not expected to support the proposal because of its narrower scope than the proposals they support.
"I will make sure every Senate Democrat who has said they'd like to reach an agreement gets the opportunity to walk the walk," McConnell said in a statement.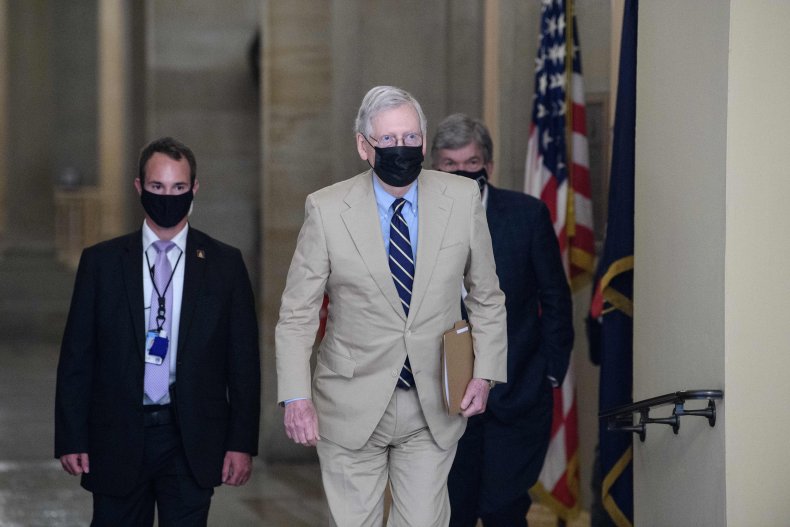 Even before the details were unveiled by McConnell, top Democrats continued their attacks against the Republicans' proposal, labeling it "emaciated" and a purely political tactic for vulnerable GOP senators to win brownie points with their constituents. The pared-down bill, worth roughly $500 billion but would only cost about $300 billion by using previously unspent funds, is just half of the $1 trillion proposal Senate Republicans failed to advance earlier this summer amid widespread disagreement within their own conference.
"Senate Republicans appear dead-set on another bill which doesn't come close to addressing the problems and is headed nowhere," House Speaker Nancy Pelosi (D-Calif.) and Senate Minority Leader Chuck Schumer (D-N.Y.) said in a joint statement. "[T]his emaciated bill is only intended to help vulnerable Republican Senators by giving them a 'check the box' vote to maintain the appearance that they're not held hostage by their extreme right-wing that doesn't want to spend a nickel to help people."
After stimulus talks crumbled near the start of the August recess, President Donald Trump took some matters into his own hands. Through a series of limited executive orders, he offered some eviction protections and a federal boost of $300 per week for jobless benefits—half of the $600 weekly enhanced unemployment checks that expired at the end of July and that Democrats want reinstated.
The gridlock on Capitol Hill remains as legislators must also turn their focus toward preventing a government shutdown that will commence in 22 days. Pelosi and Treasury Secretary Steve Mnuchin, a key Trump administration official who's helped negotiate coronavirus relief packages with Congress, say they will push for a clean stopgap spending bill to keep the government opening. Pandemic aid is not expected to be included in the temporary funding legislation.
The stalled talks come less than two months before Election Day, making any actions taken by lawmakers increasingly politicized, and reducing the chances of any substantive stimulus agreement.
"I don't know if there will be another package in the next few weeks or not," McConnell told local reporters in Kentucky last week. "It's harder to do now because we're so much closer to the election."
White House chief of staff Mark Meadows, who has helped Mnuchin negotiate with Congress, said last week that Trump would be willing to support a stimulus as high as $1.3 trillion. Democrats have said they will not go lower than $2 trillion, and insist that any such settlement include money for schools, enhanced unemployment insurance, a second round of checks, the Postal Service and aid to state and local governments.
Democrats and Republicans do have areas of overlap that GOP leaders have said could result in piecemeal measures that could swiftly be approved, such as with education, the Postal Service and small-business loans through the Paycheck Protections Program. However, Democrats have rejected that idea and continue their push for a broad package, even as the sides still have major disagreements over things like unemployment insurance.
Asked about the discrepancies between the price tags of the new $500 billion GOP stimulus and remarks by Meadows about a $1.3 trillion package, top Trump economic adviser Larry Kudlow offered little insight on Tuesday into the White House's official position.
"We will work through that," Kudlow told reporters. "I'm not gonna negotiate here."