New Tensions Arise in U.S.-China Relationship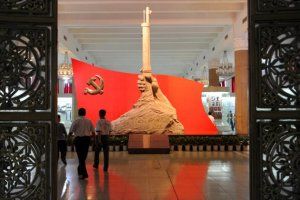 During his trip to Asia this week, Defense Secretary Robert Gates had wanted to visit China to try to repair military relations. There's been a distinct frostiness in the air between the two nations, with several military exchanges delayed, since the U.S. agreed to sell up to $6.4 billion in weapons to Taiwan, according to Reuters.
Gates was snubbed, told it was "not a convenient time" to visit Beijing. But this time, according to Foreign Policy, there may be a deeper malaise. "There is a struggle inside the Chinese Communist Party," writes Josh Rogin, citing a U.S. administration official, "between those who want to more forcefully confront the U.S. on a range of issues, mostly within the [military], and those who genuinely seek better ties, and the faction favoring confrontation is gaining ground."
The situation is further complicated by recent tensions between North and South Korea. In March the 1,200-ton South Korean warship Cheonan was torpedoed. It sank, killing 46 sailors. Investigators announced in an international report that they had discovered part of the torpedo on the ocean floor, according to the BBC, and "found it carried lettering that matched a North Korean design."
China stood against U.N. sanctions on North Korea in the wake of the sinking, while the U.S. backed South Korea. And it appears that the North Koreans are muddying the waters further with an Asia Times article today, written by Kim Myong Chol, described as an "unofficial spokesman of Kim Jong Il and North Korea." In it, Kim suggests that Chinese navy research points to an American mine sinking the Cheonan, and that "may be one of the reasons why the Chinese government has refused to support American and South Korean demand to join in sanctions against North Korea."
Orville Schell, director of the Center on U.S.-China Relations at the Asia Society, thinks it unlikely that China had any role in that spin. But on North Korea, Beijing walks a fine line, says Schell. "In all my talks with Chinese diplomats on the issue I've never detected anything but very thinly veiled contempt for the North Koreans," he says. "[For them] it's like having some crazy uncle—an uncle that lives up in the attic. They're very reluctant, and with some cause, to push North Korea too hard because China is the only country that exercises any influence with, and can even talk to, the government there. That's why they seem so silent and opaque on the issue. They don't want to be seen as fully supporting the country, but they don't want to open a breach either."
Schell is confident that the Chinese will ultimately want to re-establish military-to-military relations with the U.S., "but they may not be ready internally to do it so quickly after the Taiwanese weapons agreement. In any government there are teabaggers and cosmopolites—you just can't see the gala being acted out in China. It's very discreet and behind the scenes."
Robert Gates, and others with an eye on the region, will be hoping that gala has a happy ending.