New Trader Joe's Snack Bamba Could Offer Hope for People With Peanut Allergies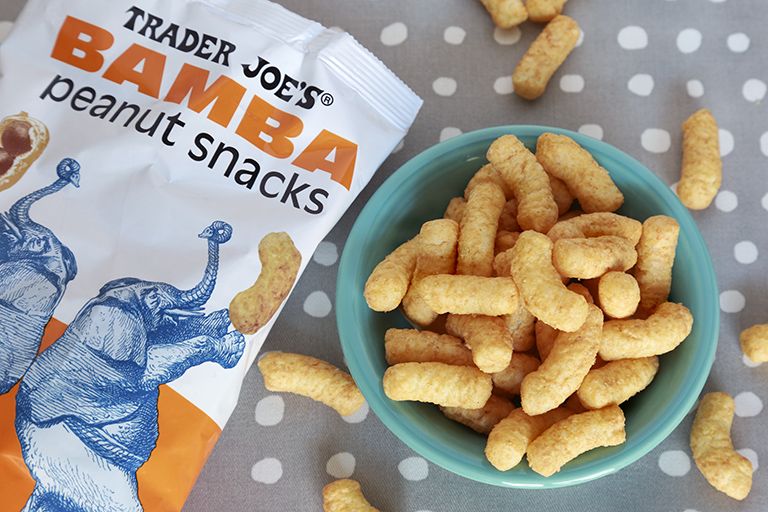 Trader Joe's is now selling Bamba, an Israeli snack that is long overdue for a triumphant entrance into the mainstream U.S. market.
Bamba is "crunchy, airy, peanutty and highly craveable—kind of like a cheese puff without the cheese," Trader Joe's said in its announcement in late October. The snack is made with just four ingredients, TJ's explained: Corn grits are popped under high pressure and then cut and air-baked, and then they're transferred to rotating drums to be coated with hot liquid peanut butter made of peanut paste, palm oil and salt. The end product is not quite as crispy as a standard cheese puff. When you bite into Bamba, there's just a momentary and subtle crunch before it dissolves and sends a blissful infusion of peanut butter to every taste bud.
Considering America's obsession with peanut butter, it's surprising Bamba isn't already as popular here as it is in Israel where it's the top-selling snack. Ninety percent of families purchase it on a regular basis. No snack in the U.S. is nearly as iconic or dominant. Until recently, Bamba could be found on Amazon and other online retailers as well as a handful of kosher, Jewish or Israeli shops and the occasional supermarket (like Shoprite). But Trader Joe's decision to stock its shelves with "Bamba Peanut Snacks" could mean America is about to meet and fall in love with Bamba in a big way.
"I think Americans should like it," Michael Solomonov told Eater. The James Beard award-winning chef is best known for his Philadelphia restaurant Zahav and the more casual hummus spots Dizengoff in Philly and New York City. "If I had access to Bamba all the time, I'd be a much happier human being."
Americans could get more than just a satisfied palate and a boost in happiness if Bamba catches on here. Early exposure to peanut products has been shown to reduce the prevalence of allergies. In a blog post in January, Francis Collins, the director of the National Institutes of Health, outlined a new set of guidelines released by the NIH suggesting that "parents should introduce most babies to peanut-containing foods around the time they begin eating other solid foods, typically 4 to 6 months of age."
Collins pointed to a 2015 study published in the New England Journal of Medicine as the breakthrough that helped usher in the updated prevention strategy. The study looked at hundreds of infants between four and 11 months old who had severe eczema, egg allergy or both. Some were randomly assigned to regularly consume peanut products, and "the preferred peanut source was Bamba."
Those who regularly consumed Bamba (or smooth peanut butter, if they didn't like Bamba) were far less likely to be allergic to peanuts at age 60 months. Among the group who tested negative on an initial skin-prick measure used to check sensitivity to peanut extract, only 1.9 percent of those who consumed Bamba were later allergic, compared to 13.7 percent of those who didn't. Among those who tested positive in skin-prick test, 10.6 percent of those who consumed Bamba were allergic compared to 35.3 percent of those who weren't.
"In recent years, peanut allergy in the U.S. has nearly quadrupled, making it the leading cause of death due to severe, food-related allergic reactions," Collins concluded in his January note. "The hope is that, with widespread implementation of these new guidelines, many new cases of peanut allergy can now be prevented." And Bamba could help.
One mother who found out about the snack from the 2015 NEJM study wrote in a Letter of Recommendation for Bamba in The New York Times Magazine. "There are so many things to be concerned about as a new parent, but nothing induces quite the same brand of panic as peanuts," she wrote. "They're the worst sort of villain — variably innocuous or deadly for wholly mysterious reasons."
But she concluded that "what's great about Bamba is that you get to skip all that; it's an inocu­lation housed in a guilty pleasure."