New Tree-Shaped Wind Turbine to Be Installed On the Streets of Paris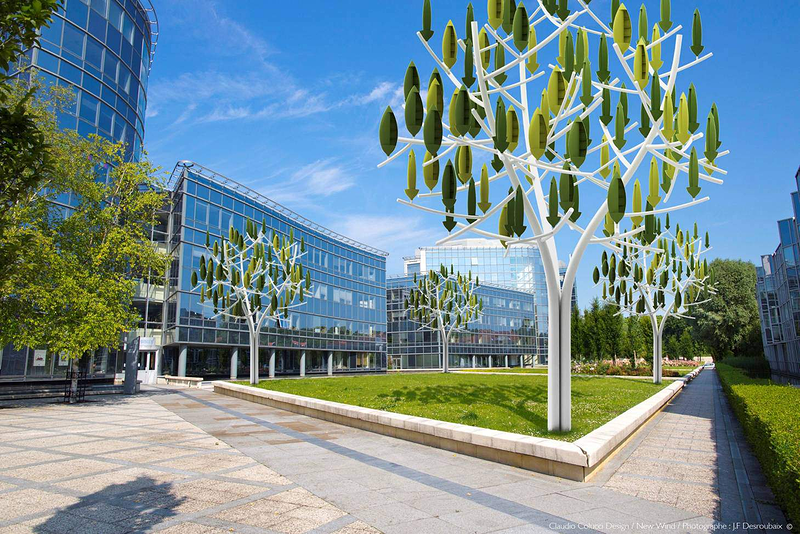 French company NewWind are to introduce tree-shaped wind turbines to the streets of Paris this March. It hopes the invention will be a visually appealing, urban alternative to traditional turbine models, which critics say take up too much space, make too much noise and ruin the landscapes in which they are embedded.
The company's founder Jérôme Michaud-Larivière told Hexapolis: "The idea came to me in a square where I saw the leaves tremble when there was not a breath of air… [the energy] had to come from somewhere and be translatable into watts."
Dubbed the 'Wind Tree', the innovative wind turbines are designed to look like the real thing. Each ones use its 72 leaf-shaped wind turbines as a silent power source, while the trunk and branches are made of steel.
The Wind Tree's leaves are made of a very lightweight plastic that can generate power easily as they can spin in a breeze as faint as 4.4 mph (2 meters/second). When all 72 turbines rotate, each Wind Tree can produce an average of 3.1 kW of power, 280 days of the year, enough to power 15 streetlights.
Although traditional wind turbines can generate 5-6 kW, their large size means they require strong winds to get moving, meaning they generate power for fewer days a year. Also, their huge size - towering up to 120 feet (36 meters) tall with the blade rotary diameter of up to 43 feet - means many find them an unattractive option. In comparison the Wind Trees are a rather petite 36 feet (11 meters) high and 26 feet (8 meters) wide.
Each Tree costs $36,500 (€29,500), but the company says the turbines will pay themselves off in a few years due to the money saved on alternate energy sources. The company has said they hope to eventually see the 'Trees' throughout Paris, either clustered together or installed amongst real trees as urban sculptures in public parks.
The official launch of the final prototype will take place at Place de la Concorde in March 2015 when the Tree will be 'planted' and remain there until May. NewWind say they have already sold 40 pre-mass production Trees to be installed in France in September 2015. Mass production and commercialization in France and neighbouring countries is scheduled for June 2016.