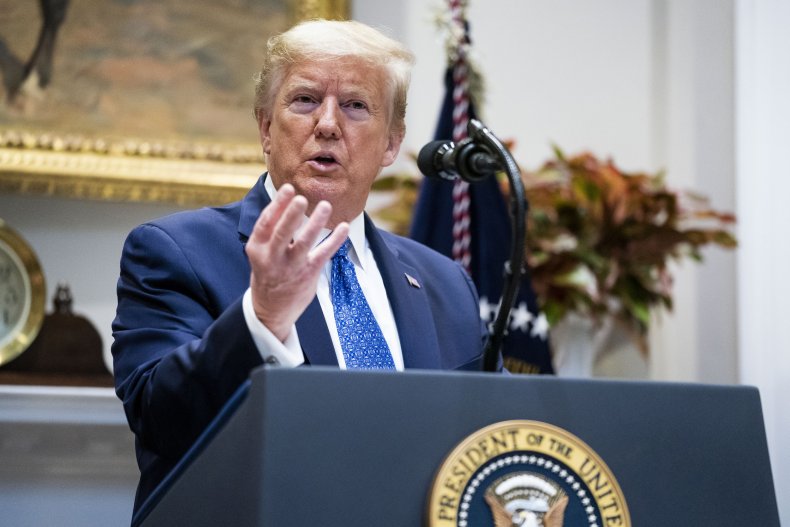 President Donald Trump plans to sign an executive order that he says will expedite the nation's economic recovery after the coronavirus epidemic by loosening some governmental regulations—including those that could create environmental or labor issues.
"We're fighting for the livelihoods of American workers, and we must continue to cut through every piece of red tape that stands in our way," Trump said during a cabinet meeting at the White House on Tuesday. "With millions of Americans forced out of work by the virus, it's more important than ever to remove burdens that destroy American jobs."
The full text of Trump's executive order wasn't immediately signed or released to the media.
But Trump described the effort as a plan to "waive, suspend and eliminate unnecessary regulations that impede economic recovery."
"And we want to be able to leave it that way," Trump said. "In some cases we won't be able to, but in other cases we will."
Trump already has built a track record on upending environmental and some workforce regulations during his first three years in office.
"We've done more regulation cutting than any president in history," Trump boasted during Tuesday's cabinet meeting. "It's really something."
On Tuesday, he said he latest executive order would streamline projects and encourage economic development.
More than 36 million people have filed jobless claims in America since the coronavirus pandemic began this spring, according to the Labor Department.
Trump has spent recent days meeting with farmers, restaurant industry executives and other business leaders affected by the virus.
Trump, who has a business background and ran as a Republican in favor of deregulation efforts, said cutting bureaucracy was a hallmark of his "Make America Great Campaign" of 2016. He likely faces presumptive Democratic nominee Joe Biden on the November 3 ballot.
"We've had cases where it would take 20 years to build a highway," Trump said of his experience in government. "I lived with it in the private sector also."
Trump recently has faced a backlash from labor groups for requiring meat processing companies to stay open amid coronavirus outbreaks among workers at the facilities. Trump has also used executive orders to roll back environmental policies.
His latest executive order, cutting out regulations at "that impede economic recovery," could face similar challenges.
A recent review from the New York Times found the administration had used similar arguments to reverse or roll back more than 60 environmental rules and regulations, with 34 more in progress.