New UK Home Secretary Wants Criminals To 'Feel Terror'
The new home secretary in the United Kingdom said she wants criminals to "literally feel terror" in an interview with The Daily Mail on Friday. Priti Patel said she pledges to restore public confidence in law and order by "empowering' officers to go after criminals.
"I fundamentally think the Conservative party is the party of law and order. Full stop," Patel told The Daily Mail, in her first interview since Boris Johnson appointed her home secretary on July 24.
"Offenders should be fearful of committing any criminal activities on our streets," she said.
The Home Secretary is a cabinet position — in light of his recent election, Johnson recently implemented a massive shake-up of the cabinet — that is responsible for immigration and citizenship in the United Kingdom. Its responsibilities also include policing, and matters of national security.
This indicated a conservative turn in the government's approach to crime, which comes after Johnson announced plans on July 26 to recruit 20,000 new police officers in England and Wales.
"My focus now is restating our commitment to law and order and restating our commitment to the people on the frontline, the police," Patel said.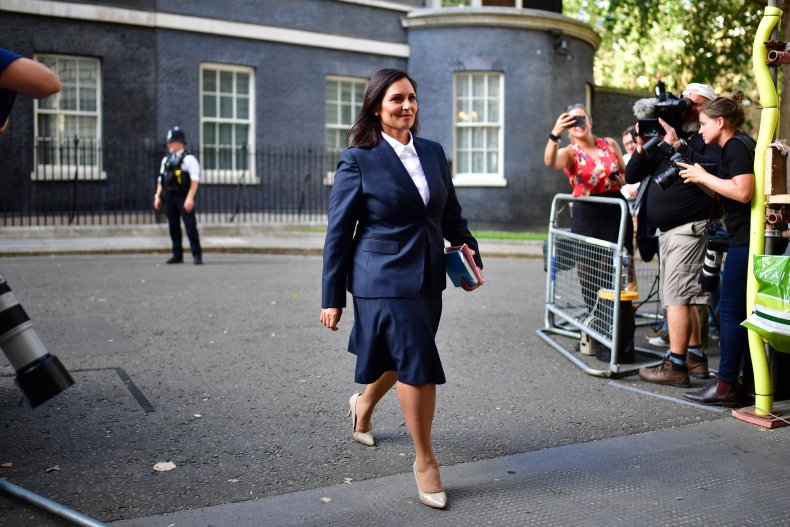 "I've always felt the Conservative party is the party of the police and police officers ... quite frankly, with more police officers out there and greater police presence, I want [criminals] to literally feel terror at the thought of committing offenses," Patel said.
The Essex MP — Patel was elected as MP for Witham in 2010 — whose Gujarati Indian parents migrated to the UK in the 1960s from Uganda, according to The Guardian, has in the past voted for a stricter asylum system, stronger enforcement of immigration rules, and against banning the detention of pregnant women in immigration jails. She has, however, distanced herself from her past comments on the death penalty. "I have never said I'm an active supporter of it and [what I said] is constantly taken out of context," she told The Daily Mail.
Liberal Democrat home affairs spokesman Ed Davey said Patel's comments showed she was "out of touch" with what was leading some young people into crime, according to the BBC.
"So often young people say they carry knives because they are afraid of other young people in gangs," he said. "We need more police so these young people can feel less afraid as they now trust the police to be there, not because the police add to their fears."
A prominent Brexiteer, Patel held ministerial posts in the Treasury and the Department for Work and Pensions, before being promoted international development secretary by Theresa May. In 2017, however she quit the international development role amid controversy after holding unauthorized meetings with Israeli officials.
Patel's nomination to the Home Office is regarded as a key ingredient to what commentators are calling the most right-wing cabinet in the UK since the Thatcher years.