U.N. Human Rights Chief Calls Out U.S., Saudi Arabia, Syria and China for Abuses
U.N. human rights chief Michelle Bachelet spoke of abuses in countries throughout the world, including the U.S., in her first speech to the U.N. Human Rights Council in Geneva, Switzerland, on Monday.
Bachelet, former president of Chile, said that Washington's now discontinued policy of separating children at the southern border is "unconscionable" and that there was an absence of "redress" for the families. She went on to voice her concern about the Trump administration's decision last week to back away from an agreement that migrant children would not be detained for more than 20 days.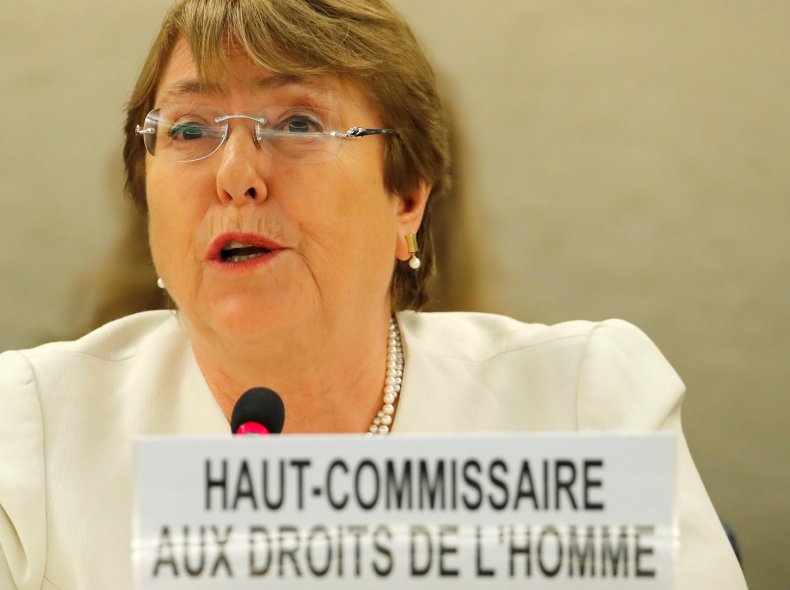 "I have been a political detainee and the daughter of political detainees. I have been a refugee and a physician—including for the children who experienced torture and the enforced disappearance of their parents," Bachelet said, according to Reuters.
She also urged China to allow observers into the country following allegations that re-education camps were operating in the Xinjiang province. Bachelet's comments come just a month after a U.N. rights panel received reports of "deeply disturbing allegations of large-scale arbitrary detentions of Uighurs and other Muslim communities, in so-called re-education camps across Xinjiang."
Speaking about the Middle East, Bachelet asked the Saudi-led military coalition in Yemen to hold those accountable for airstrikes on civilians.
"I will be closely following what steps are taken to hold the perpetrators accountable and provide remedy and compensation to the victims. The recent Saudi royal order which appears to provide a blanket pardon to members of the Saudi armed forces for actions taken in Yemen is very concerning," she added.
She continued to speak about the "interminable and terrible" anguish of the Syrian people and expressed her uneasiness about "ongoing military operations" in the Idlib Province in Syria, which was pounded by airstrikes on Saturday. Russia, Turkey and Iran failed to come to an agreement regarding a ceasefire in the area last Friday.
Bachelet also said she would be sending teams to Austria and Italy to investigate an "alarming escalation of attacks" against asylum seekers and Roma people.
"Italy's decision to close its seaports, denying entry to NGO rescue ships, had serious consequences on the most vulnerable," The Guardian cited Bachelet. Matteo Salvini, Italy's deputy prime minister, was quick to respond to Bachelet's comments.
"We do not accept lessons from anyone, let alone from the U.N.," he said. "They should first focus on other members where fundamental human rights are being violated every day."