New Unemployment Claims Rise in Midwest States, 26 Million Americans Collecting Benefits
Analysts say the U.S. economy is "running on empty" as the number of Americans who filed new unemployment claims unexpectedly rose last week amid stalled stimulus relief package talks and more than 26 million people still receiving unemployment benefits.
Economists, Democrats and the Federal Reserve chairman are among the voices urging Congress to finally take up a sweeping stimulus relief plan to assist the 26,044,952 Americans currently claiming unemployment insurance benefits across all programs. The Department of Labor's Thursday unemployment numbers reveal that week-to-week decreases in jobless claims have reversed and actually saw an uptick to 870,000 new unemployment filings last week—about 5-10,000 more from the previous week. By comparison to pre-pandemic levels, just 215,000 initial claims came in during the same week one year ago.
The number of first-time unemployment claims last week increased the most in the states of Indiana, which saw 1,990 new initial claims last week, followed by Kansas with an increase of 1,928 initial claims, Illinois and Michigan.
The states which saw the largest decreases in initial claims were California, which dropped by 17,400 primarily due to anti-fraud actions, Texas, Louisiana and Washington.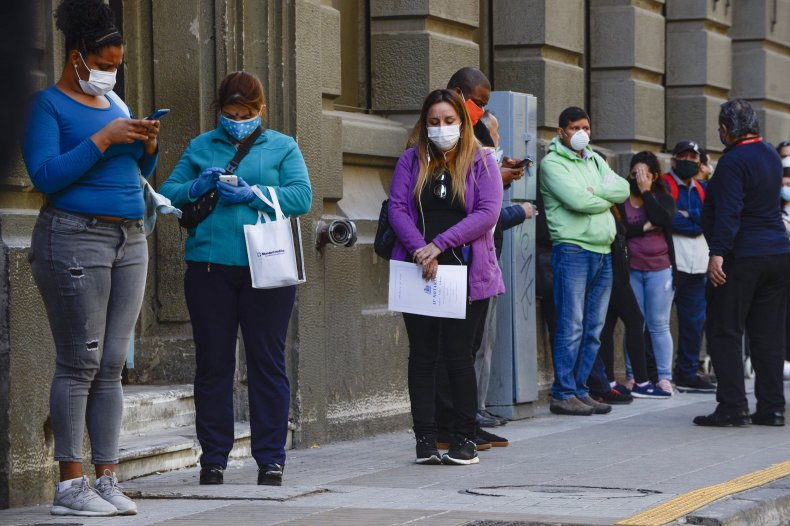 But Congressional legislation prospects to assist the country's small businesses and unemployed continue to look bleak this week despite House Democrats on Thursday announcing a new $2.4 trillion stimulus plan featuring direct payments to individuals and enhanced federal unemployment benefits.
"The high level of joblessness shows that the country isn't out of the woods yet and it won't be if the pleading of Fed officials for more stimulus isn't heard by government officials down in Washington," said Chris Rupkey, chief economist at MUFG in New York, in remarks to Reuters Thursday. "The economy is running on empty."
According to the report, 870,000 new jobless claims came in last week, which is a slight increase from the 866,000 new filings on the week of September 12. This week's rise in new unemployment claims is worse than the 840,000 analysts had predicted.
The U.S. economy has only recovered about half of the 22 million jobs which were lost to the pandemic. Politico reported Thursday that hundreds of thousands of manufacturing jobs in states like Ohio, Indiana, Wisconsin and Pennsylvania were already declining prior to the pandemic's onset in March.
A rise in unadjusted state claims saw increases in New York, Georgia, California, Massachusetts and New Jersey.
The total number of people who claimed benefits across all programs on the week of September 5—which includes the millions of Americans who have been collecting unemployment for several months—was 26,044,952. This is a decline of 3,723,513 from the prior week ending August. By comparison to last year, 1,488,601 individuals claimed jobless benefits during the same week in 2019.
Federal Reserve Chairman Jerome Powell told Washington lawmakers Wednesday to "stay with it" and continue working to support the flagging economy. Political analysts from both sides of the aisle say Congress is unlikely to pass any major economic stimulus relief package before Election Day, November 3.
"You do wonder if the @POTUS would sooner have us talking about his outrageous comments on the election than the 202,000 dead of@COVID-19 or the 870,000 additional Americans who filed for unemployment this week," tweeted former Obama campaign chief David Axelrod, noting Thursday's jobs report.
The unemployment rate stood at 8.4 percent in the month of August and is expected to slowly decline. However, one million U.S. workers exhausted their benefits in September because they hit the six-month time cap on collecting unemployment.
Newsweek reached out to the Department of Labor for additional remarks Thursday afternoon.