"Basketball Uniforms Designed for Girls with Hijabs Provide More Opportunities for Women in Sports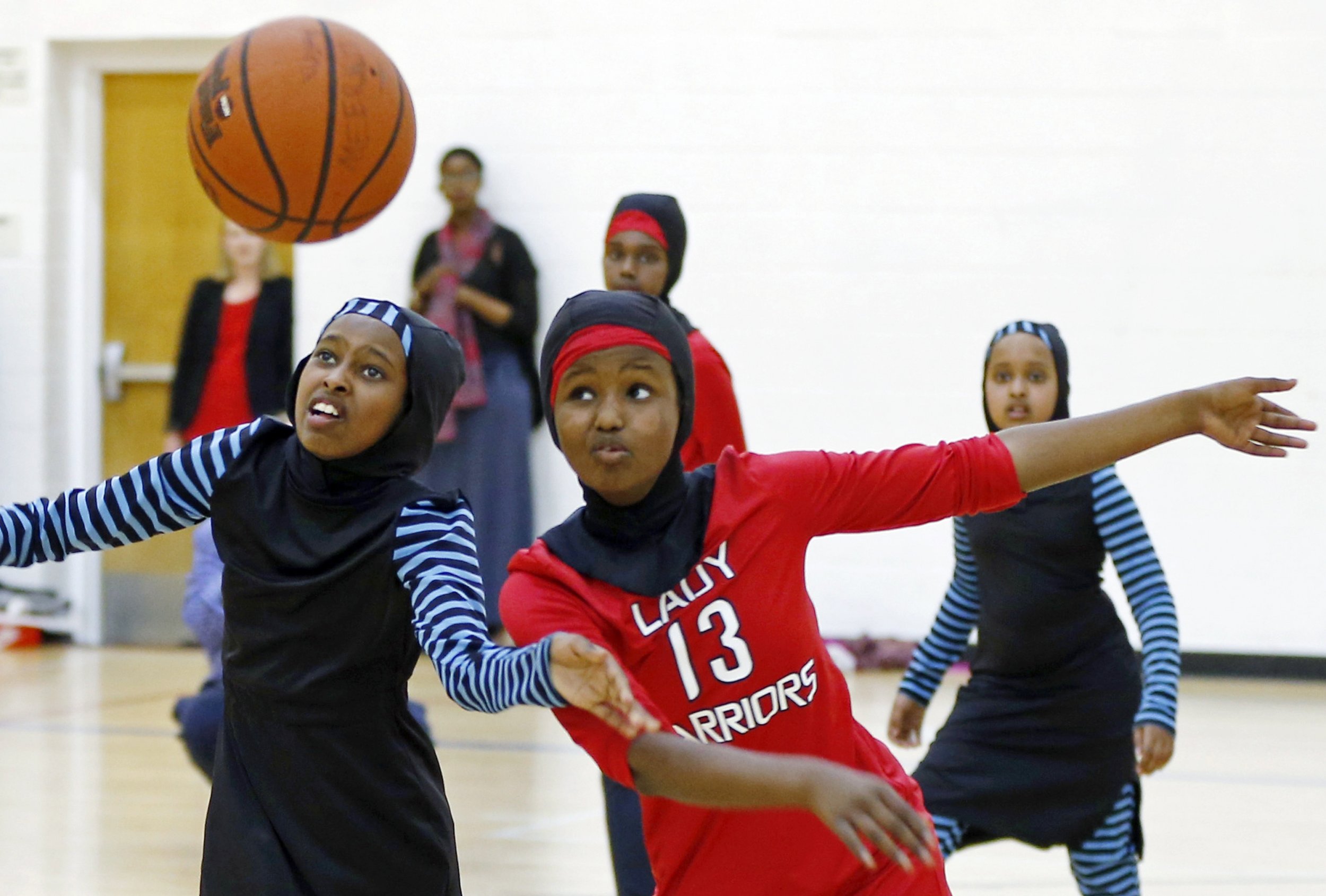 From specialty women-only brands like Athleta and Sweaty Betty to the expansive women's lines from sports brands like Nike and Reebok, there's no shortage of wardrobe choices for women looking to work out. Young girls and teens are now served by brands like Under Armour and Adidas, as well as activewear lines from favorites like Old Navy and Forever 21. But in the midst of the steady stream of running shorts and tank tops with built-in sports bras, one group of girls has been traditionally left out: Muslim girls who observe their religion's dress code.
In traditional Muslim culture, women must cover their heads and bodies when in the presence of men. But long flowing skirts and headscarves—called hijabs—can, predictably, make it difficult to perform activities like running and jumping. In the past, many Muslim women had to either find a male-free zone in which to practice in more comfortable clothing or forego playing sports altogether.
In 2008, in the Cedar-Riverside neighborhood of Minneapolis, then-college student Fatimah Hussein founded a program called Girls Initiative in Recreation and Leisurely Sports (GIRLS). The program provides girls-only gym time at the Brian Coyle Community Center, which serves a largely East African Muslim population, allowing girls to play sports without their cultural attire while not having to worry about being seen by males.
The program created a travel basketball team called the Lady Warriors, but in order to play on the road the girls, in grades four through eight, had to once again don their long skirts and hijabs. Chelsey Thul, a professor of kinesiology at the University of Minnesota, worked as a researcher with the GIRLS program and listened when the team asked for functional uniforms that would still allow them to remain covered.
Thul and Hussein worked with a team that included the University of Minnesota College of Design, the Tucker Center for Research on Girls and Women in Sport at the university, other coaches and, of course, the players. Starting in 2013, the team began attending female sporting events to get ideas for uniforms, then worked with designers to get them drafted out.
The uniforms were constructed in a makeshift workshop at the nearby Mosque Shafici, two blocks from the community center. Finished designs were debuted at a fashion show last month at the University of Minnesota, and featured two sets of uniforms made from breathable fabrics. They include knee-length tunics, leggings and tight-fitting hijabs that are attached by Velcro. The clothes allow players to make moves they wouldn't be able to otherwise, like dribbling between their legs or jumping for rebounds, while keeping their headscarves in place.
This isn't the first time hijabs have made sports headlines, as they have been part of a larger debate about Muslim women and athletics in the last few years. FIFA lifted the ban on players wearing headscarves in 2012, and FIBA (International Federation of Basketball) is currently in a trial period to lift their ban after Qatar's women's basketball team forfeited their game during the 2014 South East Asian Games after they were told hijabs were not allowed for safety reasons.
According to FIBA, basketball's international ruling body, "Players shall not wear equipment (objects) that may cause injury to other players." The official rule book goes on to list things like wrist guards, casts or braces, headgear, jewelry and long fingernails. What is allowed? "Headbands, maximum five (5) cm in width, made of non-abrasive, unicolour cloth, pliable plastic or rubber." While a specific reason why headscarves aren't allowed isn't stated, the concern stems from if the hijab were to loosen and fall down around the neck, it could be pulled causing injury to the neck or cause a player to choke. However, many hijabs, like the ones designed by the Lady Warriors, attach with Velcro, so if they were to be pulled, they would simply come off, rather than become a choking hazard.
But beyond safety concerns, some traditionalists feel that Muslim women should not be participating in sports at all. Even in the Cedar-Riverside community, Hussein has had to convince some close-minded parents that "even in our religion, physical fitness is important."
The Islamic faith does encourage taking care of the body through exercise, but there are a number of barriers Muslim women and girls must face while doing so. In Saudi Arabia, where public schools are already segregated by gender, girls were not allowed to participate in athletics until earlier this year, a move that caused some extremists to declare that sports ultimately lead to prostitution. While the religious debate over Muslim women and sports rolls on in the background, the new uniforms worn by the Lady Warriors have made the lives of some young girls a little less uncomfortable at a time when just being a kid is hard enough.